Outdoor Security Lighting – Everything You Need To Know!
Posted on June 19, 2020
With outdoor security lighting, it can be quite simple but there are also many factors involved. Outdoor security lighting is important for its security reasons, as well as lighting up the area at night. Selecting the right one, such as its material, is important for cost reasons as well as the effectiveness of the light. The Local Electrician with our Emergency Electrician services has been installing security lights for over 25 years in Sydney. With our experience, we understand all the information when it comes to choosing the best outdoor lighting system.
Outdoor security lighting systems are present around a home to detect when there is activity at night. This means that there are sensors installed in the system which will identify movement then turn on the lights. The lighting system is also installed so that areas of the home at night can also be bright when needed.
Outdoor Security Lighting Types
There are a number of different lighting systems designed with different metals, as a result, each metal has different properties. It is important to understand the cost prices, durability and effectiveness of these metals with regards to outdoor lighting.
Stainless Steel
This type of metal is great for the look of an outdoor lighting system due to its modern aesthetic. Reflecting the sun, stainless steel lights are coated with chromium oxide to prevent corrosion from occurring. However, this layer/ light will need constant cleaning form dirt and dust. This is important so that the layer does not go away then leaves the light prone to corroding.
Aluminium
These lights are cost-effective, however, not the highest of quality when it comes with lighting. Aluminium lights are not designed to last for long periods of time, as a result, the paint will fade away. Salty environments are not suited for aluminium, so living near the cost it is not best to purchase aluminium lights. However, if the light is powder coated then the light's paint will be sealed, therefore, lasting longer.
Brass
The hard metal is made up of copper and zinc, and also its longevity is increased. Even though the brass might become darker over time it will not corrode making it suitable for outdoors. Additionally, they are more suited for coastal areas, however, it can be more expensive compared to other lights. Overall, brass might be the most costly but it is the strongest and will last for the longest.
Copper
Being of higher quality, copper is not as tough as brass, yet, offers a more aesthetic design. Likewise, with brass, copper can be a bit more expensive, especially in current times, but is longer lasting. Furthermore, sometimes lights can be made of brass and also coated with copper so the light is strong while looking aesthetic due to the copper.
Brightness Levels and Security Lights
The brightness of the security lights, which are outdoors, need to be at a certain level for a number of factors. The lights need to be bright enough to see the space at night time which the lights are located. However, the lights cannot be too bright so neighbours do not complain, as well as can cause light pollution.
For residential buildings and security lighting, the lights should be around 700 to 1300 lumens. This is to ensure that there is a proper amount of brightness when the security lights come n without disturbing neighbours. Likewise, light pollution can be controlled with the security lights because they will not be on during the whole night.
Security Lighting Tips and Tricks
Here are some simple points to know before purchasing or installing night security lights:
Know how many lights are needed for the property to ensure that there is enough or not too little. To do this simply times the square footage of the space where the lighting is going to be installed by 1.5. This will help with how many watts are required, for instance, an area of 100 square feet needs 150 watts for it to be effective.
LED lights are guaranteed the most cost-effective, long-lasting and overall effectiveness when it comes to lighting.
Determine the best spots for the outdoor security lighting, often the front and back door, side entrances, garage and windows are the best paces.
Dimmers/ softer lights might be more relevant when the security lighting is located in entertainment areas. Such as the backyard where meals may be held, lights which are too bright can at times be too right. Therefore, installing dimmers can help with this situation, however, keep stronger lights where needed, such as the front door.
Understand all the measurements before purchasing the right outdoor lights to ensure that they will fit into the space. Additionally, buy lights which will withstand the environment, such as will it be constantly in the sun or is the home near the coast.
It is important to plan out the costs, needs and overall usage of the lights before purchasing them to ensure that everything is correct.
Professional Outdoor Light Installers
Delivering the best assistance in Sydney with outdoor security lights is us here at The Local Electrician. Our fully qualified emergency electrician workers performing Light Installations have worked with lights for over 25 years. As a result, we understand the best models, types, locations, uses and all other factors relating to security lighting.
Moreover, we are able to install lights in all Sydney areas, including the Northern Beaches, Inner West and South Sydney. Also, we offer Level 2 Electrician services, as well, where we can easily perform all needed tasks requiring professional electricians.
For emergency electricians, installing or repair outdoor security lights – contact The Local Electrician at info@thelocalelectrician.com.au. We highly encourage all Sydney residents to contact us when needing professional advice or assistance with outdoor security lights. We offer honest and reliable services, arrive on time and always work at our highest level of skill.
Lifetime Warranty on Workmanship and Labor
Our Services
Our skilled electricians are qualified to carry out any electrical repair or installation within Sydney. We strive to deliver absolute customer satisfaction by offering electrical services that are affordable, safe and long lasting.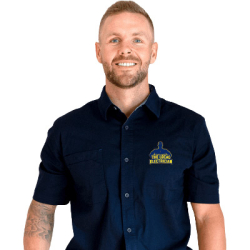 Latest posts by Hamish Baker
(see all)