Oven Installation – What You Need To Know!
Posted on July 22, 2022
An electric oven installation involves installing an electric oven into a space, performed by a licensed tradesperson. Electricians will install most electric ovens as there are wiring and electrical safety systems involved. If an untrained person installed an oven that is more than simply plugging it into an outlet the chance of risky situations and an incorrect installation increases. Here at The Local Electrician, our Sydney electrician team is here to help work on electric ovens, including installing them in any space. 
With an electric oven installation, it will involve a certified professional installing the system. The cost of the electric oven installation will be influenced by the oven cost, size, location, type and the labour involved. The process often involves ensuring it can fit into the space, all wiring is prepared, the oven is installed then fitted then final tests to guarantee the system works perfectly.
How Are Electric Ovens Installed?
When it comes to installing an electric oven there are numerous ways the installation process can happen. Depending on the type of oven, where it is being installed, if an existing one will be removed, if a range hood will be installed and other factors, the installation will be different for each person. The general process often starts with removing the existing oven if there is one and disposing it. The oven will be installed in its place with all the needed mounts, wiring, connections and alike. Tests will also occur after the installation has occurred to ensure the oven runs safely and smoothly. 
What is the Cost of an Electric Oven Installation?
The cost to install an electric oven will vary for each person, here are the different factors that will influence the cost of an electric oven installation:
Oven type – the oven itself will add to the overall installation price, most residential ovens cost from $300 to $700, while the brand and how energy efficient the system is will also add to the overall cost.

Size – the size of the oven will mean it is either more difficult or easier to work with. Larger ovens will often need more labour to install and can be more complicated as well to install. Factoring into the size of the oven into the space it will be installed might also mean adjustments to the kitchen might be needed.

Location – where the oven will be installed will impact how difficult the installation will be meaning more labour is involved. Also, spending on whether the oven is being installed outside or inside will also finetune how the oven is installed and therefore the overall cost. 

Labour – the electrician working to install the oven will charge for labour which is different between each electrician. How much labour is involved will add up to how long the process takes to complete and how much it will cost. 
What are the Differences Between a Gas and Electric Oven?
The main difference between these ovens is what powers them, being either electricity or gas. Electric ovens have a better aesthetic design, are easy to use and are not as expensive as gas ovens to purchase. They will cook slower compared to gas systems and they have the chance to be impacted by power outages making them not usable. Gas ovens cook better than electric ovens and the cost of gas is lower than electricity. The downsides with gas ovens are that gas ovens are initially more expensive while gas brings potential danger which people need to be careful with.
What are the Differences Between a Wall Oven and a Free Standing Oven?
Wall ovens sit within the kitchen cabinetry and when the space is available can be installed above or below cabinets. Free standing ovens are fitted to the floor most times and are aligned with the countertop. Wall ovens are more flexible when it comes to installing it within the kitchen layout and can be at any height. They also have a more streamlined look and a combination of electric and gas can be done. Wall ovens are more expensive when it comes to buying it and installing it and at times the option to install the wall oven might not be there due to the existing cabinets being impacted too much. 
Free standing ovens are much easier to install and are less expensive compared to wall ovens. The downsides with this oven type are that it can not be a combination of gas and electricity and the appearance might not be ideal for some people. Most times people will consider installing a new oven during a renovation, our blog 'electric renovation ideas for properties is recommended to be read for useful information!
Professional Electric Oven Installation and All Other Electrical Services Sydney
The Local Electrician is here with fully qualified electricians to perform electric oven installation services anywhere in Sydney. Our Emergency Electrician team are ready at all hours of the day to install electric ovens and other appliances professionally. We make sure that the whole process is done safely with numerous tests involved and we guarantee that all wiring, connections and the oven itself are installed correctly. 
Our team always arrive fast for electric oven and all other electric system services, here for South Sydney, Northern Beaches and all other areas. We also offer highly skilled Level 2 Electrician workers to perform more advanced tasks within properties for locals. 
Contact us now for on time and reliable electric oven installation services!
Lifetime Warranty on Workmanship and Labor
Our Services
Our skilled electricians are qualified to carry out any electrical repair or installation within Sydney. We strive to deliver absolute customer satisfaction by offering electrical services that are affordable, safe and long lasting.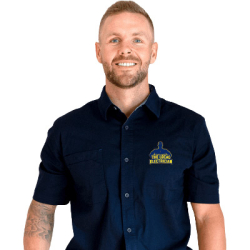 Latest posts by Hamish Baker
(see all)