Power Plug Installation – Everything you Need To Know!
Posted on September 10, 2021
Power plug installation and power point plug installation are types of electrical work that a licensed electrician performs. The cost to install the powerpoint will determine the type of electrical outlet and how many there are. There are many different types of power sockets, such as single power points, double power points and smart power points. Here at The Local Electrician, our Emergency Electrician team is here to perform power plug installation services across Sydney.
A certified electrician performs a power point and power plug installation in homes and businesses. The average cost of a power point installation is around $75 – $150, including the number of outlets and labour costs. It is highly recommended that an electrician installs the power outlet to prevent problems and keep the home and people safe from electrical dangers.
What are the Different Power Points?
Different power outlets and sockets are available to be installed around the home and have different uses. These can be installed and various points around the home and a combination of different power sockets can be included. 
Single Power Point
Single power points contain one power source for a plug to be connected to. A single power outlet is often common in older homes and in places where only a single or few appliances will be used, such as in the laundry. A single electrical socket is mainly used in residential buildings but in recent times and when more appliances are used they are often upgraded to a soluble power outlet. 
Double Power Point
Double power outlets have the same size cover plate as a single power outlet but have two places for two plugs to be installed. These are becoming more common and the favoured choice over single outlets in buildings. This is because it allows two appliances to be plugged into the electrical socket and is more convenient. In places where only one appliance needs power then single is favoured but most times double outlets will be installed. 
USB Power Point
Double outlets also have the option to be a USB power point and offer a USB connection. The inclusion of the USB port allows another appliance to be connected to the power outlet along with two more. For example, in the kitchen, the kettle and toaster can be plugged in while a phone charger can also be added. USB power sockets are also easy to install and can replace existing double power outlets easily. 
Smart Power Point
A smart power point is where a power outlet can be controlled through a smart device. This means that appliances can be powered on or off through the device at any time and anywhere. Controlling them will allow people to turn the appliance on and off when they want, such as to save electricity when not needing them. Examples of appliances that are often connected to smart plugs are Christmas lights, air conditioners, coffee machines, lights and outdoor appliances.
How Much Does it Cost for a Power Point Installation Service?
For a power point installation service, it will on average cost around $75 – $150. Electricians will on average cost $80 per hour and this will add to the overall cost of a power plug installation. When a single power point is installed then it often costs more than installing many or double power points at times. Most times having an electrician perform numerous power point installations or undergoing other electrical jobs is more efficient and money saving.
Installing a power outlet includes the labour costs and also the actual cost of the power socket. The difficulty of the installation will further increase the installation jobs and also the location each one is being installed. Smart power outlets or more technologically advanced power outlets will also cost more to install than simple single and double wall sockets.
What is the Process of Installing Power Outlets?
When a fully qualified electrician performs a power point installation the main steps followed are:
Disconnecting power to the building or at least to the circuit which the power outlets will be installed 

Use an electrical live voltage tester to ensure that the systems and wires definitely have no power

Remove the existing power socket, including the wall plate if there is one present. If a new power point is being installed in a new location then the wires behind the wall will be directed to where the new hole for the power socket will go

Connect all the wires to the correct points on the new wall plate, including the neutral and ground wires

After the wires are connected the power plate is screwed and installed onto the wall

A safety inspection will occur to make certain the power point is safe to use and power can be turned on again
Reliable Power Point Installation Services
The Local Electrician is here to perform trusted power plug installation and power point installation services for Sydney locals. Each electrician is an experienced worker who understands how to install all types of power sockets into any location. Our process of installing power outlets is safe and efficient to ensure the system is installed and works correctly.
Our electricians will install the power plug and socket any time of the day for all of Sydney, including Northern Beaches and Eastern Suburbs. We also offer Level 2 Electrician services which have our expert electricians perform more advanced level 2 asp jobs in any place.
For the best power point installation work Sydney wide – always rely on The Local Electrician!
Lifetime Warranty on Workmanship and Labor
Our Services
Our skilled electricians are qualified to carry out any electrical repair or installation within Sydney. We strive to deliver absolute customer satisfaction by offering electrical services that are affordable, safe and long lasting.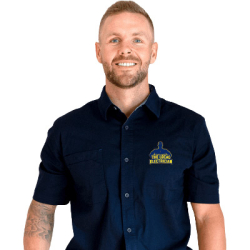 Latest posts by Hamish Baker
(see all)