Power Restoration Sydney – Everything You Need To Know!
Posted on May 22, 2022
Power restoration is where either the energy distributor company or a Level 2 Electrician restores power to a property by performing certain repairs and steps. Depending on whether the fault was with the network provider's systems or from the property owner will influence who will need to be contacted. Finding the issue, resolving it safely and performing tests are needed to restore power. Here at The Local Electrician, our level 2 electricians are here 24/7 to help with power restoration tasks throughout Sydney. 
Power restoration has an electrical professional find the source of the outage and then resolve it accordingly. When the power outage is due to the electricity network providers they need to be called to repair the issue. If the power outage is only on a single property and not due to faults with the electrical network provider system then a level 2 electrician needs to be contacted by the property owner.
What is the Power Restoration Process?
Electrical Distributor Company
When there is a power outage and it involved Ausgrid or Essential Energy the power restoration process follows:
The electricity distributor will receive the report and then send a licensed professional or group to address the issue

If there are hazards present, such as

fallen powerlines

, then these will be safely resolved before trying to restore the power. Safety hazards are a priority and when these issues are present it is important that only qualified personnel repairs the problem

When the safety hazards have been properly dealt with and a crew of professionals have been gathered then moving to find the source of the problem if it is not clear will occur. Visual inspections, such as the fallen power lines causing outages to occur, will undergo while other tests will be performed to find the exact cause for the power outage

All the needed repairs will be carried out by proper tests by the team of experts. The right tools and techniques will be involved to make certain that the power is correctly restored. Performing tests are also needed to guarantee the power is restored and that it is done safely

Once the power is restored it is important for customers to monitor the power for a few days to make sure there are no further problems, if there are some then the electrical distributor should be contacted
The priority list for repairing the electrical network systems and power outages by the electricity network provider is described below:
The streets are inspected and any life-threatening dangers are resolved as soon as possible to ensure everyone is safe

Any critical services, such as hospitals, have the power restored first over other properties and places

High voltage power lines are repaired next as these provide power to thousands of homes

Low voltage power lines are next as these run along residential streets and provide power to hundreds of homes

Service wires are the last priority but still important to look over as these are the way homes and businesses have their electricity directed to them from the street
Private Property
If the power has gone out not due to issues with the electricity distributor companies but with a problem on the property then here are the steps to how power is restored:
An Emergency Electrician should be contacted by the property owner to arrive as soon as possible

The electrician will carry out an

electrical safety inspection

to see what is causing the issue. It can range from problems with the

private power pole

,

electrical switchboard

, tripped circuit breakers, faulty wiring and more

Once the direct issue has been found the electrician will work to have the power restored safely and in the shortest amount of time possible
We strongly recommend reading our blog 'why is there a power outage' to know the many reasons why the power may have gone out in your or neighbouring properties.
What is the Best Backup Source for a Power Outage?
When there is a power outage using a backup power source means that while the power restoration process is undergoing the home can have a reliable power source temporarily. The two best types of backup power sources are described below:
| | | | | | |
| --- | --- | --- | --- | --- | --- |
| Type | Description | Pricing | Installation | Maintenance | Effectiveness  |
| Battery Backups | These store energy and devices can be plugged into them during a power outage. | Batteries are more expensive to purchase but are much cheaper to run in the long term. | Battery backups can be installed in a wide range of places and are easier to install. | Battery backups are quiet, easy to maintain and do not need ongoing maintenance. | Batteries need to have appliances plugged into them while they only last a few hours but if solar panels are present or multiple batteries are there then they last longer. |
| Generators | These connect to the electrical panel and when the power goes out they automatically activate and power the home. | Upfront costs are lower compared to batteries but need fuel to run so can be more expensive. | Generators take longer to install, can be more time consuming and need concrete slabs, a fuel source location and a transfer switch. | With generators, they need checkups to ensure they are working while they are louder and emitting exhaust fumes. | Generators are greater at providing power to the home as they provide power to the whole home instantly after an outage and last until the fuel runs out. |
Expert Power Restoration Sydney
The Local Electrician offers fully qualified emergency power outage electricians to all locals of Sydney to help with power restoration. We arrive fast and work swiftly to have the power restored as soon as possible.
For reliable power restoration electricians – trust The Local Electrician!
Lifetime Warranty on Workmanship and Labor
Our Services
Our skilled electricians are qualified to carry out any electrical repair or installation within Sydney. We strive to deliver absolute customer satisfaction by offering electrical services that are affordable, safe and long lasting.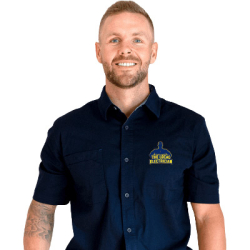 Latest posts by Hamish Baker
(see all)