What You Need To Know About Private Power Pole Installation Costs in Sydney, NSW
Posted on September 14, 2023
For some property owners across New South Wale, there can be challenges involved in getting an electrical supply to their property. This is especially true for those living in areas which are a little more difficult to reach. If this sounds like a problem you're dealing with, a private power pole can often be the answer. Let The Local Electrician give you the breakdown of common private power pole installation costs throughout Sydney to ensure reliable access to electricity at your property.
How Much Does It Cost to Install or Replace a Private Power Pole in Sydney NSW, Australia?
As a guide, costs typically range from $2,500 to $14,500 depending on site requirements. In challenging situations costs may be higher. Private power pole installation or replacement varies depending on several factors. Our team considers the size and type of the private power pole required, the installation service required at your particular site, or if you need additional equipment from a qualified electrician. It's always best to contact The Local Electrician to get an accurate quote to fit your needs.
Why You Might Need a Private Power Pole at Your Property
Sometimes, network service cables can't reach a switchboard because the power distributor's electrical network poles are too far outside the private property's boundary or there may be obstacles or other considerations. To get a power supply, residents may be required to install a private power pole to extend the network's service cable directly to their home or business.
Private power pole installation is the typical solution if a network cannot extend its electrical distribution using underground power lines or public poles. With a private power pole, the landowner can decide where electricity can be available on their property. In some situations private power poles may also be safer for the landowner and their neighbours, if it may simplify the electrical wiring needed to get electricity into the property.
The Cost of Each Type of Private Power Pole Installation
Whether you want to install private power poles or replace them, it's good to be aware that there are several options—each with unique costs and advantages.
Hardwood Timber Private Power Poles
Hardwood timber poles are known for their longevity and are often the most common type of pole. Timber poles can last an average of 15 to 25 years. Furthermore, you may extend their lifespan if a qualified electrician conducts regular safety standard inspections and regular maintenance to prevent damage from termite infestation or cracking.
💡 Hardwood timber power poles may be best for properties in or near areas affected by salt and corrosion. Timber poles can resist salty air and are often used for electrical supply connections and telecommunication lines.

Hardwood timber's cost per pole is often slightly more expensive than galvanised steel private power poles, but typically less expensive compared to composite pole options. Timber poles average 8-11 metres. For an estimated private pole installation service cost at your Sydney property, please refer to this page and request a quote from us. 
Note that timber pole inspection and maintenance are also necessary to maximise the longevity of your timber private power pole. The cost of this may vary depending on the private pole's condition, so talk to The Local Electrician to determine the rates.
Galvanised Steel Private Power Poles
Galvanised steel poles can be a cost-effective choice for landowners in relatively dry regions as cost per pole can often be the cheapest among the three main types of poles. Steel poles have a thin diameter and can be less imposing than hardwood timber.
One noteworthy benefit of steel private power poles is its hollow centre. It makes for excellent cable management as the wires from the network poles or those coming out of the steel power pole can often be hidden inside the pole. This may result in a cleaner, more organised look and protects the wiring from environmental damage and other wear and tear.
Keep in mind that while the upfront cost of this pole may be more cost-effective, on average, steel poles typically last around 10 to 15 years. Regular inspection and maintenance will ensure your private power pole remains intact while complying with safety rules and regulations. Talk to a licensed level 2 electrician for more information regarding specific rates.
Composite Private Power Poles
A composite private power pole is non-conductive, fireproof, doesn't rust, and won't attract termites. This is also the most environmentally-friendly type of pole, requiring no extra chemical treatments for maintenance. For extra protection against wear and tear—and for better aesthetics—cables may run inside the pole. The composite pole comes in various pole heights, ranging from 7.2 to 12.5 metres or even higher.
The composite pole is optimal for anyone wanting to invest in excellent private power poles. While installation costs for this type of pole aren't very expensive, it's still a hefty investment as it is the most expensive one of the three power pole types. Still, with the composite power pole, you get the best of what timber and steel poles can offer.
Private Power Pole Issues That May Incur Extra Costs
Low Overhead Power Lines
Private pole wires connecting to the main electrical network may pose a danger if they hang too low. Low wires often mean that the power pole was installed incorrectly and must be fixed as soon as possible. These wires carry electrical currents that can be dangerous for pedestrians and other buildings. Low wires may also start fires when coming into contact with vegetation.
Disobeying Local Regulations
Every suburb is under a local council jurisdiction that has sets of rules and regulations regarding power and electricity. The property owner may have to adhere to these rules to avoid any interruptions that can cost them financially.

Be sure to check the NSW government site and your council if you want to know more about specific electrical regulations.
Damaged and Faulty Wiring
Unsightly cables around private power poles are an impending hazard. If wires are exposed, elements can damage them, resulting in risks of fire or electrocution.
Network Attachment Issues
This occurs when the wiring connections from private poles aren't properly attached to the electricity distributor's network poles. This can cause power interruptions and other issues relating to point of attachment defects.
Missing or Damaged Electrical Equipment
In some cases, specialised equipment may have to be installed on the private power poles or the property to ensure a safe and free-flowing electrical supply. It may create an electrical hazard for the property's residents if this equipment is missing or damaged.
Unstable or Fallen Power Poles
Major storms can topple down electrical poles and other structures, which may cause several electrical hazards. In such cases, you should inquire with a residential or commercial electrician to get a private power pole replacement. A qualified L2 electrician can check if the poles on your property are sturdy and the wires connected to them are at a safe height.
Wiring Obstructions and Interference
Fallen branches from tall trees may create electrical hazards that potentially cause fires. A tree branch touching a live wire is a safety hazard to property owners and their neighbours. This type of issue may have to be fixed immediately to avoid further danger and unnecessary costs.
What Happens When You Get a Defect Notice?
If you've already received a defect notice, you'll have approximately 21 days to resolve the issues indicated in the letter. Note that the time frame may depend on your energy provider. Contact a licensed level 2 electrician to address them; they are the only people who can and should carry out this type of work.
If the issues remain unresolved by the landowner after the given timeframe, landowners may request an extension from the energy provider. Note that it may or may not be granted depending on how complex the issues are.
The energy provider may send their own team to fix the unresolved issues if they're past the deadline, and the private property's power may be cut off until the issues are fixed—this would likely cause significant inconvenience and added cost on the landowner's part.
Cost Effective Private Power Pole Installation Pricing From Our Experienced Electricians
It can be complex and costly to install private power poles in NSW. Apart from purchasing the materials needed, you must also pay the electrician for the significant work involved in getting the power poles up, arranging the wires, and connecting power to your private property. Add to this several area-specific issues associated with power poles.
You should aim to have your electrical supply sorted out as cost effectively as possible. While costs are inevitable, there's a way to be smart about them, and it starts with choosing a trusted electrician who will render excellent service.
The Local Electrician has a team of licensed level 2 electricians trusted by thousands of Sydney clients. We have over 25 years of experience installing private power poles and fixing many other electrical issues. If you want a quote for a private power pole installation that fits your needs, you can contact us for prompt, no-fuss service.
Lifetime Warranty on Workmanship and Labor
Our Services
Our skilled electricians are qualified to carry out any electrical repair or installation within Sydney. We strive to deliver absolute customer satisfaction by offering electrical services that are affordable, safe and long lasting.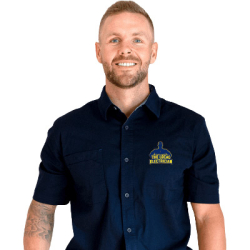 Latest posts by Hamish Baker
(see all)