RCD Switches Explained
Posted on February 28, 2020
Residual Current Devices (RCD) Safety Switches are important safety devices which are installed in many Sydney homes that protect its occupants from dangerous electrocution situations. These small switches are crucial for the health and safety of your home and are relatively low in cost to install. The Local Electrician has over 25 years of experience in Sydney's electrical field and are experts in RCD installation. As from the year 2000 and the Residual current devices – SafeWork NSW legislation, these devices are now compulsory to be installed into new homes and we highly encourage installing them into a home if it was built before 2000. Your local emergency electrician is qualified to properly and safely install a RCD.
RCD switches are designed to stop extreme electrical strikes and problems from damaging homes. From the year 2000, they are now compulsory to to install in switchboards. They work by quickly cutting-off the issue as they constantly monitor the current electrical flow in both the active and neutral wires. When an imbalance of the current flow happens in the wires, the RCD will shut down the power. This prevents damage to the building's appliances and potential injury from electrocution.
What Are The Different Types Of RCD Switches?
With RCD Switches, there are four main types  that can be installed into any home. These are:
Meter box mounted RCD Switch,
Combination Of RCD Switches and circuit breakers
Portable RCD Switches
Power Point RCD Switches
1. Meter Box Mounted RCD Switch
These RCD switches run along the circuit breakers that are located in the main meter box, or the distribution board, of the home. Australian law requires that these RCDs need to be fitted to a property's power circuits. You will need to install two of these.
2. Combination Of RCD Switches & Circuit Breakers
The option of having both circuit breakers and RCD switches are a choice to have included in meter boxes that do not include any of them. They are  protect from electrocution and appliances being ruined and are a great option if you have limited space within your property.
3. Portable RCD Switches
These are designed for electrical tools and appliances that are not connected to a power meter or powerpoint RCD. They are attached to either an extension lead/cord or a power board which the electrical device can be connected to. As a result, the circuits are protected and are really important for those who use power tools or any electrical device outside of their home. However, they only protect appliances that are connected to them.
4. Power Point RCD Switches
Fitted to a power point after the meter box, they are obviously different to other items on the power point as they have a test button the faceplate. As a result, these types of switches are recommended for bathrooms and workshops as they are great from protecting specific areas of a property.
Important RCD Switches Considerations
There are a number of different actions a person should take to ensure that their RCD switch is correct, present and working.
Is a RCD switch installed in my home?
It is likely that a RCD Switch is installed if the home has been built after the year 2000. However, as it was not compulsory back then, not many houses installed RCD switches into the property before the year 2000. If there is uncertainty whether there is or not one in the property, call an electrician to perform an electrical safety inspection on the building. This is to identify if a RCD, and a proper one, is within the building. RCD switches are now mandatory to be installed in  all final sub circuits in a domestic installation.
How can I test to see if my RCD is working?
A qualified electrician will be able to undergo specific tests and methods to ensure that the RCD installed in the house is working correctly. We recommend that every three months is the safest option, pressing the "test" button. With this, a test will occur, and if the RCD is not working correctly it will indicate with signals. Therefore, this is when an electrician is strongly advised to be called out and to guarantee that the home is safe.
RCD Switch Testing
Testing to see if the RCD switches are working and have no faults is extremely important, particular during the warmer summer months. Knowing that the switches are providing constant protection is seen from RCD testing. The testing process of RCD switches detects faults early and prevents costly future electrical damages and potential fires.
Testing of RCD switches is especially important for appliances which plug into an outlet. This should be done for systems where the environment might negatively impact them. This includes rust, moisture levels, heat, corrosive chemicals, mechanical damage, rust and more. To follow safety standards here is how often RCD switches should be tested:
In residential properties (including hotels) RCDs are encouraged to be tested every 3 – 12 months
Industrial areas should be tested every 12 months
Environments which could impact the RCD switch in a negative way should have them tested every 6 months (e.g beaches, desserts, factories etc.)
When portable RCD switches are used they should be tested every 3 months
All tasks involving an RCD, such as installations, should be tested immediately after the service
How Do I Test My Homes RCD Switches?
Before you test an RCD, shut down all your household's electronic equipment
Go to your switchboard and identify your RCD switch
Push your test button down quickly (do not hold)
You will hear a crunch sound and see your RCD flick to an off position, indicating that your switch has been turned off
Check your household's appliances to see if any are still on. If they are, this is a strong sign that your house may have faulty wiring and you will need to contact an electrician.
Once you have finished testing, go back to your switchboard and turn your RCD back on by flicking the off switch to the on position
If you are looking for a Sydney electrician to carry out RCD switch testing. The Local Electrician and our 5 year warranty on all materials will be more than happy to assist you with your home's safety.
Sydney RCD Switches Services
A qualified electrician will be trained to perform certain jobs related to the RCD switch. Here at The Local Electrician, the services which we offer related to RCD switches are handled professionally. Only a licensed electrician can operate on the system due to the potential complications and safety issues. An untrained person performing work on the switches is more than likely to experience or create significant issues.
Fully qualified electricians are able to work with RCD switches in all residential, commercial and industrial properties. They are also trained to know how to operate with all kinds and types of RCD switches. No matter where they are installed or the model, a certified electrician can perform a wide range of service work. Some of the RCD switch services we provide include installation, replacement and repair.
RCD Switch Installation
Installing new RCD switches requires our electricians to properly plan out the whole job. Our electrician will ensure to understand how the RCD switches are going to be used, where they will be located and how they will be inspected. This is to ensure that all steps of the RCD switch installation are correct with no faults.
To ensure that the installation is successful, monitoring equipment will be used throughout the process. From start to finish the RCD switch installation will be inspected to make certain all parts work successfully. Tests are also regularly performed after the installation to guarantee that the RCD switch is working safely for repeated future use to accomodate the growing needs of electricity.
RCD Switch Replacement & Repair
When your RCD switch is becoming too old or experiences too many issues, a replacement will be needed. Once they begin to wear out and experience some faults they will need to be replaced as soon as possible. The electrician working on the job will make sure to operate safely with the switches and have them replaced properly. If the issues are not taken seriously by the property owner then serious problems and legal issues can form.
What is the best RCD switch brand?
We highly recommend using the Clipsal brand for RCD switch replacement and repair as their devices are some of the most advanced, safe and cost effective on the market. Based on our 25 plus years of experience, we exclusively use Clipsal for all our switch installations across Sydney. Click to view Clipsal's full range of RCD switches.
What Signs Indicate My RCD Switch Not Working?
The three more common cases to why a RCD switch will trip and fail to work are:
Sudden electrical surges are caused or faulty parts are present as heating could occur
The presence of moisture has resulted in electricity to leak into earth within an appliances or wiring in the home
Faulty or random electrical surges causing appliances and their motors to break
To solve these issues a qualified electrician is needed to repair all the damage of the faulty RCD Switch before it becomes a serious electrical hazzard.
Sydney's Trusted RCD Switch Electricians!
At The Local Electrician, we will provide to you certified emergency electrician who will be able to connect, install, repair and inspect your RCD safety switches. If immediate attention is needed, our 24 hr emergency electrical team will be able to quickly arrive quickly with 60 minutes of placing a call to resolve any issues regarding RCD devices. We also offer level 2 electrician services for more complicated jobs. Contact us on 0439 823 190 or email us for our staff to properly and safely work on your RCD safety switches today!
Frequently Asked RCD Switches Questions!
What Are RCD Switches?
RCD (Residual Current devices) are electrical safety devices that are legally required to be installed in all Australian homes built from the year 2000. They are essential in preventing electrocution, power shocks and electrical fires.
How Does A RCD Switch Work?
An RCD Switch works by constantly monitoring the electrical flow of neutral and active wires. If an imbalance occurs due to a power surge, an RCD switch will immediately cut off the power to prevent further damage.
How Do I Test An RCD Switch?
To test your home's RCD switches, go to your consumer unit and check if you have an electrical component that has button marked with "Test" or 'T'
What Trips An RCD Switch?
An RCD switch is typically tripped by an overloaded power point or a faulty electrical circuit. This fault typically originates from faulty electrical appliances. The most common electrical appliances to trip are toasters, kettles and washing machines.
Is An RCD Switch The Same As A Circuit Breaker?
Although similar in function, the main distinction between an RCD switch and a circuit breaker is that RCDs are designed to protect people whereas circuit breakers were designed to protect your wiring and electrical systems. Overall, they both keep you and your home safe and free from electrocution and fire risks.
What Are The Different Types Of RCD Switches?
There are 4 main types of Australian RCD switches. These are: meter box mounted RCD switch, a combination of RCD switches and circuit breakers, portable RCDs and power point RCD switches.
How Reliable Is A RCD Switch?
An RCD Switch is extremely reliable as well as energy efficient. A test from the UK safety standard revealed that RCD switches are approximately 97% reliable. This figure can change depending on the regularity of RCD switch testing.
How Often Should My RCD Switches Be Tested?
Based on our professional electrical experiences, it is recommended that residential RCD switches be tested every 3 months – 2 years, however this depends on what type of RCD switch is being used.
Is An RCD A Safety Switch?
A residual current device is a form of safety switch protecting house holds from electrical shocks, electrocution and electrical fires.
Lifetime Warranty on Workmanship and Labor
Our Services
Our skilled electricians are qualified to carry out any electrical repair or installation within Sydney. We strive to deliver absolute customer satisfaction by offering electrical services that are affordable, safe and long lasting.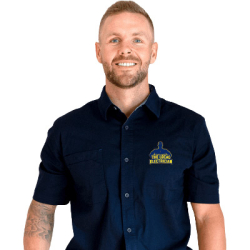 Latest posts by Hamish Baker
(see all)