Single Phase vs 3 Phase Power – Everything You Need To Know
Posted on March 4, 2022
There are many similarities and differences between single phase and three phase power. These are power supply connection systems and have different power levels to suit different electrical needs. Here at The Local Electrician our Level 2 Electrician team is here to install, repair and upgrade single phase and three phase power in Sydney.
Single phase power and three phase power are power supply systems used in residential, commercial and industrial buildings. Single phase power is mainly used in places where the electrical equipment and systems are lower and smaller, such as most residential homes. Three phase power offers a more reliable power supply and is suited for places with heavy and larger electrical equipment, such as homes with more large appliances and in larger buildings.
What are the Similarities and Differences Between Single Phase and Three Phase Power?
To compare single phase and three phase power read below:
Single Phase

Three Phase

What is it

Single phase power is the supply voltage of power that flows and the power changes simultaneously while the voltage starts at 230 volts. The connections are neutral and phase wires where the neutral is a returning path and the phase wires will carry the electrical load. 

Three phase power is where the voltage remains consistent and never drops to zero. There are three conductor wires that run alongside different single neutral wires within the three phase connection and the voltage ranges from 240 volts to 415 volts.

Where it is used 

Mainly in residential homes or in smaller buildings. Single phase power will reliably provide the electricity needs for these places. 

Places that need a more reliable supply of power and a power source that is larger. This includes places that have workshop equipment, larger domestic buildings, larger buildings in general and also homes that have many larger appliances.

Advantages

Best used in domestic settings as smaller appliances are used, such as televisions, fridges and lights

The connection and function is simple and also reliable for residential uses

Due to the reduction in power the connection runs optimally and transmits all the power efficiently 

Additional starters are not needed to have the heavy industrial motors run due to the added power

Larger machinery, equipment and appliances can run more effectively due to the added electrical power

With the number of phases increased within the electrical supply system the overall power system becomes smoother

An excess amount of conducting materials to transmit power is not needed for three phase power meaning it is economical

Disadvantages

When there are more larger appliances in a bigger home, such as air conditioners, solar panels and alike, the single phase power will struggle to supply a reliable connection

The main issue with there phase power is that it is expensive to repair due to the many different components

Three phase power also has a high insulation cost
Do I Need 3 Phase Power Over Single Phase Power?
Most residential homes will be able to run effectively on single phase power but there are many reasons why upgrading to 3 phase power is advised. When additional electrical systems will be added into the home, such as smart home technologies, air conditioners and electric hot water systems, then the three phase power will be able to meet the demands for all these systems. A single phase connection will still provide adequate electrical power but a three phase power system does it more reliably and efficiently.
How Much Does it Cost to Convert From Single Phase to Three Phase?
The cost to upgrade from single phase to three phase power depends on many different factors. How easy it is to run the three phase power connection to the home will influence the cost where the easier it is the less labour is needed to accommodate for the upgrade. Other factors, including adding a private power pole, upgrading the meter box, if needing to excavate for underground service lines and if vegetation trimming is needed, will influence how much it costs to upgrade to three phase power.
Expert Level 2 Electricians for Sydney
The Local Electrician offers professional level 2 electricians who can perform a variety of services on single phase and three phase power. Each fully qualified electrician can repair, install and upgrade these systems and carry out all the necessary work on other systems connected to them. Our team operates safely and efficiently on all tasks and makes sure that the power supply systems are worked on correctly.
For the best single phase and three phase power services – rely on The Local Electrician!
Lifetime Warranty on Workmanship and Labor
Our Services
Our skilled electricians are qualified to carry out any electrical repair or installation within Sydney. We strive to deliver absolute customer satisfaction by offering electrical services that are affordable, safe and long lasting.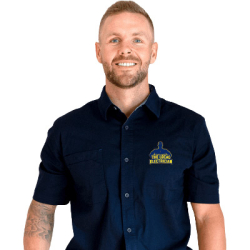 Latest posts by Hamish Baker
(see all)