Smoke Alarm Compliance Guidance
Posted on October 8, 2021
There are many different rules and regulations with smoke alarms so having a smoke alarm compliance guidance check is important. From performing regular smoke alarm tests to carrying out new smoke alarm installations, there are many parts involved with ensuring the smoke alarms work correctly. Here at The Local Electrician, we are here to perform smoke alarms services including carrying out tasks to ensure the smoke alarms are functioning properly and work under the smoke alarm compliances. 
A good smoke alarm compliance check to follow to ensure the smoke alarms are working correctly is:
Once a month test the smoke alarm
Every six months clean any dust off the inside and outside of the smoke alarm
Every twelve months replace alkaline or lead batteries
Once every ten years replace the smoke detectors
What are Some Smoke Alarm Compliances?
Within NSW there are many different types of smoke alarm legislations to ensure people have working smoke detectors. Smoke alarms are important for fire safety and alerting people that a fire has been detected. This is why under Clause 146A of the Environmental Planning and Assessment Act 1979 and also Division 7A of Part 9 of the Environmental Planning and Assessment Regulation 2000 states at least one smoke alarm must be installed on levels where people sleep. The smoke alarms themselves must also meet Australian Standard AS 3786.
Homeowners
Within residential properties, there has to be at least one smoke alarm present within each level of the home. These smoke alarms must be fitted into each level including for occupied homes, relocatable houses, rental properties, camper-vans, caravans and any other residential place where people sleep. 
Tenants
For tenants, their landlords are responsible for having the residential space follow all needed requirements for smoke alarms. This means that there needs to be a properly functioning smoke alarm at every level of the house. When the landlord has access to the rented premises they will be responsible for installing the smoke detector after a two days' notice has been given. 
When the tenancy has begun then the tenant is the person responsible for ensuring they have a working smoke alarm. This includes cleaning it, testing it and replacing it if needed and notifying the landlord that these have occurred. Any back-up battery or hard-wired smoke alarm will be replaced by the landlord though. When the tenant is physically unable to check and replace the smoke alarm batteries then the tenant must tell the landlord for them to perform the action. 
Landlords
Landlords or tenants cannot interfere or remove any smoke alarms within a property. The landlord will need to ensure that before the tenant moves in that the battery in the smoke alarm is replaced. Within the condition report section of the tenancy agreement there must be a section on smoke alarms and how they are managed. When people rent holiday homes then they also need to install, test and replace the smoke alarms. 
Landlords will also need to inspect the smoke alarms each year and replace them after ten years. The replaceable batteries will need to be replaced by the tenant every year, lithium batteries might be different but the manufacturer instructions will make it clear. There must be a 2 day notice given out to the tenant that smoke alarm maintenance is being performed. 
Caravans and Motorhomes
These types of residential living have highly combustible fittings and smoke alarms are extremely important. There must be at least one working smoke detector within the place located near the bed or sleeping area.
What is a Good Smoke Alarm Compliance Guide to Follow?
Even though there must be at least one smoke detector within each level where people sleep it is encouraged that more are installed. One outside each sleeping room, within hallways and stairways and at least one on any level are recommended to ensure people can be alerted of a fire at any point of the house. 
Smoke alarm maintenance includes testing, cleaning and inspecting each smoke alarm at given points in time. These tasks are performed to ensure the smoke alarm is healthy with a working battery present. Problems can be found early to repair them or replace the alarm completely to also ensure that smoke detector compliances are met. An effective smoke alarm compliance check follows:
Monthly – every month performing a

smoke alarm test

is important to guarantee that they are working properly.

Six months – every six months the smoke alarms should be cleaned. This includes any dust, insects or other debris that could be blocking the smoke alarm or causing false alarms.

Yearly – each year the lead or alkaline batteries of smoke detectors should be replaced to guarantee a working one is present.

Ten years – every ten years the smoke alarms around the home should be replaced as this is the average lifespan of smoke detectors.
Reliable Smoke Alarm Testing Services
The Local Electrician is here with reliable smoke alarm services, including performing maintenance work. We will carry out smoke alarm compliance checks to ensure the detectors are working correctly in the home. Each Emergency Electrician will arrive on time, can work with any smoke alarm and will ensure that each detector meets legal requirements.
For the best smoke alarm electricians – contact The Local Electrician today!
Lifetime Warranty on Workmanship and Labor
Our Services
Our skilled electricians are qualified to carry out any electrical repair or installation within Sydney. We strive to deliver absolute customer satisfaction by offering electrical services that are affordable, safe and long lasting.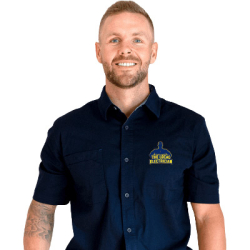 Latest posts by Hamish Baker
(see all)