Switchboard Fire Risks – How To Prevent
Posted on April 29, 2022
There are many switchboard fire risks that can lead to major electrical fires in homes. Knowing how to detect the risks and signs of electrical fires with switchboards is important. Electrical switchboards are important systems but ensuring they are protected from damage and causing a fire is needed. Here at The Local Electrician, our Emergency Electrician team is here to repair switchboards and perform services preventing and resolving electrical fires.
The main switchboard fire risks are heat stress, not being properly sealed, asbestos present and an older switchboard. To prevent electrical fires from the switchboard ensure an electrician inspects the current system regularly. They will determine whether or not repairs need to be done or if upgrading it will be beneficial.
What are Common Problems That Result in Switchboard Electrical Fires?
The most common switchboard fire risks are:
Heat Stress
Heat can stress the switchboard resulting in the insulation to wear away, the system to overload and the potential for a fire to start rising. The reason why heat can rise within the switchboard can be from a poor installation job, the switchboard is older, there is damage done to the system, the cabling size is too small and the switchboard is not handling the electrical demand. The cabling can lose its insulation from these factors, exposing the wires and the chance of a fire increases.
Not Properly Fire Sealed
Electrical switchboards need to be properly fire sealed according to Australian electrical safety regulations. These ensure that the switchboard is sealed and if a fire would start in the switchboard that it will not spread to other parts of the building. A fire rated sealant is used on all the holes and cable entries of the switchboard to ensure that if a fire starts it does not spread. 
Asbestos
If the switchboard has asbestos it will be fire resistant, however, asbestos is highly hazardous to human health and will need to be removed by a professional. When there is asbestos in the home, and especially if it is breaking or crumbling, then a licensed asbestos removalist will need to be contacted. If the asbestos is breaking then it will not be protecting the switchboard as well which can lead to switchboard fire risks. 
Older Age
The older the switchboard means that it will often be built and designed for a different time period. Today there are many appliances and systems that will draw on more power, such as air conditioners, electric hot water systems and entertainment systems. The older switchboard might not be able to handle all of the electrical demand and the chance of electrical overloading increases. 
Damaged Switchboard
When the switchboard panel or parts of it are damaged then the risk of a live electrical part being exposed is there. Electric shock can occur from this if a human had to touch it as well as a fire might start.
How Do I Reduce the Switchboard Fire Risk?
The best ways to reduce electrical switchboard fire risks are:
Electrical Safety Inspections
Electrical safety inspections are when a trained electrician performs scheduled inspections and tests on the electrical components of the home or building. A section of the inspection will be looking over the electrical switchboard and its condition. The electrician will see if there are any damages or potential risks to the switchboard and then repair them if necessary. To ensure that the switchboard is in good condition and does not have a risk of an electrical fire then organising an electrician to inspect it and the other systems of the home is encouraged. 
Upgrade the Switchboard
Upgrading the switchboard is a good option if the current switchboard is older, rusted or if there needs to be a more reliable switchboard for the growing demand of electricity. The switchboard can be upgraded to a newer model and the option to upgrade to a 3 phase system is possible. It will often be more cost and generally effective to upgrade the switchboard if the current one needs repairs and is older. 
A Level 2 Electrician should be contacted to inspect the switchboard and determine if repairing or replacing the switchboard will be the most beneficial, including with reducing switchboard fire risks. For more information on why you should upgrade to 3 phase switchboard then our blog is here with all the needed facts.
Trusted Switchboard Upgrade and Repairs
The Local Electrician is here with professional emergency level 2 electricians to access switchboard fire risks and carry out switchboard repairs and upgrades. Our fully qualified electricians are trained to perform a wide range of services on electrical switchboards on any property. We make sure that the whole repair, inspection or upgrade is performed skillfully with professional methods.
Our team is available for all of Sydney to work on switchboard fire risk management and other switchboard services, including Eastern Suburbs and Greater Western Sydney.
For trusted switchboard installation, repair, inspection and upgrade services – rely on The Local Electrician!
Lifetime Warranty on Workmanship and Labor
Our Services
Our skilled electricians are qualified to carry out any electrical repair or installation within Sydney. We strive to deliver absolute customer satisfaction by offering electrical services that are affordable, safe and long lasting.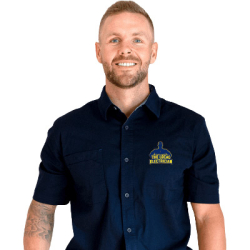 Latest posts by Hamish Baker
(see all)