Switchboard Safety – Compliance Checklist
Posted on March 18, 2022
Understanding a switchboard safety compliance checklist will help in keeping the switchboard working effectively and safely. The electrical switchboard is where the different circuits distribute their electricity and where safety devices are installed. It is important that the switchboard is operating safely to ensure that the home, electrical systems and people are protected from electrical dangers. Here at The Local Electrician, our Emergency Electrician team will perform a professional switchboard safety compliance checklist and inspections to ensure that the system is working as it should. 
A good switchboard safety compliance checklist to follow is:
All RCDs and safety switches are installed and working correctly
The circuit breaker is functioning properly 
There are enough RCDs and safety switches for each circuit, not one protecting multiple circuits
The parts of the switchboard are of good quality
Any old fuses are replaced and upgraded
The meter box is secured and locked up to protect the switchboard and other devices
Asbestos is removed by a qualified professional
If there is any loose wiring a trained electrician fixes the issue
What is a Good Switchboard Safety Compliance Checklist to Follow?
For a reliable and good switchboard safety compliance checklist to know and follow for the switchboard to be working safely is described below:
RCDs and Safety Switches are in Good Condition
It is important to first check that there are RCDs and safety switches inside of the meter box and with the switchboard. These are extremely important when it comes to protecting people and animals from being electric shocked. Coming into direct contact with a faulty electrical system can mean that being shocked is possible. Looking to see if there are safety switches installed and testing the current ones will help with ensuring they are protecting people from electric shocks. 
Circuit Breaker is in Good Condition 
The circuit breaker is similar to the RCDs but it protects electrical appliances and systems from spikes and surges rather than people. The circuit breakers should be inspected to ensure that every part is in the 'on' position and operating properly. If the circuit breaker trips reset it and if it continues to trip have an electrician inspect what could be causing the issue. To prevent electrical fires or appliances from breaking, the circuit breaker needs to be functioning correctly. 
Adequate Amount of RCDs and Safety Switches
The RCDs or safety switches should protect one circuit and not multiple circuits. One safety switch can operate but it is strongly advised to install multiple to prevent nuisance tripping and for there to be more protection.
Good Quality Parts are Installed
The switchboard should be fitted with quality parts and not cheap ones. This is because the switchboard and the safety systems protect people and appliances from electrical danger and are how electricity is provided to the home. When parts and systems are being installed regarding the switchboard ensure to always purchase good quality parts.
Old Fuses are Upgraded
Older fuses pose a greater risk of not protecting the home properly from electrical dangers. Most times these older fuses are also not working or are faulty which can be harmful. Fuse boards might also have no safety switches attached to them and they are overall harder to maintain. If there are working older fuses installed in the home, regular inspections and maintenance to ensure that they are working safely and correctly is important in preventing major safety hazards.
Meter Box is Locked 
It is strongly recommended that the meter box is locked to ensure animals or people do not interfere with the systems inside. If there needs to be work done on the parts inside the meter box, such as the switchboard, then make certain to lock it after using it. 
Asbestos is Removed
If living in an older home then have an electrician inspect the switchboard to see if asbestos is present. If there is then organising for it to be removed by a qualified electrician and for a new one to be installed is highly recommended. 
Loose Wiring is Fixed
Checking to see if there is any loose wiring with the switchboard is important. Loose wiring can become caught, wear easier and be exposed to being damaged. If there is any loose wiring then have an electrician work to resolve the issue to prevent issues in the future. 
To know signs that your switchboard needs repairs then we highly recommended dreading our blog to ensure the switchboard can be working correctly at all times.
Professional Switchboard Services Sydney
The Local Electrician is here at all times to send a fully qualified electrician to work on switchboard services. Our team follows a professional switchboard safety compliance checklist to ensure that the systems are working safely. We will repair any needed parts or upgrade systems to ensure that everything functions correctly at all times.
For the best switchboard repair, inspection and upgrade services – rely on The Local Electrician!
Lifetime Warranty on Workmanship and Labor
Our Services
Our skilled electricians are qualified to carry out any electrical repair or installation within Sydney. We strive to deliver absolute customer satisfaction by offering electrical services that are affordable, safe and long lasting.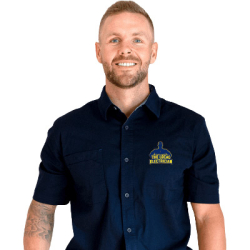 Latest posts by Hamish Baker
(see all)