Switchboard Upgrade – Everything You Need To Know
Posted on July 17, 2020
Electrical switchboard upgrades come with many benefits and may be critically needed at times. Upgrading switchboards requires a qualified electrician to properly inspect older systems and identify what needs to be updated. The Local Electrician has been working on upgrading electrical switchboards across Sydney for over 25 years. Our Level 2 Electrician team can be hired to upgrade any electrical switchboard!
Electrical switchboards are responsible for diverting electricity and power across your home. There are many reasons for a switchboard upgrade, including old age, overheated cables, short-circuiting appliances, too many household appliances, lights flickering and receiving an electrical defect notice. Property owners are required by Australian Standards to have up to date switchboards as electrocution and house fires are more likely to occur within older switchboards. A switchboard upgrade can cost anywhere from $800- $4000 depending on your building's current wiring system and age.
What is an Electrical Switchboard?
An electrical switchboard is what transmits the electricity from the street to the rest of the building. It will direct currents to each circuit and the different house hold appliances throughout your house. A safety switch or RCD switch is also installed within the switchboard and will shut down the electrical supply to the building when a change in the electrical current is identified. The presence of a modern electrical switchboard with a safety switch is essential and mandatory required by the AS3000:2018 Australian wiring rules and legislation.
Do I Need A Switchboard Upgrade?
As technology becomes more advanced, household energy consumption will also continue to increase. The result is that now more than ever, Australians have more household appliances which in turn requires more energy. Old switchboards such as old ceramic and porcelain fuses are just not equipped to continue to service the ever-growing electricity demand.
Australia's energy safety standards are regularly updated to ensure our country's switchboards are safe and operating efficiently. Under Australia's Energy Standards, you are currently legally required to upgrade your switchboard if you have:
Received an electrical defect notice
Want to add major electrical appliances. Examples can include pool and irrigation pumps.
Want to install a new power-point
Reasons for Upgrading Your Switchboard
There are multiple reasons why upgrading the switchboard is needed, some of the more common reasons are:
The switchboard is of older age, the older the system the more likely problems will occur
Circuit breakers will trip on more regular levels
A fuse box that is outdated, most likely with ceramic fuses
Lights around the building flicker at random times
When too many appliances are being used the fuses blow more frequently
Appliances short circuit quite often
Buzzing or odd noises occur from the switchboard
Within the switchboard, the cables become overheated which leads to them overloading
New PowerPoints to be installed
More appliances with larger electrical demands need or want to be installed in the home
Along with these reasons, as electrical demands and appliances have developed, older switchboards cannot handle today's needs. Electrocution, electrical fires and other negative issues may come from older switchboards overworking. Upgrading to a newer and safer switchboard will prevent these issues from occurring, protecting appliances, the building and also people.
Does Your Switchboard Look Like This?
Why Are Ceramic Fuses Not Safe?
Ceramic fuses, otherwise known as porcelain fuses were widely installed in Australian homes during the late 1900s as a safety device. They only trip the power when there is an overload or a short circuit to the ceramic's fuse wire as it overheats. If your house is older than 25 years and you have yet to have your switchboard upgrade, it is extremely likely that you currently have ceramic fuses installed.
The main reasons as to why they are no longer safe is that they are gradually starting to struggle in keeping up with current electricity demands and are beginning to crack. Ceramic fuses also do not have the added convenience of circuit breakers whenever there's a trip switch within your houses.  These fuses will also regularly trip at minor electrical usages, which in some circumstances can cause more harm than good.
How Much Does A New Switchboard Upgrade Cost?
There are many different costs involved in a switchboard upgrade and these will differ for each property. After many client requests, here is the approximate guide on the common costs for a Sydney electrical switchboard upgrade.
A basic fuse box upgrade will cost between $800-$1900.
If your home's mains need to be upgraded, cabling needs to be carried out or the switchboard needs to be relocated. This will cost approximately $2000-$4000.
If you require a 3 phase switchboard upgrade this will cost between $3000- $4500
*These are approximate averages.
It is important to note that the electrician carrying out the upgrade will charge differently. However, these are the current approximate costs across Sydney based on our consultation with a number of local electricians. You should also be wary if an electrician charges below this range as they may not be fully qualified.  If additional steps are also required, such as asbestos removal and upgrading consumer mains, the cost will increase. For an accurate and more detailed quote, contact one of our friendly electricians today.
What Are 3 Phase Switchboard Upgrades?
You will require a 3 phase switchboard if your property has relatively high electricity requirements and uses multiple appliances. This switchboard is typically installed in commercial and industrial properties and can be installed in larger residential properties that run a lot of electrical systems. Some examples as to why some homes install a 3 phase is if they have multiple air conditioning or ducted units or are building a granny flat.
The benefits of installing a 3 phase include that their power supply will never drop to zero, they are more reliable and powerful, they are extremely energy efficient and there is a lot less cabling involved in the installation. Only a licensed level 2 asp electrician can install, replace or upgrade to a 3 phase switchboard. Subsequently, if you have received an electrical defect notice related to either your 3 phase switchboard or 3 phase consumer mains, then you will need to contact a trusted local level 2 electrician.
How Does A Switchboard Get Upgraded?
During a switchboard upgrade, there will be many different steps involved in a safe and successful process. Each upgrade will be different based on your building's age and the wiring system influencing what needs to be done. The electrician involved will need to follow all safety guidelines and regulations to ensure the job is done correctly.
Usually, the switchboard upgrade process will often take 2-4 hours and generally include:
The building's power will be turned off to ensure the switchboard upgrade is safe
All old correct protection devices and fuses will be removed properly
An 8-12 pole enclosure will be installed to hone in the new RCD switches and breakers
All current circuits will be connected to updated circuit breakers, RCD switches and more to agree with standards
The grounding system will be inspected and make sure it is still in proper condition
Around 7 electrical tests will be conducted throughout the whole process to guarantee that everything works correctly
Along with many more detailed steps, the upgrade process involves focused steps and proper techniques. There may also be additional steps that are often encouraged so that everything works well and is safe.
Replacement Of Asbestos Panel
For older homes aged over 25 years or built before the year 2004, their electrical switchboards could have been built with an asbestos panel. Asbestos is a highly hazardous material that will need to be handled by a professional electrician under the NSW Work Health and Safety Regulation 2017. Only a Level 2 Electrician is legally required to work on switchboard asbestos removal it is risky and more advanced than what regular electricians can do.
For more information on asbestos switchboard removal read our blog with more details on the process.
Upgrade Your Consumers Mains
The consumer main is what connects the streets wires to the buildings and may need to be upgraded due to faults or growing energy demands. Consumer mains can be connected to your switchboard through either overhead power poles or underground cables. Houses built before the year 2010 were typically supplied with a 6mm consumer main which supplies 40 amps of electricity.
If your household uses more electrical appliances, like air conditioning, cooking appliances, pool pumps and you plan to install more appliances in the near future there is a high chance that your older system will not be able to handle the increased electrical demand. A Level 2 Electrician is required to work on consumer mains due to their advanced nature. We typically upgrade consumer mains to 16mm cables that can handle upward of 70amps of electricity. If Ausgrid, Endeavour Energy or Essential Energy identifies a consumer main fault , they will issue you with an electrical defect notice to have it repaired within 21 days.
Cable Upgrades & Protection
If homeowners try to do a DIY switchboard upgrade, they potentially run the risk of creating a huge electrical risk and switchboard fires. The main reason being is that they typically try to rewire their fuse with a wire that is too large.
We all have 100s of different cables within our property and each of them has been custom fitted and installed for a purpose. For example, a standard lighting circuit's wire is approximately 1mm in dimension and can handle anywhere between 10amps-13amps. An outdated porcelain fuse can only handle 8amps and if this was to overheat (which it would) a fire could easily start. You can really see the stark contrast between power capabilities and the importance of contacting a professional electrician for your switchboard through cable upgrades and protection.
What Is An RCD?
An RCD switch (Residual current device) is installed in switchboards and works by acting as a safety device in stopping extreme electrical strikes, fires and electrocution risks from damaging homes. They work by constantly monitoring the electricity flow in neutral and active wires and will immediately shut off the power if an imbalance occurs.
Under the Residual current devices – SafeWork NSW legislation, RCDs are now mandatory to be installed in houses built from the year 2000. However, if your home was built before the year 2000, we highly encouraging installing them into your switchboard as they offer protection that old-school ceramic fuses and basic circuit breakers cannot provide.
Safety Devices – Fuses, Circuit Breaker & RCD Switches
A switchboard has can have multiple safety devices installed to protect both your electrical systems and your family from electrocution. A fuse will break the electrical current if an appliance causes too much current to flow. A circuit breaker is basically a resettable fuse designed to trip switches once it detects a larger than usual current. It is mainly designed to protect electrical systems A RCD offers an extra layer of protection, as it is specifically designed to protect people from electrocution risks
Affordable and Reliable Switchboard Upgrades
The Local Electrician has been upgrading electrical switchboards in the North Shore, South Sydney and Sutherland Shire and Sydney for over 25 years. Our team of trusted Emergency Electrician have the experience, as well as licensing, to carry out all switchboard upgrades. Similarly, we can work in any residential, commercial and industrial building, upgrading all types of switchboards. Additionally, our level 2 electrician team are available 24/7 for helping with all tasks, especially regarding 3 phase switchboard upgrades and consumer main upgrades
Regardless of the difficulty of the switchboard upgrade – contact The Local Electrician at info@thelocalelectrician.com.au. We will apply efficient techniques throughout the whole upgrade and make sure we work safely, timely and professionally at all times. We also proudly offer a free electrical safety inspection on all jobs and offer a 5-year warranty on all our Hager switchboard materials.
Lifetime Warranty on Workmanship and Labor
Our Level 2 Electrical Services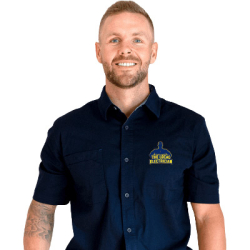 Latest posts by Hamish Baker
(see all)