Sydney Emergency Electrical Services: Coronavirus
Posted on March 27, 2020
The Local Electrician is taking the coronavirus COVID-19 extremely seriously. As an essential service we are committed to helping reduce the spread of this virus in any way we can and still providing emergency electrical services across Sydney. As a result, we have introduced a number of safety procedures and policies for all of our staff and clients so that everyone can be assured of the quality and reliability of our electrical services. We are also all getting COVID tested regularly.
Are Electricians An Essential Service During Covid?
Emergency electricians are in fact deemed an essential service by NSW Health as we handle critical emergency repairs and power outages. Under the most recent COVID guidelines which has temporarily paused the construction industry until July 30th 2021 allowing only urgent repairs, such as water and electricity problems. You are still legally allowed to contact an electrician if you need the following repairs:
When Can I Call An Electrician During Covid?
*Although there are other emergency repairs that electricians can undertake during COVID. These are just some of the more common repairs that we believe needed clarification. However, if you have any concerns – we highly recommend that you contact your local council or government body. You can use this local council search to help identify what your governing body is.
COVID-19 Electrical Safety Precautions
These new safety precautions, are as per the recommendations and guidelines of the Department of Health and the NSW Government and include:
Regular COVID Tests: Everyone one of our team members receive regular COVID tests.
Symptom Free Employees: Every electrician that we have working within your house will be 100% healthy and symptom free. We have already instructed our team that if you are showing symptoms, you will not be working.
Wiping Down All Surfaces: Our electricians will always wipe down and disinfectant all surfaces before and after they finish work.
Face-masks: Our entire team have face-masks and are instructed to wear these within the vicinity of your home.
Gloves & Sanitiser: We will also perform all electrical tasks with safety gloves and sanitise our hands before and after we finish work
Social Distancing: We will also maintain a 1.5- 2m distance at all times while we are working in the form of social distancing.
High Pressure Cleaning: We are also using a gurney on all vehicle and disinfecting any materials or equipment we bring on site.
All of these precautions are a safety measure to help keep our communities safe. Electricity is a service that every person needs more than ever, and The Local Electrician are committed to help delivering and repairing it across Sydney. Please, also be advised that we are monitoring this situation very carefully and are acting in accordance with all rules and regulations.
Coronavirus Electricians
Despite the coronavirus, we still have 24hr emergency electricians operating around the clock to help you and your family anyway we can. Our level 2 electricians are also always available to help resolve any point of attachment issue, electrical defect notice or any other emergency repair! The Local Electrician has proudly serviced every Sydney suburb for over 25 years and we will continue to do so during these times. If you have questions or are interested in a quote, please do not hesitate from contacting us on 0439 823 1… or emailing us at info@thelocalelectrician.com.au.
The Local Electrician's team would like to thank you for your understanding and cooperation during this time. We also apologise in advance for their being no handshakes.
Our Services
Our skilled electricians are qualified to carry out any electrical repair or installation within Sydney. We strive to deliver absolute customer satisfaction by offering electrical services that are affordable, safe and long lasting.
Lifetime Warranty on Workmanship and Labor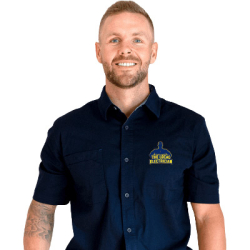 Latest posts by Hamish Baker
(see all)