The Australian Standards For Electric Oven Wiring
Posted on January 1, 2021
The Australian Standards for electric oven wiring are used to make sure this electric kitchen appliance is safely used and correctly installed. Electric ovens are different from gas ovens as electrical wiring and components are used instead of gas. Only a qualified electrician will be able to install an electric oven due to the electrical components involved. The Local Electrician offers our Emergency Electrician team to install electric ovens in any place. 
Electrical Installations – Australia/New Zealand Wiring Rules 3000:2018 are the Australian Standards for electric oven wiring. They include rules and regulations which state who can install electric ovens and other specific requirements. A licensed electrician is able to work with the electric oven as there are electrical circuits and multiple wires involved.
What are the Australian Standards on Electric Ovens?
As electric ovens are a type of electrical appliance, qualified and professional electricians are needed to work on them. This type of electrical work with electric ovens also needs a compliance certificate after it has been installed. This is to confirm that the oven has been installed professionally and aligns with all standards and regulations. 
Safety Switches and RCD's
An electric oven is required to have a safety switch or an RCD installed along with it. They are located on a final sub-circuit in domestic and residential buildings and connected when new ovens are installed. If a new switchboard is installed or if any rewiring occurs in the kitchen then a new circuit will need to be connected to the cooker control unit. 
For more information on what to know when planning for kitchen rewiring our article offers more considerations and advice. 
Arc Fault Protection Devices
These are installed to help prevent an electrical fire from starting due to an arc fault. This type of fault occurs between two conductors and will often create a large amount of heat leading to fires. These arc fault protection devices will be connected to the electric oven through the electrical switchboard. 
Isolation Switches
Isolation switches are mandatory to be installed with electric cookers to help with future tasks. An isolation switch allows an electrician to disconnect the power to a specific system. This is to help an electrician work to repair or perform maintenance work on the oven and still have power to other electrical systems. They are installed and mounted next to the oven and for the electrician to easily access it.
Do Electric Ovens Need to be Hardwired?
Ovens which run on electricity are hardwired if they have a rating of over 3kw. If the oven has less than 3kw then it can be plugged into a dedicated circuit. Hardwired ovens are always recommended as they are safer and more reliable. 
An oven which is hardwired means the cables are furnished with the product with no plug in. The oven is directly installed in the building connecting to its own dedicated circuit.
Can I Just Plug in an Electric Oven?
If the oven is safe to be plugged into an electrical outlet then it can be installed this way. An electric oven will often have higher power requirements which means it cannot be installed into regular powerpoints. A 220-volt outlet is needed for electric powered ovens for it to run safely. 
It is strongly recommended that an electrician still performs the installation to ensure the oven is properly installed. The system might be incorrectly installed and there are more steps to perform than simply plugging in the appliance. Mostly due to the amount of electrical wiring involved.
Is an Electric or Gas Oven Better?
Each person will prefer using either a gas or electric oven inside their home. Each oven has its own positives and negatives on why they should be installed and used. To find out more we spoke to the expert gas fitters at The Local Plumber.
Oven

Positives

Negatives

Electric 

Design – most electric ovens suit the aesthetics of modern homes as they have a glass surface.

Easy to Use – it is easier to run on the oven while the smooth top allows for easy use as well.

Less Expensive Initially – electric ovens are easier to install and also cost less when purchasing the actual oven.

Slow Cook – it is slower to cook on electric ovens 

Power Outages – if there is a power outage then the electric oven would not be able to be used due to relying on electrical power. 

Gas

Cooking Quality – gas ovens often cook better when compared to electric. This is due to a consistent flame which is adjustable and is overall more efficient and quicker. 

Cost – the cost to have an oven run on gas is less than electric. If a gas line is already installed in the building then installing a gas oven is also easier. 

Costly Installation – has ovens often cost more to initially purchase while the labour costs to install are more. 

Potential Danger – gas systems can be highly dangerous in certain situations, and also toxic gases might accidentally leak.
Trusted Electric Oven Services
The Local Electrician will be able to work on electric oven wiring while performing installations and repairs. Each of our electricians is fully qualified to operate on these ovens and connect them to the electrical system. Each part of the oven is connected correctly, such as the safety switch cables, and we perform tests to make sure the service was successful.
For electric oven wiring and system services – call The Local Electrician any time on 0439 823 190!
Lifetime Warranty on Workmanship and Labor
Our Services
Our skilled electricians are qualified to carry out any electrical repair or installation within Sydney. We strive to deliver absolute customer satisfaction by offering electrical services that are affordable, safe and long lasting.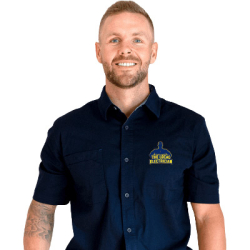 Latest posts by Hamish Baker
(see all)