The Importance Of Earth Electrodes
Posted on May 22, 2020
Earth electrodes are designed to be installed in a building and improve the grounding system. They are driven into the soil below ground level, furthermore, are made of conductors that will not corrode easily. Earthing systems are extremely important and act as a sort of insulation protecting from electrical hazards. Here at The Local Electrician, our Emergency Electrician workers understand all there is with earth electrodes and their importance.
Earth electrodes are critical because they are extremely important in protecting people from electrical hazards. They act as an insulation due to their design and being inserted into the ground. Along with the type of material, earth electrodes are needed to prevent the chance of electrical surges causing damages. 
Earth Electrodes and Grounding Systems
An earth electrode is included within the grounding system to help the systems overall performance. The electrode has either a rod or a pipe that is inserted into the ground. Additionally, metallics plate or mats, or even a copper wire ring may be included in the mix.
The grounding system is installed within every single building because of its important responsibility. It ensures that electrical surges and alike do not cause harm to people and appliances. They direct the electrical surge towards the ground, preventing the increased voltage from causing electrical fires and other serious issues.
We recommend reading our blog about 'electrical ground testing' to know the benefits with grounding systems and the importance of testing their performance.
Ground Resistance with Earth Electrodes
There are four main factors which will influence the ground resistance that the ground system has, related to the earth electrode.
Length or Depth of the Ground Electrode
To lower the ground resistance, driving the electrode further in the soil is most effective. Soil, though, is irregular in its consistency making it inconsistent with its resistance. Doubling the length which the ground electrode is inserted in the ground can increase the resistance by 40%.
However, it can be difficult to impossible to extend the length due to rocks for example. If this is the case, other methods may be needed such as having ground enchantment material included.
Ground Electrode and its Diameter
If needing more resistance, making the diameter of the electrode bigger is almost useless. Doubling the diameter, for instance, will only decrease the resistance by 10% which is therefore pointless.
The Number of Electrodes
More than one ground electrode installed in the ground is another effective way to increase the resistance of the system. The numerous electrodes are connected parallel to decrease the resistance and driven in the ground. Also, to make it more effective, having them placed so that they are equal distance from each other is needed.
Design of Ground Electrodes
Earth electrodes are often designed with one electrode to be driven in the ground. The single electrode is usually the more common method used within grounding due to its simplicity and effectiveness.
Additionally, more complex grounding systems may need multiple ground electrodes. These will be connected and the systems will also include grid networks, ground loops and ground plates. As they heavily increase the amount of resistance they are normally used in mobile phone tower sites, substations and central offices.
Selecting the Type of Earth Electrode
Earth electrodes are also chosen based on the material's corrosion levels, as well as the price. The up-front cost needs to be considered, however, the overall life of the electrode also needs to be recognised. The four main types of earth electrodes include:
Galvanised Steel Rods – these electrodes are the cheapest ones which are available but they are not that strong. Therefore, their cost-effectiveness is not the greatest because they have a shorter life span.
Solid Copper Rods – being more expensive they have a longer life span. Additionally, the copper rods are not designed to be driven into harder grounds because of their higher chance to bend.
Copper Bonded Earth Rods – being both affordable and having a generally longer life span this can be another option. Due to having an electrolytic coating over a layer of nickel, this allows it to be more protected. Also, these are better for being inserted into the ground as they are not easily going to bend. Therefore, they have higher endurance, offer a low resistance path and are good for installing.
Stainless Steel Rods – stainless steel is an alternative option more encouraged to use when structures are close to the ground electrodes. Furthermore, when copper will not suit the land then stainless steel is needed. However, they are a lot more expensive than alternative options which is why they are less common.
Choosing the specific earth electrode comes down to specific factors, however, they all share the same purpose. They are highly needed to allow the grounding system to function more effectively. Therefore, they are needed for protecting the building, appliances and more importantly people from electrical surges.
Earth Electrodes and Qualified Electricians
A Level 2 Electrician is required to install and repair earth electrodes within a building. They are qualified and licensed to operate in all environments, while also able to operate with the electrical item. When needing a certified level 2 electrician, The Local Electrician is here to help 24/7. Our emergency electricians all contain the level 2 electrician licensing, therefore can work on earth electrodes at any time.
We can easily work in all Sydney suburbs and districts, such as the Sutherland Shire, Hills District and Inner West, on earth electrodes. Additionally, we understand all the rules and regulations when it comes to earth electrodes. This means we understand how to safely and properly work with any ground electrode.
For all electrical problems and electrical issues with earth electrodes, we are available to operate on the electrical systems 24 hours a day. Also, no matter the type of electrical job, our 24 hour emergency electrician team are there for all of Sydney. Call The Local Electrician on 0439 823 1… or email us at info@thelocalelectrician.com.au for electrician services with earth electrodes.
Lifetime Warranty on Workmanship and Labor
Our Services
Our skilled electricians are qualified to carry out any electrical repair or installation within Sydney. We strive to deliver absolute customer satisfaction by offering electrical services that are affordable, safe and long lasting.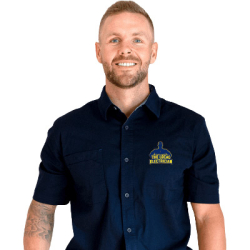 Latest posts by Hamish Baker
(see all)