Tiger Tails Installs & Repairs – Everything You Need To Know!
Posted on October 23, 2020
Installing and repairing tiger tails are handled by a professional Level 2 Electrician. The striped pattern on the cable covers are highly visible and offer a visual warning that power lines are present. Here at The Local Electrician, our level 2 electricians are able to both repair and instal tiger tails in any location.
A level 2 electrician is able to install and repair tiger tails, working on any power line. Tiger tails are synthetic tubes which are installed to warn workers that a live overhead powerline is there. This visual indication of live wires helps people be more aware, with level 2 electricians qualified to work on them.
What are Tiger Tails?
Tiger tails are what will cover up a power line to make it clear that there are live power lines present. They are usually black and yellow and are clipped together over powerlines. The tubes which are clipped on offer brief electrical insulation and also mechanical protection. They are built to be robust and highly noticeable to nearby workers, such as crane operators or tree cutters.
Limitations of Tiger Tails
Tiger tails are only used for warning means and do not:
Insulate the overhead wires which they are clipped onto

Reduce safe approach distances, meaning people still need to be careful around wires even if tiger tails are installed on 

Protect people from shock or electrocution as they do not add added insulation

Permit people to work closer to the powerlines
Who can Work on Tiger Tails?
Only a fully qualified level 2 electrician or a person from an electrical network operator can work on tiger tails. Overhead powerlines are highly dangerous which is why an accredited professional can only work with tiger tails. Either repairing or installing them, the level 2 electrician knows how to safely manage the wires. It is important that an untrained professional stays clear of the overhead powerlines and does not try to work with tiger tails.
Tiger Tail Installation Service - Distribution Mains
Installing tiger tails into properties requires the level 2 electrician to know how to work with larger powerlines. Distribution mains are those which have wires run from pole to pole along the street. There might be multiple different wires and lines that are on the same pole. When this happens the higher voltage lines are located closer to the top.
Low Voltage Telecommunication – the lowest line is often the telecommunications line and usually is thicker in size. Tige tails are often installed as these are the lowest line and people know that there is a powerline above them. Installing tiger tails on these lines are often easier due to being easier to reach.

Low Voltage Power – these power surrounding buildings and are usually four separate wires or all four attached together. Due to these lines being thinner when they are not conjoined tiger tails can help people see these easier.  

Low Voltage Street Light Conductors – powering street lights, tiger tails are applied because the wires are extremely thin. If tiger tails are going to be installed on the powerlines then the energy authority needs to be noticed.

High Voltage Lines – three main lines which are high in voltage are positioned as high as possible. These powerlines are extremely dangerous which is why they are located so high on the pole. Tiger tails cannot be installed on these wires due to being dangerous.
Tiger Tail Installation Service - Service Mains
Service mains are the wires which go from pole to property. They often consist of four main lines separate or all together. Each wire will connect to the building at the Point of Attachment which only a level 2 electrician can work on. Tails installed on these wires can be fitted for added safety with rubber insulation sometimes added along with them. 
Low Voltage Communications – the line which runs from pole to building can be the telecommunications. With them being lower on the pole they are often much easier for tiger tails to be installed on. The tales need to be a correct weight as the telecommunications line can be thin at times. Installing the tails can be affordable and not labour intensive due to their ease of reach. 

Low Voltage Power – these are the lines which provide power to the building. Connecting from the pole to the building via the point of attachment, rubber insulation and tails can be installed.
Tiger Tail Repair Service
A level 2 electrician is needed to disconnect, remove and reconnect all tails from a site. Regardless of where they are located, what wires and if it is on a service main or distribution main level 2 electricians are licensed to work. When the current tiger tails are broken, falling off or too heavy for the wires the electrician will resolve this. Replacing them is simple and having them removed requires the use of safety measures. 
If an untrained person tried to remove the tiger tails there would be a high chance of electrocution or electrical shock. Handling the wires not properly might also cause other electrical issues to develop. This is why a level 2 electrician is the only person who can effectively and safely repair a tiger tail.
Reliable Tiger Tail Services
The Local Electrician has been operating with tiger tails for over 25 years within Sydney. Our electricians are all fully qualified level 2 asp workers who understand how to correctly work with the system. From installing new ones to repairing, replacing or removing old ones, our team always work safely.
Contact The Local Electrician on 0439 823 190 when needing reliable level 2 electrician to repair and install tiger tails!
Lifetime Warranty on Workmanship and Labor
Our Services
Our skilled electricians are qualified to carry out any electrical repair or installation within Sydney. We strive to deliver absolute customer satisfaction by offering electrical services that are affordable, safe and long lasting.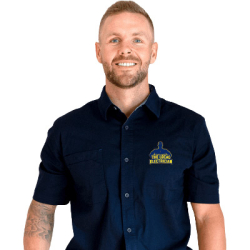 Latest posts by Hamish Baker
(see all)