Titan Composite Power Poles – Everything You Need To Know
Posted on May 6, 2022
Power poles commonly come in either timber or steel but titan composite power poles are another type and have many benefits. From being rust and termite proof to being easy to install, these power poles are strong, durable and cost efficient. A Level 2 Electrician will install titan composite power poles as they are trained to install power poles and cabling systems. Here at The Local Electrician, our level 2 asp service is here for all Sydney locals for us to install any type of private power pole, including titan composite. 
Titan composite power poles are a type of power pole that is installed by level 2 electricians. They have their benefits over timber and steel power poles, such as flexible installation methods and rust, termite and fire proof. The titan composite power poles are able to be installed on private property and connect power to the home through overhead or underground cabling supplies. 
What are the Benefits of Titan Composite Power Poles?
The main benefits that come with installing titan composite power poles are:
Non conductive, termite proof, rot proof, rust proof, bush fire proof

Is able to be cut into different heights to suit different installation height needs and requirements

The structure is hollow and allows cables to be installed within the pole which improves security and safety

A Radio Frequency Identification Device is connected in the pole so during maintenance and identification it can be easily found

The sizes available are broad, ranging from 7.2 metres to 12.5 metres when they are a single piece or 14 metres to 23 metres when pre assembled as a two piece pole

Installing the pole is low cost and also simple

The pole is lighter than steel or timber and can also be screwed and rolled into

Is great for marine or coastal areas and also saline ground conditions

There are no chemical treatments involved and the pole also aligns with

safety standards
Timber and Steel Power Poles
The other common types of power poles are timber and steel. These are often used and both have their positives and negatives. If titan composite poles are not an available choice or of curious to see the other options then below is a guide on both steel and timber poles:
Timber Power Poles
Timbers poles are easily available and are also great non conductors of electricity. They are much easier to install and transport as well over steel power poles. The downsides of installing timber poles are the fact that they are prone to decay if they are not protected properly. They can also be ruined and damaged by fire and termite, insect or animal damages are present as well. 
Steel Power Poles
Steel power poles can be often better at carrying electrical load over timber and have a higher strength. They are longer lasting, lightweight and resistant to most weather conditions compared to timber. The disadvantages of steel poles are they can be damaged by pollution and chemicals leading to corrosion. Maintaining the poles can be more expensive than timber while some animals can still interfere and damage these poles. 
For more information about the differences between timber and steel power poles we highly encourage reading our blog 'wooden vs steel power poles – which is better'.
How are Titan Composite Power Poles Installed?
The general process when it comes to installing titan composite power poles performed by a level  electrician follows:
A hole of a certain size and depth depending on the pole and height requirements is made often with an auger drill

The pole is lifted into place using a sling and crane

The pole is raised but not interfering with the current power lines and placed into position

It is installed and connected to the ground and also all wiring is connected to and from the power pole

The pole connects the wires to the home or building either through overhead cables to the point of attachment or through underground service lines
Expert Level 2 Electricians Installing Power Poles
The Local Electrician is here to perform level 2 asp services including installing titan composite power poles. Our licensed and experienced electricians are trained to install any type of power pole on private property which includes timber, steel and titan composite. We make sure the whole installation process runs smoothly and safely using professional techniques and methods.
When needing level 2 asp titan composite power pole services – rely on The Local Electrician!
Lifetime Warranty on Workmanship and Labor
Our Services
Our skilled electricians are qualified to carry out any electrical repair or installation within Sydney. We strive to deliver absolute customer satisfaction by offering electrical services that are affordable, safe and long lasting.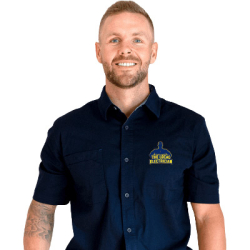 Latest posts by Hamish Baker
(see all)