Top Benefits Of An Underground Power Supply
Posted on October 31, 2021
There are many benefits of an underground power supply system in the home. Undergoing the underground power installation will be carried out by a licensed Level 2 Electrician. The underground electrical systems do not require overhead service lines or power poles as the service cable runs underground. Here at The Local Electrician, within our level 2 electrical work involves us installing underground wiring systems in any property. 
The main benefits of underground power supply systems and going through an underground power installation are:
Safety – without the cables and pole present it is much safer
Uninterrupted Power – underground cabling is much more reliable at maintaining power
Fewer Resources – there are overall fewer resources needed to supply and install underground wiring
Cleaning Look – there is no presence of cables and the power pole
What are Underground Power Supply Systems?
Underground power supply systems are the alternative to having power connected to the home through overhead systems. Instead of having a private power pole connecting power cables from the distributors' cables to the home's meter box, underground power removes the visible wires and poles. There is an underground consumer main and all cables and connections will run underground from the distributor's cables on the street.
Why are Electrical Safety Inspections Important?
The main reason why the safety tests are carried out is to protect people and electrical systems from being harmed. Inspecting the appliances, cabling networks and electrical systems, electricians will be able to see potential or existing faults. These electrical issues can be dealt with before major concerns develop. Regular inspections will ensure that people and electrical systems are safe and that the electrical components of the home are working correctly.
What are the Benefits of Underground Power Supply Systems?
There are many benefits that come with having the power run to the home underground instead of through overhead service lines. 
Safety
With the power poles and cables not on the road or property, this means that the dangers of fallen power poles and lines are not there. Fewer collisions with the pole to cables and lines sagging, underground power removes the chance of these issues happening. The underground cables are not exposed to the world which decreases the chance people, animals or objects can make contact with them. 
Reliable and Secure
The underground electrical service is more reliable as a power source than overhead cables. This is because there are fewer risks of disruptions with the cables as they are located underground. Such as with storms and floods ruining overhead cables, underground cables are much less likely to be damaged. As a result, the power supply is more secure and there will be fewer power outages. 
Aesthetic Value
The home's property value will increase and the overall look of the place will be greater with underground power supply systems. This is because there are no cables or power poles present which will make the property look cleaner. With the reliability of underground electricity networks, it will also be more appealing. 
Easier to Install and Maintain
There are overall fewer materials needed to install the underground cabling system when compared to overhead systems. Underground power supply systems do not need a post, pole or digging for these posts. Pipes and ducts are all that are needed to install the power system and this also means it is more expensive to install overhead power. 
Maintaining the underground power supply systems is much easier than overhead cable systems. This is because there are fewer problems which means that constant repairs or maintenance on the cables is not as often. This also leads to a decrease in the cost of maintenance and repairs with underground cabling.
Who Can Install Underground Power Supply Systems?
A level 2 electrician is the professional who is qualified to install underground power in properties. The underground power installation will be performed by the level 2 electrical contractor using safe and professional methods. Starting from the road connection, the power will be brought in through connection pillars or green boxes then to the home. All wires and connections will be properly installed and constant tests to ensure the underground power system is installed correctly will occur.
How Much Will it Cost to Perform an Underground Power Supply Installation?
When it comes to installing underground power supply systems in homes and properties it depends on the previous power supply network. If the property or build is new then on average the installation of an underground cabling system is around $1500 to $3000. When installing underground service lines into properties that have overhead service lines the price ranges from $3000 to $5000. This increase in price is that there is additional work needed to remove the overhead cabling and poles and reconnect the power to the newly installed underground system.
Should I Install Underground Power Supply Systems Instead of Overhead Power Supply Systems?
In modern times the most suitable, reliable and economic choice is to have an underground cabling network installed instead of overhead. Without the need for cables and poles streets will become cleaner looking and also safer. Underground power will also be more reliable in having constant power whereas overhead systems are more likely to be damaged or experience issues to disrupt power to the home. For more information about overhead power lines or underground cables then our blog is here with further comparisons.
Trusted Level 2 Electricians Performing Underground Power Supply Installations
The Local Electrician is here to carry out underground power supply installation services for Sydney locals. Our fully qualified Level 2 Electrician team will install the underground cabling system in efficient times. The whole installation is performed safely with constant tests and inspections to guarantee the underground power installation is a success.
We will install underground power systems across all of Sydney, including Inner West and Eastern Suburbs. We also offer trusted Emergency Electrician services where we will carry out any professional electrical work at all hours of the day.
For reliable underground power supply installation services – contact The Local Electrician!
Lifetime Warranty on Workmanship and Labor
Our Services
Our skilled electricians are qualified to carry out any electrical repair or installation within Sydney. We strive to deliver absolute customer satisfaction by offering electrical services that are affordable, safe and long lasting.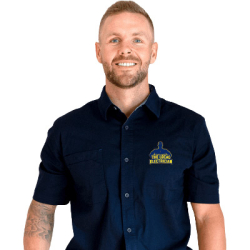 Latest posts by Hamish Baker
(see all)