Transfer Switch Installation – What You Need To Know!
Posted on June 26, 2022
A transfer switch, also commonly referred to as a change over switch is a device that swaps the electrical power supply of a building from its primary source to its backup source. This is often used for generators when there is a blackout and the home's main power supply is unavailable. Transfer switches allow a safe transition to the generator and must be installed by an accredited electrician. Here at The Local Electrician, our Sydney electricians are here to perform professional transfer switch installation services at any time to any suburb. 
Transfer switches are used to connect generators to homes and businesses. When a power outage occurs the transfer switch will allow the generator to work and provide power to your property. This switch also protects the generator when power is restored because it will prevent back-feed. There are different types of transfer switches and a licensed electrician should always install them.
What is a Transfer Switch?
A transfer switch or a change over switch is a device that will switch the power supply from the main source, often the utility lines, to the backup generator source. When a power failure or outage occurs from the primary source then the transfer switch will automatically or manually switch to the backup generator to power the home. The transfer switch is connected to both power supplies and will prevent both from providing power to the building at the same time. 
These switches are extremely important for people who have backup power systems connected to their home or business because they safely activate the generator and prevent damage to the electrical system. Due to recent power outages occurring throughout Sydney, transfer switches are a fantastic way to ensure continual power supply for your property. 
How do transfer switches work?
Transfer switches have their own breaker in them which prevents the utility power and generator from being used at the same time. This also allows for a smooth and safe transition when needing to rely on one of the power systems, such as when the power goes out the generator can be activated reliably. 
Within the transfer switch there are also different circuits that allow for different electrical systems to be powered at different times. For instance the fridge and freezer might have a circuit that allows power to be connected to them at all times during the blackout but swapping the air conditioner and the washing machine circuits can be done to not waste power on these systems when they are not in use.
Why do I need a transfer switch?
The reason why transfer switches are needed is because they are a safety measure and also extremely convenient during Sydney blackouts. An automatic transfer switch will detect when the power is off and automatically switch to the generator to power the home otherwise a manual transfer switch will require a person to flip the power supply. Transfer switches are also important in keeping the generator protected. When the power is restored the transfer switches will prevent back-feed as will isolate the generator before the utility power sources come back to the property. Back-feed can damage the generator, can start an electrical fire and damage workers trying to restore power on the utility lines.
Do I Need an Electrician For a Transfer Switch Installation?
An electrician is needed to perform the transfer switch installation within properties. This is because the transfer switch involves installing the switch itself and connecting it both to the generator and utility power supply. The switch also has circuits within them that need to be connected to other systems of the property. It is a highly dangerous job due to all the electrical cabling involved which is why a fully qualified electrician is needed to perform the transfer switch installation. Furthermore, if you need an upgraded switchboard, such as a 3 phase upgrade, a licensed local electrician can help.
How Much Will it Cost For a Transfer Switch Installation?
The cost of the transfer switch installation will depend on various factors. The different parts involved in installing the transfer switch can cost on average $100. Installing the system itself often ranges from $250 and above with the state of the switchboard, how difficult the installation is and other factors influencing the final price. Contact us at any time here at The Local Electrician for us to provide a clear guide on how much the transfer switch installation may cost!
Transfer Switches, Generators and 3 Phase Power
Having a generator in the home or business allows a safety net when the power has gone out. The generator acts as a power source while the main utility power source is out. Generators can be portable to power a single system or they can be large enough to power most or all of the property, either being single or three phase. We recommend when installing generators you have 3 phase power upgraded as the generator will require higher voltage. Single phase generators supply up to 240 volts to a place while 3 phase power generators can provide 415 volts. 
3 phase generators are overall more effective, safer and reliable to provide temporary power to a place while the power is out. If 3 phase power generators are wanting to be installed then a 3 phase switchboard upgrade is needed, which in itself has numerous benefits installing 3 phase power in a property. No matter what type of generator is being used however a transfer switch will always need to be installed.
Trusted Electricians with Transfer Switch Installation Services
The Local Electrician offers Sydney locals professional transfer switch installation services any time through our Emergency Electrician team. We are here at all hours of the day to operate with transfer switches, as well as the switchboard, generator and other electrical systems. Due to our Level 2 Electrician team we are also qualified to perform switchboard upgrades, work with utility lines and perform more advanced work.
With over 25 years of experience behind us – contact The Local Electrician today for reliable transfer switch installation services!
Lifetime Warranty on Workmanship and Labor
Our Services
Our skilled electricians are qualified to carry out any electrical repair or installation within Sydney. We strive to deliver absolute customer satisfaction by offering electrical services that are affordable, safe and long lasting.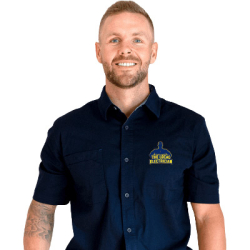 Latest posts by Hamish Baker
(see all)