VIR Cables – Everything You Need To Know
Posted on November 7, 2019
When you take a look at the wiring system of your home, you will notice that VIR Cables hold a prominent place. They are the most widely used component in home wiring systems within Sydney as many commercial establishments use the VIR Cables for wiring purposes as well. The Local Electrician team are well experienced in handling these cables.
Ever since the discovery, dealing with electricity has been a dangerous endeavour for humans. Hence, people came across the need to figure out how to leverage electricity for day to day uses, while mitigating all the dangers that are linked with it. It created an ideal platform for the discovery of Vulcanised Indian Rubber VIR Cables.
VIR cables (Vulcanised Indian Rubber)  were installed in 10000s of Australian homes between 1910-1950. They are made up of a tinned conducted and rubber coating. As they age, a dodgy VIR Cable can quickly become a serious electrocution and fire risk. To prevent future hazards, contact an emergency electrician within your area for a VIR cable inspection.
People have experimented with many different types of electrical cables in order to transfer electricity at homes and commercial establishments. However, no method has been able to deliver effective results when compared to VIR Cables. This is why it is important to an in-depth look at what VIR Cables are and what you will be able to get out of them – as well as how to be safe with them.
The History Of VIR Cables
The initial type of cables that people used for the transfer of electricity was known as sheathed wires. They could commonly be found within workplaces, homes and government structures in between 1880 and 1910. However, this method was not the most effective option to transfer electricity. It gave life to numerous safety issues. On the other hand, it was not the most efficient method to transfer electricity and lots of energy was wasted during the process. That's where people started looking for a better solution and came up with VIR Cables.
Soon after the discovery of VIR Cables, people got to know about the benefits linked with them. Hence, they started replacing sheathed wires with VIR Cables. Hence, we could see how many buildings and other structures got them.
What Exactly Are VIR Cables?
VIR refers to Vulcanized Indian Rubber. They became extremely popular among people in Australia in between 1910 and 1950. When you take a look at a VIR Cable, you will notice that it has got a thin conductor, which is covered with a rubber coating. The conductor is tinned as well. It keeps rubber away from sticking to the surface of the conductor. In addition to that, it provides enhanced protection for the conductor against damage that can happen from moisture. Along with this structure, it was also possible to see how a cotton bradding was placed on top of the rubber insulation as well.
Rubber has got many unique properties. For example, it is a material that showcases corrosion resistant, waterproof and abrasion resistant properties. Hence, it can provide an excellent insulated layer for the cable carrying electricity. You can still find VIR Cables in the homes located within Australia and many other parts of the world. For instance, during 1910-1950, it was estimated that over 750,000 Sydney homes had VIR cabling installed in their consumer mains!
However, there are numerous potential threats linked with VIR Cables and homeowners and commercial property owners are no longer encouraged to use them. If you are looking forward to use them or if you are already using VIR Cables at your home, you will need to show extra consideration and contact an emergency electrician. This will can reduce the risk of dealing with these cables.
What Are The Dangers of VIR Cables?
Numerous researches have been conducted on VIR Cables during the past. According to these studies, it has been identified that VIR cable systems will break down as het age. As they break down, they can get extremely hazardous as well. In other words, it will put you, your loved family members at home and even your home in danger.
How does this happen? The insulation material that is being used during the production of VIR Cables will become brittle along with time. As a result, the current carrying electrical wire will be exposed to the external words. Along with this, the earthing system at your home will also be impacted negatively.
The insulation material that you can find in VIR Cables is not designed to last for a long period of time. Therefore, you will have to face the risk of getting current carrying wire exposed to outside sooner than you think. In other words, the insulation material will crumble away and the current carrying wire will be exposed. It will then come into contact with different areas of your house, such as walls and roof cavities. As you can sense, this can lead you towards many negative issues.
This kind of a situation can put you with the risk of ending up with an electrical fire. On the other hand, it can increase the chances of you or your family members ending up with electric shocks or other related injuries.
How Can You Overcome This Situation?
Now you have a clear understanding about the risk factor that you will have to deal with while you are using the VIR Cables. You will also need to have a solid understanding on how to overcome this situation as well.
VIR Cable Rewire
If your home or commercial establishment was constructed over 50 years ago, you need to understand that you are already dealing with this risk. That's because the insulation material of VIR Cables will not last for more than five decades. Therefore, you will need to consult a professional emergency electrician and get the wiring system inspected. You are strongly encouraged not to take a look into the wiring system on your own, as it can be dangerous. You may have also received an electrical defect notice outlining these issues from Ausgrid or Endeavour Australia.
When the level 2 electrician confirms that there is a risk factor, you can get his help and replace the wiring system that you have at home with a modern solution such as RCD electrical cables.
If you require the assistance of a 24 hr level 2 electrician or require electrical work in the Sydney region – please contact The Local Electrician Team who can assist in all matters. We are experts in all type of cabling and wiring systems and emergency electrician services , including but not limited to VIR Cables.
Our Level 2 Electrical Services
Lifetime Warranty on Workmanship and Labor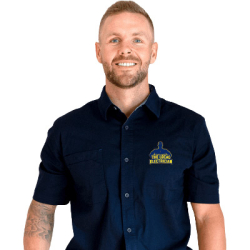 Latest posts by Hamish Baker
(see all)