What Are The Different Electrical Repairs & Services?
Posted on June 4, 2022
The different electrical repairs and services electricians offer will depend on their licensing and where they work. If they are a regular or specific ASP electrician can determine what jobs they can perform. If the electrician works in residential, commercial or industrial areas this can also influence the different work they perform. Here at The Local Electrician, our electricians are licensed to perform a variety of different electrical repairs and services for Sydney. 
The different electrical repairs and services electricians perform include working on:
Lights
Cabling systems, including data, phone and general
Safety systems, such as the switchboard, circuit breakers and safety switches
Power points and outlets
Electric hot water systems
Car chargers
Inspections
Power poles and lines
Machinery, equipment and appliances
What are the Different Electrical Repairs and Services Electricians Perform?
There are different types of electricians but overall qualified electricians perform numerous different tasks and depend on where they work will influence what services are usually performed. Electricians go through proper training, learn all the needed skills through completing electrician apprenticeships and gain a license to perform electrical work. Some electricians specialise in more advanced work, such as level 2 ASP electricians, while others work in specific places, such as in commercial areas. Below is a guide on the different electrical repairs and services electricians perform when working in specific areas:
Residential Services
Residential or domestic electricians are what most people contact when needing electrical services. They work in homes and residential settings on most electrical systems and equipment. The main types of repairs and services residential electricians carry out are:
Light installations, repairs and maintenance, including working with LEDs, security lighting or outdoor lighting

Inspecting and working on the electrical switchboard and meter box, including the systems inside such as the safety switches and circuit breaker

Operating on the electric systems of the home, for example the hot water system, car charger and entertainment units

Connecting and repairing the connection lines, including the data cabling, telephone cabling and general wiring of the home

Performing electrical safety inspection throughout the property on all electrical appliances and systems

Repairing any issues with all types of the electrical component around the home, such as burnt out powerpoint, broken wiring or tripped circuits
Commercial Services
A commercial electrician performs the same tasks as residential electricians but works more in shops, businesses, warehouses and offices. Since commercial spaces are not usually places where people live commercial electricians perform tasks that ensure people can safely work within these areas. Commercial electricians will perform residential electrical work but also:
Provide advice on what needs upgrading, repairing or changing within the electrical commercial area

Carry out routine and scheduled maintenance on the building ensuring everything is safely operating

Plan and install the electrical systems and wiring of the commercial spaces and evaluate their safety hazard and overall effectiveness ratings

Ensure all the cabling, since there is more reliance on phone, data and electrical cabling, is in perfect working order

Resolving any electrical damages or issues in the building or space, such as flickering lights or data cabling defects
Industrial Services
Electricians who work in industrial services and provide electrical services are industrial electricians. The work, repair and maintenance services that are carried out are targeted toward the industrial electrical systems and equipment. Since industrial sites are larger and contain larger equipment, such as mining sites, manufacturing buildings and construction sites, the electricians have to be trained differently to provide the correct electrical services, some including:
Finding potential or current issues with the electrical systems involved in the industrial site

Installing any new systems or equipment in the area, such as robotics

Carrying out regular maintenance in the industrial site to guarantee people are working in a safe place

Repairing any of the systems that have been damaged, such as the machinery or electrical systems involved in the projects
Level 2 Electrician Services
A Level 2 Electrician is an electrician who has completed additional training to perform more advanced and risky work. The jobs a level 2 electrician can perform cannot be done by regular electricians who do not have the level 2 asp certification. The main roles of a level 2 electrician and the services the provide are:
Installing, repairing and inspecting power poles, especially private power poles, on properties for both timber and steel poles

Installing or correcting overhead or underground cabling inside properties

Working with point of attachments and consumer mains of a property

Repairing any defects that have been listed on an electrical defect notice
We encourage reading our blog 'level 2 electrician areas of expertise' to understand more about how they are different from regular electricians.
Emergency Electrician Services
An Emergency Electrician is an electrician who specialises in working at any time of the day and correcting any electrical emergencies. The services included are like that of a regular electrician but the main difference is that emergency electricians are available 24 hours a day to work. This means that when a problem, such as the power has gone out, has occurred after work hours of regular electricians the 24 hour electrician can be called out to resolve the problem.
Trusted Sydney Electricians with Repairs and Installations
The Local Electrician is here with fully qualified electricians to perform all different electrical repairs and services. Our team is experienced at performing a wide range of electrical jobs and can carry them out in all areas. 
For expert electricians to perform all different electrical repairs and services – contact The Local Electrician!
Lifetime Warranty on Workmanship and Labor
Our Services
Our skilled electricians are qualified to carry out any electrical repair or installation within Sydney. We strive to deliver absolute customer satisfaction by offering electrical services that are affordable, safe and long lasting.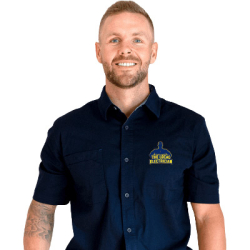 Latest posts by Hamish Baker
(see all)