What Are The Different Types Of Lighting?
Posted on January 8, 2021
The different types of lighting all have specific reasons to be used in various different places. Some are used more frequently and each has its own unique designs and functions. Here at The Local Electrician we have been performing light installation jobs for over 25 years and understand how each light operates. We are here to help install lights and offer guidance on which lights are used in specific places. 
The main types of lighting used are:
Fluorescent
Incandescent
Outdoor Solar
Light-Emitting Diode (LED)
What are the Four Main Types of Lights?
Fluorescent
Fluorescent lights come in two specific light bulbs or lamps being compact fluorescent lamps (CFL) and fluorescent tube and circline lamps. 
Compact Fluorescent Lamps (CFL)
These types of light have integral ballasts and screw bases while are more commonly used in homes. They are 75% more efficient than incandescent lights and last longer, from 6,000 up to 15,000 hours. They are a cost effective option for general lighting purposes while coming in different shapes and styles. 
The more common uses for CFL are table lamps, pendant lighting, ceiling fixtures, decorative lighting, outdoor floodlights and wall mounted fixtures. Most models are dimmable and with the lighting design, they can adapt to all types of spaces.
Fluorescent Tube and Circline lighting
These fluorescent lights are more common than CFLs but are rarely used in residential settings. They are mainly used inside commercial and industrial areas due to being more energy efficient and can illuminate larger areas. If they are used in residential spaces it is mostly for portable lighting purposes. They are also especially strong in blackouts due to lighting a large area. 
Incandescent
Incandescent lights, at times called A-line lamps, are mostly used in residential areas with their benign three main types, standard incandescent, halogen lights or reflector lamps.
Standard Incandescent
These are the more common incandescent lights used in homes even though they are the least energy efficient. A tiny coil is heated to create light and new standard incandescents are made to be 25% more efficient. Some models of these incandescent lights do not align with current standards and cannot be purchased in stores. 
Halogen Lights
Halogens are more efficient than standard incandescents but will cost more to purchase. They "recycle" energy to make sure as little heat and electricity are wasted in the bulb. Even though they initially cost more than standard incandescents they will cost less when running due to using less energy. With a longer life span, halogens are mainly used in spot or focal lighting, track lighting and lamps. 
Reflector Lamps
These will light a focal point or specific area to be used for specific tasks, such as flood, spot and down lighting. There are parabolic aluminised and ellipsoidal reflector lamp lights which will both be used for indoor and outdoor purposes. Reflector lamps are effective at lighting one space entirely or can be used to light one specific point.
Outdoor Solar
Solar lights are used outdoors as they are an efficient, effective and cheap way to have lighting outdoors. This form of outdoor lighting will not cost any money to run as this type of lighting requires solar energy to function. It uses solar cells and transfers it to electricity to have it create light at night times. This energy is stored on batteries for it to be used at nighttime when the sunlight is not available. 
Most solar lights are used in pathways, lamp posts, security lighting and any other form of outdoor lighting. There are different types of solar lights, some needing to be in direct sunlight and some only needing little exposure. Each will have a different purpose as well and different amounts of electricity to correctly run. 
Light-Emitting Diode (LED)
LED lights are becoming increasingly popular due to offering top quality lighting and being extremely energy efficient. The light they provide is often considered more comfortable, they will last longer and use much less energy. Their energy efficiency is the point of interest of these lights as they will save up to 75% on energy when compared to other lights. 
LEDs will produce white light which will often light up a room more effectively compared to warmer lights. They will light in a specific direction which is why they are more favoured to be used for downlights. LED lights also create less heat, when compared to incandescent and CFLs which release 80%-90% of their energy as heat. 
The main uses for LED lights inside and outside places are:
Downlights – in most settings LED downlights are used for ambient lighting to light up an area.

Industrial and Commercial – streets, parking lots, walkways, refrigerator, modular and task lighting are a few examples of how LED lights are used in commercial and industrial places.

Decorative – LEDs are great for decorative lighting purposes, such as Christmas lights, as they use little energy, provide a good light source and illuminate colour effectively. 
We encourage reading our blog 'halogen downlights vs LED downlights' to know the benefits and disadvantages of using each light for downlight reasons.
Expert and Trusted Light Services
The Local Electrician has over 25 years of experience working on different types of lighting across Sydney. Our team will work with any light to perform a variety of tasks regardless of where we operate. We can install downlights, repair outdoor security lighting to inspect the security lighting. No matter the task with lighting involved our Emergency Electrician team is here to help at any time.
For professional electricians to work with all types of lighting – call The Local Electrician any time on 0439 823 190!
Lifetime Warranty on Workmanship and Labor
Our Services
Our skilled electricians are qualified to carry out any electrical repair or installation within Sydney. We strive to deliver absolute customer satisfaction by offering electrical services that are affordable, safe and long lasting.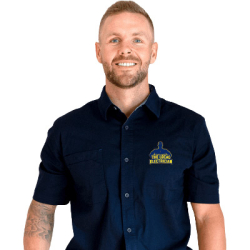 Latest posts by Hamish Baker
(see all)