What Are The Different Types Of Private Power Poles?
Posted on June 26, 2020
A private power pole can be installed onto properties and come in three choices. Timber, galvanised steel and titan are the three main types of private power poles which can be installed. Private power poles are important for certain reasons, which a Level 2 Electrician is needed to install or replace it. The Local Electrician has been working with private power poles for over 25 years across Sydney. Our level 2 electricians can always be contacted to help with installing or replacing them in safe and efficient ways.
Private power poles are mainly installed in properties for aerial cables to travel and be at a certain height. Likewise, allowing point of attachments to reach the building on a safe level, these also transfer electricity to the property. The three types of private power poles include hardwood timber, galvanised steel and titan, with their own positives and negatives.
Hardwood Timber Private Power Poles
With hardwood timber as the main material of the pole, these are the most common type of private pole. These are more suited for telecommunication and electrical installations while also good for projects where cables need to be high. For sizing, they are often around 8-11m in height while mostly costing around $900 to purchase.
The poles themselves often last for 15-25 years while also being protected from salt corrosion. Moreover, most poles will be made of treated timber to ensure that they will not be infested with insects and termites. Offering a natural look, the poles can be painted in different colours and the cables are located outside the pole.
Positives:
Timber poles come in varied sizes, most common include 8m, 9.5m and also 11m.
The timber aesthetic will be liked more by other people due to it being a natural product.
Generally, the poles last for 15-25 years but can last for more, making them more longer lasting.
Negatives:
With timber poles, they have a larger diameter, along with the surface being uneven and much heavier than other poles. Therefore, the bigger pole will need additional heavy lifting machines to help install them, meaning more costs overall.
High moisture levels or places near groundwater is highly unencouraged to install timber poles. Even though the timber drys quickly after it rains, the high moisture levels will mean that they would be damp for longer. As a result, corrosion and rotting will occur much easier than they should.
Galvanised Steel Private Power Poles
Becoming more popular, galvanised private power poles are more budget-friendly with many benefits. The steel pole can be installed in most places while also having many purposes. They cost around $800 with being less thick in diameter and also on average stands at 6.6m tall.
Mostly lasting for 10-15 years, galvanised steel also protects from rot and termites/ insects running the pole. Additionally, they can be painted as well to fit the aesthetic of the building along with the cables being inside the pole making it look cleaner.
Positives:
The lifespan may be shorter than timber but the galvanised steel will still last for a long amount of time depending on the location.
Steel poles are less obstructive due to their smaller size, while also being more aesthetic/ clean because of the steel. Moreover, the pole can also be painted different colours to blend in with its environment/ fit into the buildings aesthetic.
It is cheaper to initially purchase, furthermore cheaper to install because there is no need for heavy lifting equipment.
There are also some inherent advantages with steel poles, such as termite-proof where these insects will not destroy the pole.
Negatives:
When needing height, galvanised steel poles are not the answer due to the almost maximum height being at 7.2m.
Where moisture is present long after it rains then these poles may corrode away more quickly.
The actual galvanised layer can wear away, leaving the underneath steel to rust more quickly without its protective layer.
Titan Private Power Poles
These private power poles are newer products which come with many different positives which the other two poles have. Installing this type of pole is around the usual price, the actual pole is often priced at $1300, but comes with many benefits.
The poles are long-lasting, more than the other two poles, and is the most environmentally friendly. Furthermore, titan power poles are rot, rust, termite, and fireproof and are also non-conductive. Likewise, the cables run on the inside of the pole, meaning they are hidden and the pole can be painted.
Positives:
Resistant against many usually power pole issues: fire, termite/ insect, rust and rot.
The height of the titan power pole is extremely flexible allowing it to be tall or short.
Due to the cables being inside the pole it is much safer and looks overall better.
Installation costs are low, there are no chemical treatments present, maintenance is simple and is much more environmentally friendly.
Negatives:
Initial prices of this type of pole are more expensive when compared to timber and galvanised steel.
The style of the taller poles has the diameter larger, such as for a 7.2m pole having a 160mm at the top then 240mm at the bottom.
Why Install Private Power Poles?
A private power pole has many different benefits which come with it being installed on private property, such as :
Connecting wires from the street network to the private pole can be safer for some people.
It organises wires better, meaning that the property looks less cluttered, especially if the wires are hidden within the pole.
The wires being more organised means that, also, walkways, driveways and roads will be safer overall.
For information on who has responsibility for the installation, repairs and maintenance of private power poles, Ausgrid provides their explanation.
Also, if wondering why a Level 2 Electrician is required to work on the power poles, read our blog on 'why a level 2 electrician is different' to understand.
Private Power Poles Installation and Replacement Experts
When needing professional advice or help regarding Private Power Poles, The Local Electrician is here to help. With 25 years of experience operating on power poles in private properties, we understand all there is with the job.
We are available to work on properties across all of Sydney, including the Northern Beaches, Sutherland Shire and Inner West.
If needing immediate help with electrical emergencies or power poles, our Emergency Electrician services are available 24/7 for help.
For each Sydney resident needing assistance with private power poles – email The Local Electrician now at info@thelocalelectrician.com.au.
Lifetime Warranty on Workmanship and Labor
Our Services
Our skilled electricians are qualified to carry out any electrical repair or installation within Sydney. We strive to deliver absolute customer satisfaction by offering electrical services that are affordable, safe and long lasting.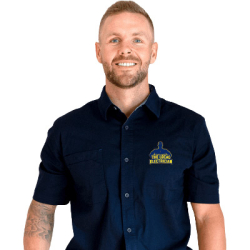 Latest posts by Hamish Baker
(see all)