What Are The Level 2 Electrician Course Requirements?
Posted on April 26, 2021
To become a level 2 electrician there are electrical courses and electrician apprenticeships to complete. Within NSW there are certain steps in order to become a licensed electrician which differs from different states. Along with becoming a regular electrician, additional training is needed to be licensed as a level 2 asp worker. The Local Electrician is here as a trusted Sydney level 2 electrical contractor and provider, offering professional and experienced electricians. 
The requirements to become a level 2 electrician are:
Certificate III in Electrotechnology Electrician – TAFE course designed to teach individuals about the electrical trade
Apprenticeship Experience – at least 12 months experience out in the electrical trade working under the guidance of a trained electrician
Proficiency as an Electrician – proof that a person has completed all the needed course requirements and work experience
What Training is Involved in Becoming an Electrician?
The main steps in becoming a licensed electrician which is needed before becoming a level 2 electrician are:
What is it and why do I need it?

Certificate III in Electrotechnology Electrician

This is the basic course complete at TAFE where a person will be taught all the different aspects of being an electrician. There will be different electives and subjects taught within the course that help a person know specific areas of electrical work. This course is needed so a person understands how to carry out electrical tasks, including

repairs

, installations and inspections. 

Apprenticeship

An apprenticeship as an electrician has a person work for a professional electrician in the

domestic

,

commercial

or

industrial

setting. Under the guidance of a professional, a person will develop their skills as an electrician in real life scenarios and jobs. There needs to be at least 12 months of apprenticeship work (depending on the electrical course) and will be needed to become licensed. 

Proficiency as an Electrician

This certificate is there for an individual to have proof that they have completed all the needed courses and jobs in order to be qualified. 
To know more on how to get an NSW electrical license after completing all these we encourage reading our blog for more information.
What are the Different Classes of a Level 2 Electrician?
There are many different classes of contestable work, or types of work, in becoming a level 2 electrician. These will need to be trained, taught and learnt in order to become qualified as a level 2 electrician. 
| | |
| --- | --- |
| Class | What is Involved |
| 2A – Disconnect and Reconnect at Connection Point | This allows an electrician to work with disconnecting and reconnecting service lines that supply new buildings with power.  |
| 2B – Underground Services | This includes removing or replacing old local electricity distributors. Working with underground service lines as well as service protection devices and underground cabling is included.  |
| 2C – Overhead Services | Similar to Class 2B, this class 2C is working on overhead service lines. This mainly includes working with service lines in private property but is not limited to this.  |
| 2D – Energising Service Equipment | Working with network service equipment is included with this class. This might include protection devices and fuses to installing or repairing service network equipment.  |
To see more on the requirements of becoming a level 2 electrician read the Level 2 ASP Application Form.
What do Level 2 Electricians Expertise in?
There are many tasks that a level 2 electrician can perform and that a regular electrician cannot. These are taught and involved in the training of becoming a licensed level 2 ASP electrician and include:
Service

What is Included

Private Power Pole

Level 2 electricians will be able to work with private poles which distribute the electricity supply from the electricity network provider to private property. Including commercial and residential properties, level 2 electricians will install and repair them. 

Electrical Defect Notice

An accredited level 2 electrician will need to resolve any defects that are listed on defect notices mostly given out from Ausgrid. 

Consumer Mains

These mains are complicated electrical supply networks that need a level 2 electrician to operate on them. 

Point of Attachment

These connect the wires from the street to a property and when they need to be repaired or installed level two electricians are required to work on them.

Overhead and Underground Cables

Any cables that run underground or on overhead service lines are worked on by level 2 workers. This includes relocating, installing and repairing these cables, sometimes installing

tiger tails

onto them.

Switchboard Upgrades

The

electrical switchboard

is where specific electrical devices are stored and circuits are organised. As these systems are extremely dangerous and complicated to operate with, level 2 electricians will work on them. Upgrading a switchboard from a single-phase to a 3-phase is also an important task performed by level 2 electricians. 

Electrical Safety Inspections 

These jobs carried out by level 2 electricians will have the professional inspect every electrical system. Level 2 electricians inspecting a property can look over more systems than a regular electrician. These include the switchboard and consumer main, along with other domestic electrical systems including the lights and power points. 
Expert Level 2 Electricians in Sydney
Each level 2 service is offered to all homes and business where we will arrive on time and ensure to complete the task safely. With our Emergency Electrician work, we are guaranteed to help any person with their electrical needs 24 hours a day.
For a professional, expert and reliable level 2 electrician – contact The Local Electrician on 0439 823 190!
Lifetime Warranty on Workmanship and Labor
Our Services
Our skilled electricians are qualified to carry out any electrical repair or installation within Sydney. We strive to deliver absolute customer satisfaction by offering electrical services that are affordable, safe and long lasting.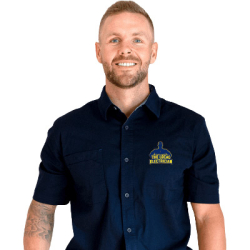 Latest posts by Hamish Baker
(see all)