What Are The NSW Electrical Distributor Company Networks?
Posted on May 14, 2021
There are three main types of electrical distributor company networks that work inside New South Wales. These include Ausgrid, Endeavour Energy and Essential Energy where they work in different parts of the state. From building energy infrastructure to giving out electrical defect notices, these electricity distributors provide important electrical work. The Local Electrician provides professional Level 2 Electrician services to help with defect notices given out by these electrical distributor company networks across Sydney. 
The main electrical distributor company networks in NSW are:
Ausgrid – works in wider Sydney and up to northern Newcastle and inland around Merriwa, Barry and Muswellbrook. 
Endeavour Energy – worlds in Sydney's west, Illawarra, Blue Mountains, South Coast and Southern Highlands. 
Essential Energy – works in rural NSW and some major urban areas, such as Port Macquarie, Bathurst, Dubbo and Byron Bay.
What is an Electrical Distributor Company?
An electrical distributor company will build and maintain any energy infrastructure that will deliver low-voltage electricity across an area. High-voltage electricity is generated at centralised generators and will be transported across long distances through transmission networks. A transformer substation is where the high-voltage is transferred and made into low-voltage electricity. This low-voltage electricity is used in homes and businesses and transported through power poles and underground and overhead service lines.
Electrical distributor companies also design electricity tariffs but the electricity retailers will charge people. The distributor will also not charge electricity bills as the energy retailers are responsible for that job. 
The stations, poles and lines that are all under the electrical distributor company networks possession will be installed, repaired, inspected and maintenance work. NSW electricity supply networks are unlike other states when working in private properties. This is because they will not operate within private properties and on their electricity distribution networks.
A fully qualified Level 2 electrician will need to be arranged to work on private property. When service lines and power poles are installed in private property then this is when the property owner is responsible for the maintenance and installation work.
What are the Main NSW Electrical Distributor Company Networks?
There are three main electrical distributor company networks that work throughout different parts of NSW:
Ausgrid
Ausgrid is a private-owned electrical distribution company that has over 1.7 million customers. Ausgrid works to distribute electricity to the wider Sydney area, going up north to Newcastle then inland around Merriwa, Muswellbrook and Barry. The company focuses on safety and reliability with their distribution of electricity to their customer's homes. They also are diverting to and preparing to incorporate more renewable energy production. 
To contact Ausgrid to report hazards or a loss of electricity supply their number is 13 13 88.
Endeavour Energy
Endeavour Energy has over 2.4 million customers and works in neighbouring areas to Ausgrid. These places include Sydney's west, the Southern Highlands, Blue Mountains, Wollongong, Illawarra and the South Coast. The company has hundreds of thousands of power poles, tens of thousands of distribution substations and over 180 major substations. 
For emergencies contact Endeavour Energy on 131 003 and for general enquiries the number is 133 718. 
Essential Energy
Essential Energy works in around 95% of rural NSW and major urban centres, including Byron Bay, Port Macquarie, Coffs Harbour, Bathurst, Tamworth, Dubbo and Wagga Wagga. Since they operate in rural areas along with the major urban centres they support millions of people and help keep communities with electricity. 
Essential energy for emergencies can be contacted on 13 20 80, electricity supply interruptions on 13 20 80 and general enquiries on 13 23 91.
What Does an Electrical Defect Notice Given by an Electrical Distributor Company Mean?
When an electrical defect notice is given out by Ausgrid, Endeavour Energy or Essential Energy then this means that there is something wrong with the property's electrical distribution systems. This could include:
Equipment Issues – if any part of the building's electrical system and equipment could pose danger, such as an electrical fire, then the issue will be given out immediately. 

Point of Attachment Errors

– most point of attachment issues are when they are not properly and safely attached. This connection issue is often from old age, weather influences of from a poor installation.  

Electrical Switchboard

Dangers – the switchboard itself or the protection devices within them could be experiencing a major issue. From faulty wiring or the system not functioning at all, the defect notice will list these problems that need fixing. 

Overhead Cable

Problems – there are certain levels that the overhead cables need to be at for safety reasons. When the electrical distributor company networks notice the wires hanging, sagging, have fallen or any either issues then they will provide the defect notice. 

Vegetation Interference – vegetation can easily interfere with electrical systems, such as overhead cables. When this happens it can be a safety hazard and a defect notice will be given out so the vegetation can be correctly trimmed. 

Private Power Pole

Problems – when the private power pole could fall or cause another safety hazards then a notice will be given out so the problem can be fixed as soon as possible. 
A Level 2 Electrician will be the authorised person to ensure that the specific defect is resolved properly. The electrical distributor company network will give out the notice but not work to resolve the issue if it is in private property. The property owner will be responsible for organising a licensed level 2 asp electrician within 21 days or their power will be cut off until the defect has been resolved. 
To know more about Endeavour Energy electrical defect notices and Ausgrid electrical defect notices our blogs offer useful information.
Trusted Level 2 ASP Services and Electrical Defect Notice Assistance
The Local Electrician is the best place in Sydney to call for when needing a Level 2 Electrician to deal with electrical defect notices. We have over 25 years of experience working as a level 2 electrical contractor and will operate with electricity networks and power supplies in any private property.
For a reliable and experienced level 2 electrician Sydney service – contact The Local Electrician on 0439 823 190!
Lifetime Warranty on Workmanship and Labor
Our Services
Our skilled electricians are qualified to carry out any electrical repair or installation within Sydney. We strive to deliver absolute customer satisfaction by offering electrical services that are affordable, safe and long lasting.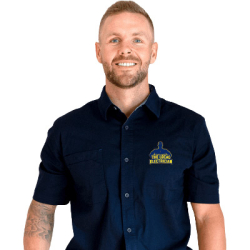 Latest posts by Hamish Baker
(see all)