What Are Underground to Overhead Service Mains UGOH?
Posted on August 13, 2022
An underground to overhead service mains system is a type of system that connects a property to the electrical distributor. The property has its own underground cabling that connects tp the nearest electricity distributor's overhead services. There are certain requirements with underground to overhead service mains and certain people will need to be contacted. Here at The Local Electrician we offer trusted Level 2 Electrician professionals who are able to connect the underground cabling to the overhead service systems. 
Underground to overhead service mains (UGOV) is a system that uses a private property's underground service lines and connects them to the electrical distributor's overhead supply system. Underground service lines offer many benefits, including safety, reliability and aesthetics, and will need to be worked on by a certified level 2 asp electrician.
What is an Underground From Overhead Service Mains System?
Underground from overhead service mains systems (UGOV) is where a person's underground cabling connects to the electrical distributor's overhead service lines on the street. This will be done when a person wants their property to receive power through an underground service line and there are overhead service lines already present on the street. A person can do this if a new distributor pole on the street does not needs to be added, if the electricity distributor deems it safe and accessible to do so and if the property can safely receive the connections without making safety hazards for the street or properties. 
Installation Requirements with Underground From Overhead Service Main System Installations
Below is a list of different requirements for underground from overhead service mains installations when the conductors are up to 70mm2:
The underground service lines will need to be installed in flexible plain conduit

A licensed level 2 electrician will need to install the service lines including working with the overhead and underground systems and be organised by the property owner since the work is on private property

With the flexible conduit, it needs to extend a minimum of 1000mm underground from the base of the power pole while also being protected against any potential mechanical damage

The conduit around the cabling will need to be protected from mechanical damage from 2500mm above the ground and 300mm below the ground. This means that the protection will be in the form of a closed-fit tubular construction to ensure that the surface area of the pole is covered

If fabricated metal enclosures are what protect the conduit from mechanical damage then they will need to be hot dipped galvanised 

If the electricity distributor pole that is being connected to the underground service line is attached to a high voltage earthing conductor then the mechanical protection of the cables will need to be a non-conductive material
Maximum Number and Location of the Underground Services Connected to the Distributor's Pole
The number of underground service lines that can connect to the overhead service lines ranges from 1 to 3 depending on the number of existing UGOH on the pole. The cables that are attached to the side of the pole that is used to connect the ariel connections to the underground ones will be considered as an underground to overhead service. When there needs to be more services than the permitted number then the electricity distributor will supply a pillar that can help with this addition.
Why Would I Consider Installing Underground Service Lines?
The main benefits that come with choosing to run underground service lines to the home instead of overhead service lines, therefore considering underground from overhead service mains, are:
Without the presence of overhead cables, it is overall safer for people to live and work. The overhead service lines can slag, hang, fall and become caught in places that create dangerous situations. Underground service lines remove this threat and it is overall much safer to have underground service lines in the property than overhead. 

Underground cabling systems are more reliable than overhead service lines when it comes to providing a consistent power source.

There are fewer resources and materials needed to have underground service lines connected to the home when compared to overhead lines. 

Underground cabling systems remove the visuals of the overhead cabling which provides a cleaner look.
Our blog provides more details on the benefits of installing underground power supplies instead of choosing overhead.
Certified Level 2 Electricians for Sydney
The Local Electrician is here wot work with underground to overhead service mains across all of Sydney. Our fully qualified electricians are able to perform all installation requirements and steps to connect underground service lines to overhead supply systems. We make sure that the whole service is completed safely with proper inspections and tests while we carry out the service swiftly and efficiently. 
For the best underground to overhead service mains services in Sydney – contact The Local Electrician!
Lifetime Warranty on Workmanship and Labor
Our Services
Our skilled electricians are qualified to carry out any electrical repair or installation within Sydney. We strive to deliver absolute customer satisfaction by offering electrical services that are affordable, safe and long lasting.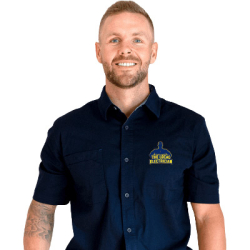 Latest posts by Hamish Baker
(see all)