What Electrical Work Can I Legally Do Myself?
Posted on November 13, 2021
electrician performs the tasks. When an untrained person performs electrical work there is a high chance it will be done incorrectly. When this happens the chance for electrocution, electrical fires and other electrical dangers increase. Here at The Local Electrician, our Emergency Electrician team will carry out a wide range of electrical tasks reliably for any person in Sydney.
The electrical work non-electricians can perform are:
Replace LED lights
Replace drive belts in washing machines
Change a burned out light bulb
Installing a low voltage garden light
Cutting the openings for air conditioners but not installing the unit itself
Installing battery operated smoke detectors 
Fitting electric wall ovens but not hooking up the unit
What Electrical Work Can I Do?
These tasks are the electrical work which can be done by any person:
Install low voltage garden lighting

– garden lighting that is low voltage means that any person can install them. This is because often they are smaller and less dangerous lights within the garden space.

Replace washing machine drive belt

– this task is often simple to perform and can be done by any person. This is because there is no electrical equipment within the replacement task, other electrical components will need an electrician to work on.

Change the blown out light bulb

– if a light bulb has blown out and needs to be replaced, such as in a lamp, then it is fine for a non-electrician to do so.

Replace LED downlight –

LED downlights, and other downlights can also be replaced by untrained personnel.

Cutting air conditioner openings

– a non-electrician can cut the hole for where the air conditioner will go. They cannot install the air conditioner as there are electrical equipment and components involved and can be risky to work with. 

Fitting electric ovens

– fitting the electric wall oven is possible to be performed by untrained electricians. Installing the actual electric oven can only be done by a qualified electrician as there are many electrical components involved. 

Battery operated smoke alarms

– smoke alarms that are battery operated can be installed by any person. When the smoke alarm is hard-wired then this is where an electrician has to perform the task.
What Electrical Work Can I Not Do?
These electrical jobs legally need a licensed electrician to perform the job. People often want to or perform these tasks themselves but it is actually illegal to do so. The main electrical tasks that people cannot perform and only qualified electricians can are:
Replace light switches and power outlets

– these can only be worked on by a qualified electrician as they are extremely dangerous. The wires need to be disconnected and reconnected or installed correctly to ensure people do not become electrocuted. When untrained electricians perform this task it is both illegal and often extremely risky due to the certain wires involved. 

Repairing electrical appliances

– repairing electrical appliances, and other types of electrical repairs, can only be done by certified electricians. There are many components involved with electrical appliances so it is important a trained person repairs them correctly. Non-electricians often repair them incorrectly leading to safety hazards and further damages to the item.

Installing light fittings

– where LED downlights are simple to install and can be installed by anyone, lighting fittings can only be installed by electricians. 

Installing a new power plug

– when people want their leads to have a new plug this is only to be performed by a trained electrician. Installing the new power plug by untrained electricians often leads to it being done wrong and further problems developing. 

Installing ceiling fan

– the ceiling fan can only be installed by trained electricians. This is because there are many electrical components of the ceiling fan and they need to be installed correctly to prevent major issues in the future.
Can I Do Level 2 ASP Work?

Level 2 asp work can only be carried out by a Level 2 Electrician as the work is a specialised type of work. The average electrician will not be able to perform this work and especially untrained people. These types of jobs are much more advanced and dangerous which requires an electrician to undergo further training and gain different certifications. Some jobs include work on private power poles and on overhead service lines and underground service lines.
To find out more about what jobs a level 2 electrician performs we encourage reading our blog for further information.
Expert Sydney Electricians Performing All Kinds of Electrical Work
The Local Electrician is here at all times of the day to perform electrical work for any person. Our fully qualified electricians will perform any type of electrical service and ensure they are done properly. We follow all rules and regulations, operate safely and are guaranteed to complete the job on time. As we are open 24 hours a day, we highly recommend calling us to perform quick and efficient electrical work over potentially performing faulty work yourself.
When needing electrical work done urgently and professionally – trust The Local Electrician at all times!
Lifetime Warranty on Workmanship and Labor
Our Services
Our skilled electricians are qualified to carry out any electrical repair or installation within Sydney. We strive to deliver absolute customer satisfaction by offering electrical services that are affordable, safe and long lasting.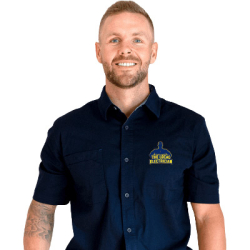 Latest posts by Hamish Baker
(see all)