What Is A Broken Neutral Wire?
Posted on August 28, 2020
A broken neutral wire is something which people should not ignore. There are many issues which can originate from a broken neutral wire. Here at The Local Electrician, our Emergency Electrician team is here to help resolve broken neutral wires. We make sure to arrive fast as the issue is more serious than it seems.
A broken neutral wire is when a neutral wire, which carries power back to its source, is disrupted. This means that the power inside the building becomes too high which can lead to serious problems. Happening from weather to accidents, a broken neutral wire can lead to electrical fires or electrocution if not resolved.
What is a Damaged Neutral Wire?
The neutral wire of a system is what carries to electrical flow back to the main power source. A neutral line is included to better regulate the voltage and have greater control of the system. The situation of a break in the neutral conductors will cause an increase in voltage. With the electrical network entering the properties but not leaving this can be extremely dangerous quickly.
What Happens if a Neutral Breaks?
Because the power flow is disrupted or broken the voltage in the house will increase drastically. The voltage which usually leaves via the neutral would have to end up in other points. Electrical equipment will become overheated, spark and could potentially start a fire. Other electrical systems, such as lights, can also become extremely hot which can damage the system, sometimes where it is unfixable.
The phase systems of the home or building will increase from a single-phase to three-phase voltage. Because the appliances and other electrical systems are not built for this line voltage they will experience negative effects. As mentioned before, they can overheat, wires can break and might experience permanent damages. Touching something where electricity is present will cause electric shocks and other negative issues to people.
How does a Neutral Wire Break?
There are many reasons why a neutral wire can break, the situation is more common than it seems. The more frequent and common reasons why the wire breaks are:
Weather – terrible storms can lead to lightning damaging the neutral wires. This can shock the system and cause too much voltage to enter the wires, breaking and opening them.
Accidents – trees falling onto are some accidents which could break or snap the wires. Without the presence of a neutral system, the voltage coming into the property will be extremely high.
Age – if the wire is older or made with older materials and techniques it might break from overheating.
A neutral wire breaking can happen for many other reasons as well. When these issues occur it is important to repair the system as soon as possible. This is to prevent further issues from developing quickly and causing more harm. Leaving these problems will only cost more, cause more difficult issues and can lead to some legal concerns.
What are the Dangers of Broken Neutral Wires?
There are many dangers which can happen when a neutral wire breaks.
Professional Electricians Repairing Broken Neutral Wires
The Local Electrician is here to help all Sydney residents when their neutral wires break. Our fully qualified electricians will quickly identify which part of the neutral wiring system has become damaged. Then, using expert techniques, we will repair the system effectively. Because this situation can be extremely dangerous the whole process is performed safely, correctly and skillfully.
For all broken neutral wire situations – contact The Local Electrician on 0439 823 190 or email us at info@thelocalelectrician.com.au. We arrive on time while making sure the damaged neutral system is operated on correctly.
Lifetime Warranty on Workmanship and Labor
Our Services
Our skilled electricians are qualified to carry out any electrical repair or installation within Sydney. We strive to deliver absolute customer satisfaction by offering electrical services that are affordable, safe and long lasting.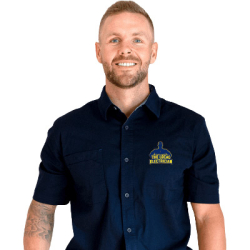 Latest posts by Hamish Baker
(see all)