What Is A Bushfire Inspection Defect Notice?
Posted on May 20, 2022
A bushfire inspection defect notice is given out by Ausgrid when they see a customer's electrical systems could start a fire leading to a bushfire. A bushfire safety inspection involves Ausgrid looking at the electrical systems of their customers regularly to ensure they do not start electrical bushfires. The defect notice is similar to a general defect notice but focuses more on defects that need to be resolved that could start fires. Here at The Local Electrician, our Level 2 Electrician team is here to resolve any defects listed on the bushfire inspection defect notice in Sydney. 
A bushfire inspection defect notice is an electrical defect notice given out by Ausgrid to their customers. When their properties' electrical power lines and poles pose a risk to start a bushfire the notice is given out. Ausgrid regularly performs bushfire inspections and will provide the defect notice when issues come up. A level 2 electrician or tree trimmer depending on the problem will need to be contacted by the property owner to resolve the defects.
What are Bushfire Safety Inspections?
A bushfire safety inspection is a type of electrical inspection Ausgrid performs where they look at how their customer's power poles, lines and system are. The goal is to see if any of these systems contain a risk of starting a fire that could lead to a bushfire. These inspections are ground-based and occur especially in areas close to the bush or bushfire danger areas. 
Ausgrid will perform this type of inspection annually and will have bushfire prone areas as priority areas. Inspections include visual checks of power mains, wires, poles and pole fittings, including those which are private and not owned by the network, such as private power poles. 
Why Did I Receive a Bushfire Inspection Defect Notice?
When Ausgrid finds a problem on private property where the electrical systems are, they will give out a defect notice for the property owner to resolve them. The main concerns that result in the bushfire inspection defect notice to be given out are:
trees, branches or vegetation are growing too close or are touching the powerlines

Electrical damages, such as damaged power poles, frayed cabling or electrical faults from poor installation

Any additions, alterations or installations that have been done and do not align with safety standards

Power poles are in a bad condition and have the chance to fall over
What to Do When I Received a Bushfire Inspection Defect Notice?
When a property owner receives the bushfire inspection defect notice they will need to organise professionals to resolve what defects are listed on the notice. This means a level 2 electrician for any electrical defects and a tree trimmer qualified to work around electrical networks for vegetation clearing. 
A timeframe of 30 days is given where the defects must be resolved during it. This is to ensure the property owner has the defects resolved as quickly as possible to prevent fire hazards from forming. If the defects were not repaired during this time then the power to the property will be temporarily disconnected until the defects are resolved. 
Vegetation
If the vegetation is too close to the power pole and lines then they need to be cleared by a licensed tree trimmer who is also trained to trim vegetation around electrical network systems. 
Power Pole
If the power pole is infested with termites, mouldy, prone to falling over, damaged, rusting or experiencing an other issue then a level 2 electrician will repair or replace the pole. 
Power Lines
If the power lines are slacking, frayed, hanging low, touching, crossing or are damaged in any other way and could pose a safety hazard risk then level 2 electricians will resolve the problem.
How Can I Prevent Myself From Receiving a Bushfire Inspection Defect Notice?
The best way to prevent receiving any kind of defect notice is to have a trained electrician perform regular electrical safety inspections. The electrician will look over the condition of the power mains, poles and wires to determine if they are in perfect condition or could need repairs or replacing. By doing this these systems are working correctly and the chance of receiving a defect notice lowers. This is helpful for bushfire inspection defect notices, as well as other types of defect notices, such as consumer main defect notices and private power pole defect notices. 
Reliable Level 2 Electricians for Defect Notices
The Local Electrician is here for Sydney locals when they have received a bushfire inspection defect notice. Our fully qualified level 2 asp electricians have the experience and licensing to work on defect notice jobs. We will repair any defect on powerlines, poles and mains that are listed on the notice no matter how difficult the job is.
When needing electricians to help with bushfire inspection defect notices – rely on The Local Electrician!
Lifetime Warranty on Workmanship and Labor
Our Services
Our skilled electricians are qualified to carry out any electrical repair or installation within Sydney. We strive to deliver absolute customer satisfaction by offering electrical services that are affordable, safe and long lasting.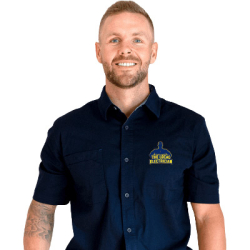 Latest posts by Hamish Baker
(see all)