What is a Level 2 Electrician?
Posted on October 31, 2019
When you become a homeowner or business owner, you suddenly have to learn how to take proper care of a property and ensure it's safe for you and anyone else who lives, works, or visits your home or place of business. When you rent, you can tell your landlord about a problem and expect it to be solved, but when you're in charge, it's up to you to make the right decisions.  business name
That's why it's important to learn about the different levels of electricians here in Australia. What it is they can do, and whether or not you need them for your project, problem, or emergency. As a Sydney based electrician, The Local Electrician is here to help you answer the question of "what is a level 2 electrician?"
Level 2 Electrician is a special electrician who has the training required to connect (or disconnect) residences and commercial properties to (and from) the electricity grid, both overground and underground. They are able to fix all the issues detailed on your electrical defect notice. The ASP for an electrician level 2 simply means they are an accredited and authorised service provider. Some specific work they carry out include: repairing damaged cabling  and consumer mains, new installations, electrical upgrades and replacements and providing a temporary power supply.
Why does an ASP Level 2 Electrician have to work on the grid?
Here in Australia, electricians can be qualified to three different levels; 1, 2, and 3. Level 3 is the base qualification and Level 1 have achieved the highest level and can complete any level of work.
Only Level 2 ASP electricians can work with the electricity grid due to the level of danger that is involved with working with such a high level of voltage. If an unqualified electrician was to do it, they might cause themselves harm or do sub par work that poses a danger to those using the building.
When Do I Need A Level 2 ASP Electrician's Services?
If you need work doing on any of the following, you need to find Level 2 contractors to do the work for you:
Repairing UV damaged cables
Supplying a new home with power
Consumer Mains Upgrades, Installations & Repairs
Supplying a new business with power
Private Power Pole Installations
Supplying a new community building with power
Upgrading to a 2- or 3-phase electrical system
Replacements of your electrical system
Installation of a temporary power supply
I've Received An Electrical Defect notice, What Should I Do?
Sometimes, an electrical service provider will send a defect notice if they believe you have a cable in poor condition. Cables will deteriorate over time, often due to UV damage and weathering, and once you've received a notice you need to have the cables replaced as soon as possible.
Level 3 electricians aren't able to do this; only electrical level 2 professionals and above are qualified to carry out this work, so ensure your electrician has the proper training to complete this work for you.
You can learn more about electrical defect notices here.
What Should I Look For In A L2 Electrician?
All level 2 ASP qualified electricians have achieved a high level of knowledge, but when you search for level 2 contractors, look for electricians who are:
Fully licensed
Experienced in new residential installations
Experienced in new commercial installations
They cover your specific area in Sydney
Have experience replacing damaged cables
Fully qualified level 2 staff
Fully insured
Good reviews
Do I Need A Level 2 Electrician For My New Property?
If you are building a new property that is not yet connected to the mains power supply, you will need a level 2 ASP electrician to connect your property to the underground or overhead electrical systems, and to install metering for you, if necessary. Once your property is safely connected to the mains, any qualified electrician will be able to help you with other tasks, they just can't do high voltage work. 
Are Level 2 Electricians available 24 hours?
Many ASP level 2 electricians are available 24 hours a day, 7 days a week, but not all. If you need an emergency level 2 electrician, you should check that they explicitly state their availability on their website. If an electrician doesn't seem to offer emergency call-out services on their website, they likely only offer their services within normal working hours. If you believe you're having an emergency, turn off the power supply immediately.
How Much Does A Sydney Level 2 Electrician Cost?
The cost of a level 2 ASP electrician varies significantly depending on the work you need doing. If you want to ensure you're getting a good price (not suspiciously low, but still in your budget) call a few electricians and ask for a quote, as long as they meet all the other criteria we set out above.
Contact A Emergency Level 2 Electrician Near Me In Sydney!
If you're looking for "level 2 electrician near me" in Sydney, look no further, because we're here to help. The Local Electrician team has many highly experienced level 2 ASP electricians who are all fully certified and insured.
We've served the Sydney community for over 25 years, so you can rest assured knowing even complicated installations have become routine for us. We offer emergency electrician 24-hour callout year-round, we offer upfront pricing, and all our work comes with a lifetime guarantee, so you don't have to worry about incurring extra costs down the road. If you are wondering 'what is an emergency electrician?', we have just released a blog, answering in detail all those questions.
If you aren't in Sydney but have been using this article as a guide, search for "level 2 electrician near me" on Google and run the top results through our requirements above. When you find a L2 electrician that ticks all the boxes, you can call them knowing you're making an informed choice by industry professionals.
To find out more, call us now on 0439 823 190 to get a Level 2 Electrician to you as soon as possible.
Lifetime Warranty on Workmanship and Labor
Our Services
Our skilled electricians are qualified to carry out any electrical repair or installation within Sydney. We strive to deliver absolute customer satisfaction by offering electrical services that are affordable, safe and long lasting.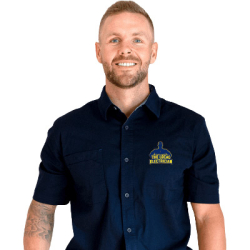 Latest posts by Hamish Baker
(see all)