What Is A Private Pole Defect Notice?
Posted on August 14, 2020
Receiving a private power pole defect notice can be confusing at first. Energy providers, such as Ausgurd or Endeavour Energy might notice an issue with your private power pole. They will then supply a private power defect notice so the issue can be fixed as soon as possible. Here at The Local Electrician, we have been working with electrical defect notices for over 25 years. We understand why people might receive one, especially related to private power poles, and help to resolve any problems.
A private power pole defect notice is a notice given out by Ausgrid or Endeavour Energy. These are related to private power poles on a property which are defected and have problems. The issues will need to be fixed within 21 days by level 2 electricians otherwise the power will be disconnected.
Issues Related To The Private Power Pole Defect Notice
When there are specific problems which ae identified the electrical defect notice will be issued. There are many reasons why the notice would be addressed but here are the more common causes below.
Rusted And Rotten Pole Defect
Depending on the environment and also the location or material of the pole, it can experience rotting or rusting. When this happens the layers of the pole can deteriorate and issues can happen. The inner components can be exposed and overall the situation can be hazardous. Often undergoing a power pole installation to replace the old one is needed.
Timber Pole Defect
Timber poles are designed to withstand water, however, they can still experience rotting if the situation is poor. When the timber pool is installed within an area which is coastal or has a high moisture content this can effect the pole. When the timber private power pole is wet for too long then it can easily rot or corrode away.
Another problem related to timber power poles is the chance of termites attacking it. If this happens then they will eat away the timber and overall is a terrible experience. Most commonly a licensed level 2 electrician is needed to replace the timber pole before other complications arise.
Galvanised Steel Pole Defect
If received an electrical defect notice related to a galvanised steel pole it is often from rust and corrosion. These types of steel poles are also not great near the coast or high salt air environments.
Additionally, when places experience large amounts of rain or high moisture levels this is not good for the pole. Corrosion can occur of the outer layer then the inside of the pole can easily rust away. Professionals will need to replace the pole before it collapses, becomes an electrical danger or any other issue develops.
Vegetation Issues
When trees and alike interfere with overhead powerlines connected to a private power pole then a defect notice will be given out. The trees can cause issues to the pole and overhead line and there must be a safe distance between them. Safety standards are placed and defect notices will be given out when trees are too close to poles and powerlines. Trimming the trees is what needs to happen and be performed by a trained professional.
How To Check For Hazards
There are many steps a person can take which can help with identifying problems with private power poles early. If these issues are known early then they can be taken care of before the defect notice is issued. Here is a list of some problems to identify early with private power poles:
Powe lines clashing with each other
Wires which are slacking
Poles that are experiencing rotting or rusting
Power lines that clash in high winds
Vegetation or trees growing within the minimum safe distance
Wires which are hanging low
Underground cables which are defected or faulty
Damaged or split poles
Electrical Inspections are Important
It is important that these are inspected early to be dealt with before Ausgrid or Endeavor Energy provide a defect notice. Seeing these issues will also make it easier for a level 2 electrician to know exactly what to do. Also, these concerns are dangerous so it is vital that these are resolved before anything terrible happens.
A level 2 electrician can perform an electrical safety inspection to ensure power poles, powerlines and everything else are safe. The electrician will inspect all parts and systems to notice if there are any issues.
Who is Responsible for Defect Notices
Defect notices are given to a person when their private power pole has issues. Because a private power pole is within the private property the property owner is responsible for the power pole. The electricity network companies will deal with power poles on streets or public properties.
Therefore, electrical supply networks are not legally required to repair issues with private power poles within private property. They will present a defect notice to the individual so they can fix it. The issues will need to be addressed within 21 days otherwise the power supply will be cut off. A Level 2 Electrician is the worker which is legally allowed to resolve the tasks on the defect notice.
For more information on what an Ausgrid Electrical Defect Notice is then read our bog describing more about the topic.
Private Power Pole Professionals
The electricians here at The Local Electrician can easily help with any issue related to private power poles. We promise that after 25 years of helping Sydney residents with private power pole defect notices that we are the most reliable to contact. With our Level 2 electricians as well, all issues will be fixed and repaired in no time.
Our Emergency Electrician service is open 24/7 across Sydney to help with private power pole issues at any time. We encourage our private power pole assistance to all of Sydney, including the Northern Beaches, Inner West and South Sydney.
No matter the problem on the defect notice we are here to help – contact The Local Electrician now at info@thelocalelectrician.com.au. It is essential that Sydney trusts us with their private power pole defect notice!
Lifetime Warranty on Workmanship and Labor
Our Services
Our skilled electricians are qualified to carry out any electrical repair or installation within Sydney. We strive to deliver absolute customer satisfaction by offering electrical services that are affordable, safe and long lasting.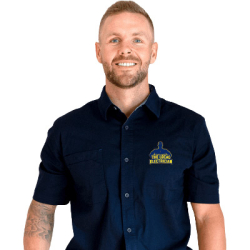 Latest posts by Hamish Baker
(see all)