What Is An Ausgrid Electrical Defect Notice?
Posted on January 24, 2020
When safety in regards to electrical installation  matters are not of standard, receiving an electrical defect notice may occur. Ausgrid is in charge of inspecting and delivering these notices and they must be responded immediately or as soon as possible. At The Local Electrician, our Level 2 Electrician operators are able to determine why you have received the notice and act to complete what is required. If in the case of an emergency, our 24/7 reliable emergency electrician workers are able to quickly resolve any issues.
When an exception occurs by Ausgrid and they find that when installation issues or disrupted electricity supply are within your responsibility, they will provide a defect notice. The reason might be based on trees/ branches being too close to wires, recent additions or alterations to connections, or faulty/ incorrect wiring. To solve their issues, certain processes are required – a level two electrician can assist in completing what is needed.
Why Was My Property Inspected?
Ausgrid inspects both new and existing electrical connections to ensure that safety for everyone is met properly. When they see that your place is not in safety standards, they will issue the notice. The inspections are regular to make certain that the community and individuals are safe from harm done by electrical issues.
Why Did I Receive An Electrical Defect Notice From Ausgrid?
The usual issues that cause awareness and the installation defect are:
Incorrect of faulty wiring – if wiring is not as it is meant to, often lights may flicker, frequent blown breakers or fuses and darkened switches and outlets are common to occur. These can cause major damage and need to be fixed as soon as possible.
Recent additions or alterations to connections – when electrical installations need to be altered or new add ons to be connected, incorrect jobs can be risky. Such as additions to a final circuit, consumer units or distribution circuits, if these are not correct Ausgrid will know with inspection and give the defect notice.
Vegetation disruptions – when trees are touching or pushing the power lines, this is extremely dangerous. Therefore, a defect notice will be delivered to the person whose the tree/s are on their property to deal with the situation. They will be trimmed and the branches will be disposed of properly.
Whose Responsibility Is It To deal With The Defect Notice?
Your responsibility as a resident or holding a business is to maintain connection points and safety clearances. Ausgrid has the responsibility to repair electricity networks and maintain its health. This means that when issues revolve around the first point of connection to the property is the individual. Therefore, the issues are your responsibilities to handle and to resolve.
If you are renting or a tenant in a person's home/ unit, the landlord or property owner deals with the issues as the place is in their name. If you received the letter make sure to contact your landlord/ property owner as soon as possible as they are legally responsible to deal with the defect notice.
Who Can Solve This Issue?
To resolve the issues listed on the defect notice, a qualified Accredited Service Provider (ASP) or licensed electrical contractors can complete what is required. These Level 2 Electrician workmen should be given notice by the individual so the contractor can address what needs to be done. If a previous/ original contractor did the damage, they will also be notified as well. The person who got the defect notice is though responsible to call for a qualified electrician. With their skills and knowledge, the electrical contractor will be able to repair the damage and complete what is needed to be done on the defect notice.
What Fees Are Applied To An Electrical Defect Notice?
If servicing an electrical contractor, fees will apply to deal with the issues. If some of the work involves disconnecting power from the property, a fee may occur when reconnecting it back. Additionally, if a previous electrical contractor was the fault to the issue, they will be charged for the fee. If they refuse to work on the project, they will be referred to NSW Fair Trading by Ausrgrid.
How Long Do I Have To Resolve My Electrical Defect Notice?
Once you have received the electrical defect notice, three weeks (21 days) is the limited amount of time which the problem needs to be solved. During this time, contact with an electrical contractor needs to occur and the sooner the better. To ensure people follow and comply with the defect notice, Ausgrid will disconnect electricity to those who do not address the concern. If the chance that you could not/ cannot complete it in time, contacting Ausgrid can often lead to extinction periods before electricity is cancelled until the issue is resolved.
Sydney's Best Ausgrid Electrical Defect Notice Respondents
The Local Electrician can provide you with an experienced Level 2 Electrician to deal with what is listed on the electrical defect notice. This is due to Level 2 Electricians having the skill and qualification to know how to deal with more complicated issues than a regular electrician. We also offer an Emergency Electrician service which will provide you access to instant electricians. If you have forgotten to deal with the issue or if you really need it completed, the emergency electricians are the perfect resolution. Dial the number 0439 823 190 or email us to info@thelocalelectrician.com.au for our exceptional Level 2 Electricians or our emergency electrician services.
It is really important and crucial that you deal with the errors on your defect notice so you can remain with power. The Local Electrician can ensure you that you will have little stress with the matter and that your defect notice will be no more!
Lifetime Warranty on Workmanship and Labor
Our Services
Our skilled electricians are qualified to carry out any electrical repair or installation within Sydney. We strive to deliver absolute customer satisfaction by offering electrical services that are affordable, safe and long lasting.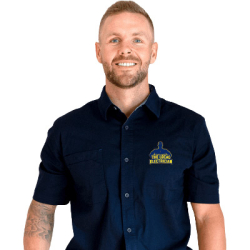 Latest posts by Hamish Baker
(see all)