What is an Emergency Electrician?
Posted on October 24, 2019
Nowadays, there is very little you can do without power; everything from our home utilities to our work and entertainment, and even our vehicles are starting to rely on electricity. So when something goes wrong you need someone to put it right as soon as possible. However, finding an urgent electrician isn't always as easy as it should be. So read on as we answer some of the most common questions we hear daily and find out exactly what you need to do next to find the right 24hr electrician near you!
An emergency electrician is an electrician who will come out at short notice with no prior appointment to fix an electrical problem that has just occurred. Many emergency electricians are available 24/7 for both residential and commercial needs, so whatever the emergency you'll find someone locally who can come out to help you.
When should I call an emergency electrician?
Sometimes, calling a 24 hour electrical service may feel drastic if it's late at night, but there are certain situations where you should call an emergency electrician (24 hr) at least to check with them that it's okay to leave the problem until morning. If you are concerned or have any of the following situations, search for an "emergency electrical service near me" and get someone in to check everything is safe as soon as possible. Remember, when it comes to electricity, it is always better to be safe than sorry. These electrical problems include:
Power failure
Electrical outages and blackouts
Short-circuits
Blown fuses
Suspicious burning fuse smells
Sparking
Storm electrical damage
Alarm disconnection
Emergency rewiring needs
I think I have an electrical emergency, what should I do?
Whenever possible, turn off the power at the mains and call an emergency electrician to fix your problem and ensure your home or place of business is safe for human and animal inhabitants. If you have a place of business you will likely need to evacuate your staff and customers until you can get the power back on.
If you have received an electrical defect notice by Ausgrid or Endeavour Australia, then you will need to specifically contact a level 2 electrician. These electricians are specially qualified to carry out work on power mains throughout Sydney by the government. You can immediately contact a level 2 electrician on 8999 5290. Find out exactly ''what is a level 2 electrician" here.
What should I look for in an emergency electrician?
Not all local emergency electrician companies are made equal. Some companies will promise you the world, but will rarely ever deliver. Others will deliver, but will do a half hearted job. So some things you should look for in a Sydney emergency electrician are:
Fully licensed
24/7 availability
Experienced in residential and/or commercial electrical emergencies
They cover your specific area
Are experienced
Fully qualified staff
Fully insured
Good reviews
Industry experience
Will any 24hr electrician near me be able to fix my problem?
No, every 24 electrician has different capabilities and if your problem is a more complicated problem they may not be able to fix it on the spot. If you are a business it's well worth finding a 24 hour commercial electrician who is more likely to be prepared for your needs. If you are concerned your issue at home may not be a quick fix talk to your emergency electric company about it when you call, to check they'll be able to help you.
How long will it take for emergency electrician to get to me?
Depending on your area, the average dispatch time varies from 1 hour – 2 hours. However, thankfully some companies have a large spread of operations and will be to respond within 60 minutes. The Local Electrician is one of these companies as we have Sydney 24hr emergency electricians on standby, ready to assist. We are so committed to our punctuality, that we guarantee that we will work for FREE, if we are not on time.
Are all Sydney emergency electricians available 24 hours?
Most emergency electricians are available 24 hours a day, 7 days a week, but you should always check that they explicitly state their availability on their website. If an electrician doesn't seem to offer emergency call-out services on their website, they likely only offer their services within the normal working hours of 9am-5pm.
How much does an emergency electrician in Sydney cost?
The cost of an emergency call out electrician varies depending on the circumstances of the emergency and what's required to put it right. If you want to get a quote for the cost of the work before an electrician comes out to you, this may be possible if you know exactly what's wrong. So tell us as much information about the emergency as possible so your call out electrician will have a good idea of what they are coming to fix.
Are most emergency electricians available for both residential and commercial emergencies?
Many are, but smaller emergency electricians may not be. If you have an electrical emergency at a place of business you should find an emergency commercial electrician (or one who also specifies they are able to respond to commercial electrical emergencies) to help you.
How do I find an emergency electrician near me in Sydney?
When you have an electrical emergency you likely don't want to spend hours googling "24hr electrician near me" or "weekend electrician near me" – you need to find someone suitable as fast as possible, who is reasonably priced. If you need to find an "emergency electrical service near me" in Sydney and you're reading this article, we're here to help.
The Local Electrician team is fully qualified and fully insured, and is always available 24 hours a day, 7 days a week, 365 days a year. We are fully licensed, experienced with homeowner electrical emergencies and commercial emergencies anywhere in Sydney. We've been helping local people in a pinch for over 25 years, we'll repair the damage while causing as little extra inconvenience as possible, and all our work comes with a lifetime guarantee, so you know the work you're getting will last.
Whether it's the middle of the night, a weekend, or a public holiday, you can count on The Local Electrician to be there to help put things right as quickly as possible. We understand the importance of getting things done ASAP and that is why we guarantee that if we are not on time, we will work for free! Furthermore, we offer a FREE safety inspection on all jobs as we want all of our clients to be as safe and secure in their homes as possible.
If you aren't in Sydney, search for "electrician emergency near me" and run the top results through our requirements above. When you find an emergency electrician near you that ticks all the boxes give them a call, knowing you're making a great choice.
If you are within Sydney, contact our friendly team at The Local Electrician today on 0439 823 190 for the immediate dispatch of an emergency electrician. We proudly service every suburb within Sydney and have been doing so for over 25 years! You can count on us to get your issue fixed today!
Lifetime Warranty on Workmanship and Labor
Our Services
Our skilled electricians are qualified to carry out any electrical repair or installation within Sydney. We strive to deliver absolute customer satisfaction by offering electrical services that are affordable, safe and long lasting.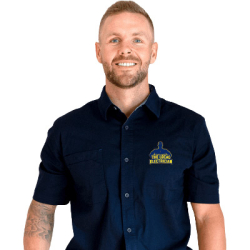 Latest posts by Hamish Baker
(see all)