What Is An Endeavour Energy Electrical Defect Notice?
Posted on January 31, 2020
Receiving an electrical defect notice can mean many things, but receiving an Endeavour Energy defect notice has a specific focus. Endeavour Energy works within the North West and South West of Sydney to ensure that millions of people have electricity running in their homes. At The Local Electrician, we are able to provide our Level 2 Electrician crew members to deal with the issues located on your Endeavour Energy Electrical Defect Notice. This is because we have the qualification to firstly perform the required job and also the knowledge to properly complete the task. If in the case of an emergency, we offer expert emergency electrician services to be able to immediately work on completing the jobs on the defect notice.
An Endeavour Energy Electrical Defect Notice is given to home owners and occupants when vegetation is interfering with power lines. As Endeavour Energy supplies homes in North West and South West Sydney with power, they are in charge of inspecting when branches become a hazard with power lines. If you have received the electrical defect notice it is your responsibility to call a level 2 electrician to deal with the notice. Otherwise, your power may be cancelled within 21 days of the notice's issue.
Who Is Endeavour Energy?
The company of Endeavour Energy allows power to be given to residents and businesses through transporting the electricity from high voltage transmissions. They supply energy to Sydney's North Western and South Western regions from power plants to sub-transmissions and zone substations. The electricity is then transferred to mild voltage levels and then power lines lower the voltage even more. The power lines supply homes, business and buildings with their electricity. Endeavour Energy ensures the proper deliverance of electricity and that safety is also present everywhere at each station. They also have the responsibility to hand out electrical defect notices to private dwellings when vegetation grows too far near power lines which can cause trouble.
Why Did I Receive The Electrical Defect Notice?
Inspections are a regular task performed by Endeavour Energy. With these jobs, they will identify defects within their search on the status of power lines. Homeowners and the people living within have the legal responsibility to ensure that trees and other vegetation do not become too close to powerlines. When Endeavour Energy inspect your property and see that trees are not of a safe distance to the wires, they will issue the defect. This will be in the form of a written notification directed specifically to the homeowner. With this defect notice, proper value is placed upon it and immediate action will need to take place based on the specific defect notice. If the issue is not addressed, usually within 21 days, power will be disconnected from your residents or work until the problem is properly addressed.
How Do I Resolve My Electrical Defect Notice?
As Endeavour Energy has the responsibility of ensuring the safety of the community and continual power, these defect notices are majorly important. Branches that are touching, moving and obstructing powerlines can lead power being lost, fires and safety issues surrounding people and environments. Therefore, Endeavour Energy has to guarantee that the trees are at a safe distance from the live electricity-running overhead power lines. They will hire qualified tradesmen to remove the excess branches if the defect is in parks and community areas.
However, when it comes to private dwellings, that's when it is your responsibility to handle the situations. Hiring a Level 2 Electrician will be the necessary step to properly address the defect notice. They have the government issued qualifications to work with power lines and possess the skill to carefully trim branches. Pruning trees will be guided and cut according to the Australian Standard Pruning of Amenity Trees. The branches will be pruned back to the nearest branch collar or growth point to prevent the health of the tree diminishing. Also, this will prevent the chance that poor regrowth would grow to create safety hazards in the future.
Endeavour Energy and your Level 2 Electrician will follow the guidelines of the Australian Standard to ensure that the tree produces little risk to the surroundings and the actual tree. The tree will be properly dealt with so branches won't fall off suddenly, the chance of infection to occur or the tree dying early.
What Is A Safe Distance For Between Branches & Powerlines?
The NSW Industry Safety Steering Committee Guideline 3 has supplied in their "Guideline for Managing Vegetation near Power Lines' ' specific requirements that assists in how far away branches have to be. These are obligations under the relevant regulations, environmental planning instruments and legislation. They have provided lengths which allow for the wires to not be damaged by the branch. Additionally, they ensure that the tree can remain healthy and grow back properly. These trimming regulations are placed with the influence from the amount of voltage the overhead cables have, the higher the voltage means that the distance increases. With this, other factors influence the distance, such as the type of overhead cable to the span length (distance) of the towers or poles.
If you want to learn more about an electrical defect notice, you can view our latest article.
What Is A Level 2 Electrician?
If you are unsure on who to hire for your Endeavour energy electrical defect notice, The Local Electrician is your go to call. We can deliver qualified Level 2 Electricians to perform the required tasks as they are skilled and knowledgeable. As they have the proper certification, they are licensed and legally advised and allowed to work on trimming the branches away from the power lines. Do not wait to contact us on 0439 823 190 or email us at info@thelocalelectrician.com.au as there can be extremely bad consequences. An Endeavour Energy Electrical Defect Notice is not a defect notice to ignore as if left unaddressed. Power can be turned off for homes and unsafe hazards can occur for the surrounding environment. Call The Local Electrician for your problems with powerlines and trees to be resolved.
Our Services
Our skilled electricians are qualified to carry out any electrical repair or installation within Sydney. We strive to deliver absolute customer satisfaction by offering electrical services that are affordable, safe and long lasting.
Lifetime Warranty on Workmanship and Labor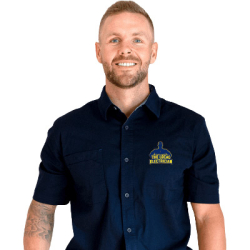 Latest posts by Hamish Baker
(see all)