What Is An Energy Audit & Is It Worth It?
Posted on March 11, 2022
An energy audit is a type of inspection of how much energy a person uses to help with reducing their energy costs and use. Finding out how a person uses their energy can address patterns and help with knowing what actions to take to reduce the usage. Options of how to be more energy efficient and cost effective are the main goals of the energy audit. Here at The Local Electrician, our Emergency Electrician team is here to perform electrical services at any time including electrical safety inspections. 
An energy audit is an inspection performed by an independent energy consultant where it looks at a person's energy usage. The energy usage is recorded to see ways to reduce energy consumption and make it more efficient. Other uses of the audit include ensuring the person is not being overcharged, looking for energy wastage and overall finding ways to reduce energy costs.
What is an Energy Audit?
An energy audit is performed by a qualified independent energy consultant and is a type of inspection. The inspection occurs on different electrical appliances and an overall look at the person's energy and electricity consumption. With the person's energy usage being looked at, the main systems and alike inspected are:
The overall energy usage, including what is used, how much and at what time

Checking the energy tariffs to ensure that they are not overcharged

Determine if any energy wastage is occurring and how to fix this

Look at the options that can be taken to reduce energy usage and costs

Ventilation fans, including supply and exhaust fans

Air conditioner

Water pumps

Pool system

Solar panels and solar power system

Insulation condition
What are the Benefits of an Energy Audit?
The main benefits that come with performing an energy audit are:
Improve Energy Efficiency
The electrician performing the audit will be able to look at how the energy is being used and determine what can be done to make the place more energy efficient. This can mean adding more appliances that have a higher energy efficiency rating to installing solar panels. The guidance on what can be done to make the home more energy efficient will be a major benefit of the audit. 
Find Leaks and Improve Insulation 
To help with energy efficiency, finding any air leaks, such as gaps within the walls or ceiling, where air escapes out of the home will help. Determining if the insulation should be replaced or installed to help keep heat in the home will assist as well. 
Improve Heating and Cooling
The heating and cooling elements of the place will be looked at to see ways that energy usage can be lowered. The hot water system, air conditioning system, fans, thermostat and other temperature control systems are inspected. If they are not working correctly or efficiently then they will be advised to be repaired or replaced with newer and more efficient systems to help reduce energy usage.
Lower Energy Costs
Finding ways to be more energy efficient will ultimately lower the energy costs of the area. Installing more energy efficient systems, improving certain habits and resolving any problems with energy systems will in the long term save money. At the beginning of becoming more energy aware it will be more expensive, such as installing higher energy rating appliances and solar panels, but in the long term the savings are extremely high. 
Add Value to Home
With all the added features, newer appliances and upgraded systems included in the home the overall value of it increases. Energy efficient features, such as added insulation, improved hot water system, solar panels and newer appliances raise the value of the property. Even if selling the home is not considered the overall valve of the place does increase with these additions. 
Environmental Benefits
Lower energy usage saves money but also the impact on the environment. Using solar powered systems and more energy efficient appliances means that less energy is used and this helps the environment as well.
Expert Electricians Performing Inspections in Sydney
The Local Electrician will be able to send a trusted emergency electrician to any person living in Sydney to inspect their home. Each fully qualified electrician looks at the home's safety state but can also look at the electrical system and how efficient the home is. We can provide advice on ways to make the home more energy efficient and offer guidance and services as well.
For emergency electrician and safety electrical inspections – The Local Electrician is here at all times!
Lifetime Warranty on Workmanship and Labor
Our Services
Our skilled electricians are qualified to carry out any electrical repair or installation within Sydney. We strive to deliver absolute customer satisfaction by offering electrical services that are affordable, safe and long lasting.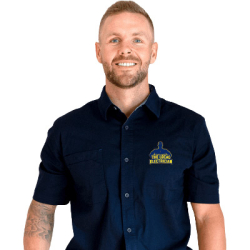 Latest posts by Hamish Baker
(see all)