What Is Included In An Electrical Audit?
Posted on May 14, 2022
An electrical audit is where a licensed electrician inspects the electrical systems and circuits of a home or business. They look to see if all these are operating in good and safe condition while also looking for possibilities to reduce electrical consumption. By performing the audit electricians can check if the place is electrically safe and if any parts need repairing or replacing. Here at The Local Electrician, our Emergency Electrician team is here to perform electrical safety inspections and audits for Sydney locals.
An electrical audit is an inspection of the electrical systems, appliances, circuits and cabling networks of buildings. A certified electrician performs the audit and it contains visual inspections, targeted tests, measurements and evaluating these systems. Electrical audits also allow electricians to see the energy usage of the home and determine if there are ways to lower electricity costs.
Why do I Need an Electrical Audit?
Electrical audits are similar to electrical safety inspections where they ensure that the electrical components of the home are working properly. Audits focus more on ways to prevent electrical hazards and how places can be electrically safer and more efficient. Electricians will look over each system to see any potential or current dangers with them. These issues can be found before major problems develop, such as replacing frayed wires before an electrical fire could occur. The audit examines if installations were done correctly if there are any problems with electrical systems and overall protects the place from electrical hazards.
An energy audit is similar to an electrical audit but focuses more on how efficient a household is with their energy, read more about it in our blog!
When are Electrical Audits Needed?
Electrical audits should be conducted at least once a year but there will be other times when the inspection needs to occur, including:
Moving into a new property

When power outages occur on a frequent basis and are not a part of scheduled outages

The circuit breaker continually trips

After a major flood or storm that may have made contact with the electrical systems

Lights flicker often without a known reason

There is a smell of burning electrical parts

The wall sockets, plates or switches are hot when touched

Strange noises, such as humming or buzzing, near electrical equipment
If you want to know how often to organise a safety electrical inspection then our blog is here to help!
What Happens During the Electrical Audit?
A checklist of all the tasks that occur during the electrical audit follows below:
Inspect the point of attachments where the electrical street cables join the property

Look over the condition of the meter box, including if it seals and locks properly, if there is rust and if it protects the items inside

Check the circuit breaker to ensure they will protect appliances correctly and see if they tripping constantly to find the source of this issue

Look over the safety switches to ensure they will protect people 

See if the surge protectors are fitted correctly

Inspect all the lights, including their switches and wiring, and if there are any problems including flickering they are inspected

Check each smoke alarm to ensure they are working properly and if they need cleaning, replacing or new batteries

Inspect the visible wiring, such as see if they are frayed and might need repairing or replacing

Look over each powerpoint and wall plate, including the wiring behind them

Inspect the appliances, such as ceiling fans, entertainment systems and air conditioning wiring

Inspect the electric hot water system
Who Performs the Electrical Audit?
A fully qualified electrician is the professional who performs the electrical audit. This is because there are electrical systems involved and they are trained to know how to safely work with them. Inspecting the system and performing tests should only be done by a trained electrician to prevent wrong inspections and safety hazards. The service is efficient, swift and extremely important as the electrician will look over each electrical system, prevent issues and see what could need repairing or replacing.
Professional Electricians Here Performing Inspections and Audits
The Local Electrician is able to carry out electrical audits for any local of Sydney. Our team of licensed electricians can inspect and test all electrical systems, from general appliances to larger electrical systems. We make sure that each audit is completed professionally, using the right techniques and ensure the whole process is safely completed.
For trusted and reliable electrical audit services – contact The Local Electrician today!
Lifetime Warranty on Workmanship and Labor
Our Services
Our skilled electricians are qualified to carry out any electrical repair or installation within Sydney. We strive to deliver absolute customer satisfaction by offering electrical services that are affordable, safe and long lasting.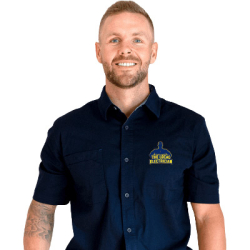 Latest posts by Hamish Baker
(see all)