What Is Ring Fencing Electricity?
Posted on December 5, 2021
Ring fencing electricity is where electricity distribution network services and businesses cannot offer contestable electrical services to their customers. This means that people have to contact an accredited service to perform electrical jobs, such as installing private power poles. The Local Electrician offers Level 2 Electrician services where we will perform all kinds of advanced tasks for Sydney locals. 
The Australian Energy Regulator (AER) published the national ring fencing guideline to prevent electricity service providers from offering contestable services. Ring fencing in electricity promotes competition in the electrical industry as energy providers are prevented from performing contestable electricity services. When electricity supply networks comply with the guideline it means they cannot perform some electrical tasks in their customer's properties.
What is the Ring Fencing Electricity Guideline?
The Australian Energy Regulator (AER) released a ring fencing electricity guideline for electrical distribution networks and businesses to follow. Ring fencing is when there is a separation between competitive and regulated businesses. It focuses on when regulated networks also offer additional services within the competitive field. 
The electricity distribution ring fencing guideline has it so the electricity network providers cannot perform electrical contestable services within their customer's properties. An example could be the electricity network cannot upgrade consumer mains of their customers but instead the property owner needs to contact a different accredited service. 
Another example is when Ausgrid or Endeavour Energy issues electrical defect notices where the property owner needs to contact level 2 electricians to complete the repairs. The electricity network notices the issues but cannot repair the problem directly but instead gives out the notice.
Why is the Ring Fencing Electricity Guideline Important?
The main reason why the ring fencing electricity guideline is important is to create competition in the electrical field. This ensures that electricians can perform work and earn wages instead of the energy providers taking up all the jobs. Electricians and electrical providers will have confidence knowing that they are within a field where people need them.  
Ring fencing within the electrical field will prevent the regulated businesses from:
Using their regulated revenue to cross-subsidise and block other businesses' within the electrical market

Discriminating others who are not within their network and ensuring all business and third parties are equal

Holding information about the market which can negatively impact other businesses and competitive markets
How Do I Find Electrical Accredited Service Providers?
A great way to find a wide range of accredited service providers is through the NSW Energy website. We also recommend reading our blog 'how do I choose a good electrician' to know which electrician will be best suited for you. Our Emergency Electrician team is here at any time of the day to perform professional electrical work safely and reliably for any person.
The ring fencing electricity guideline has it so your electricity supplier cannot perform general electrical work within your property. They will only perform electrical work for life support customers and also for minor restoration and repair services. Most other electrical work will need to be performed by a licensed electrician and organised by the property owner. 
Other than general electricians, level 1, 2 and 3 electricians hold an ASP licence, which means they perform different kinds of work. These are often more advanced than average electrical tasks and can only be performed by people who hold that license. Level 2 electricians will often be contacted the most out of the three as their areas of expertise are needed more.
What are Ring Fencing Waivers for Electricity?
At times some distribution networks will seek waivers from the ring fencing electricity guideline. Each individual distribution network will have its own reasons but the general reasons are:
There is potential that the ring fencing electricity guideline will harm or bring unnecessary costs to their customers

The services they offer, such as emergency recovery works, can only be performed by the specific electricity network

When the electricity network offers common entities that allow other regulated services to not interfere negatively with the market
Expert Level 2 ASP Provider for Sydney
The Local Electrician is a qualified level 2 ASP provider where we will send trusted level 2 electricians to perform any electrical job. Repairs, installations and upgrade jobs, our team will be there on time to operate at their best. We make sure that every job is completed professionally and we will use advanced techniques to keep the task smooth.
When needing level 2 electricians to carry out any form of work – The Local Electrician is here at all times!
Lifetime Warranty on Workmanship and Labor
Our Services
Our skilled electricians are qualified to carry out any electrical repair or installation within Sydney. We strive to deliver absolute customer satisfaction by offering electrical services that are affordable, safe and long lasting.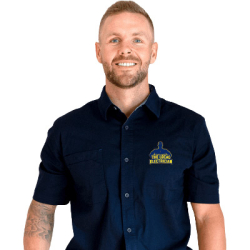 Latest posts by Hamish Baker
(see all)