What Is The ASP Level 2 Electrician Scheme?
Posted on December 12, 2019
Level 2 electricians follow a set of rules and regulations to ensure the work they do doesn't disrupt the operation of electrical power lines connecting residents and other establishments. The work they conduct ranges from simple repairs to complex situations.
When the encounters are riskier than that of normal, the job can only be taken on by electricians at a certain level that are governed by the Accredited Service Provider Scheme or ASP, whether it be an independent electrician or one who works under an electrical company.
What Is The Accredited Service Provider Scheme?
There are three levels under the Accredited Service Provider Scheme, which is administered by the NSW Department of Industry.
There's the "construction of network assets" or Level 1, "service work or connection services" or Level 2, and "design of network assets" which is for Level 3. Each of these levels specialize in different works. People are put under the level they belong depending on their skillset.
Level 1 ASP electricians work by doing tasks like extending the overhead and underground network to reach a certain resident. They can also increase the capacity of the existing network to the amount of electricity it can safely keep supplying.
Level 2 ASP electricians handle work that involves direct contact with the electricity poles and sources, such as repairing and installing various things depending on what is needed.
Level 3 ASP electricians or electrical engineers focus on design and consultancy works which they offer to clients like relocations, upgrades and new constructions of overhead and underground electricity service lines and distribution networks.
Typically, this accreditation scheme is awarded to electricians and electrical engineers to consider them as appropriately qualified for the job.
Generally, there is a criteria provided to identify whether an electrician qualifies for this certification. At least one of the following must be met:
Registered within the ASP scheme to perform services at the level they belong.
Must have undergone relevant training for their level of work and hold a certification for this from a Registered Training Organization.
Can satisfy the requirements of their level and former employee of a NSW electricity distributor.
The ASP scheme is valid for twelve months and should annually be renewed. This is to be followed by electricians who aim to qualify for this accreditation in order to offer more services within a larger range. This scheme ensures that the electricians provide quality work as well as practice safety at all times considering the risks they may possibly encounter while conducting their work.
Why It's Important to Level 2 ASP Electricians
Most say that if a person was spotted working at the top of an electricity pole in the streets, they are most likely an ASP level 2 electrician. This is determined because of the work that they are performing on the poles. Typically, level 2 electricians takes care of the residential, commercial and data needs of a client. This alone is enough to get work done.
However, a certified level 2 ASP electrician goes through training to perform the more complicated tasks such as extensive installation, repairs and maintenance required for service lines between a home and the electricity network near them. If you have received an electrical defect notice, then a level 2 electrician will be able to assist you.
Level 2 Electrician Course Requirements
The following is a list that Level 2 electricians are required to accomplish:
Connect or disconnect premises from the electricity network.
Install or repair an underground service line as a means to connect premises to the electricity network.
Install or repair an overhead service line as a means to connect premises to the electricity network as well as install electricity meters.
Set up solar meters.
Upgrade customer or service mains.
Install steel power poles.
Relocate and solve point of attachment issues
Upgrade to a three-phase power-supply.
To be able to work on power line near a resident's premises, the employee or sub-contractor must be qualified and registered with the ASP scheme of electrical Level 2 service. Level 2 electrical contractors are evaluated by companies before they come to the decision of whether an electrician is qualified for the position before actually having them apply.
With this accreditation, residents are assured with the fact that the electricians they hire are legally allowed to make the certain changes as mentioned earlier. Playing with wires and poles can get risky not only for the electricians themselves but for the residents as well. Because of this, the ASP scheme was arranged to ensure that the level 2 ASP electricians will be performing their work through following a given process.
There are different rules to follow and remember for more complicated tasks. This is why training is required for the electricians beforehand as part of the qualifications. Even after being qualified and working to find Level 2 ASP solutions, an electrician should still undergo training courses to refresh their knowledge on the rules and processes regarding their services.This is conducted to evaluate the electrician's performance and identify whether they continue to meet the qualifications of the ASP scheme.
The Benefits of the ASP Scheme for Level 2 Electricians
Through this scheme, level two electricians will be able to offer more services than what a regular electrician usually presents. To a level 2 electrician, this is like a badge that confirms they can work to complete a certain job that others without accreditation typically cannot accept. It opens new doors for them as well as widens the range of customers they are allowed to cater. With this scheme, they have the ability to provide service to residents and even bigger areas with more structures.
The ASP scheme gives room for more electrical level 2 services for residents of the area. Even when the problem they experience has more complications that normal, level 2 electricians will have the capability to make the fixes needed. With frequent training, ASP level 2 electricians can also improve and develop their skills. This makes their work more efficient and done with more expertise, which can produce greater results and enhance the performance of electrical systems within an area. This is a great benefit for both electricians and residents.
If you are looking for a reliable level 2 electrician or emergency electrician within Sydney then contact us today on 0439 823 190 or email us. We are more than happy to answer every question regarding what is the ASP level 2 electrician scheme!
*This information is all detailed as per the ASP Scheme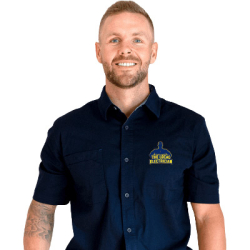 Latest posts by Hamish Baker
(see all)