Where Can I Get Quality Electrical Services In Sydney?
Posted on March 26, 2021
For the best Sydney electrician, The Local Electrician is the most reliable and professional place to trust. Our Level 2 Electrician team are highly advanced and skilled professionals capable of performing level 2 asp tasks efficiently. Our Emergency Electrician services are also here for every resident where we will arrive at any time to perform any kind of electrical task. We are an accredited service provider of electrical workers and can work across all of Sydney.
Professional Level 2 Electrical Contractor
Our level 2 electricians have the skills to carry out electrical work and services which regular electricians cannot. With our added experience and training our level 2 electrician Sydney team will be able to perform a variety of tasks. A few of the level 2 asp services which we will provide to locals are:
To know why a level 2 electrician is different our blog offers more details on the subject.
Reliable Emergency Electrician in Sydney
Handling electrical emergencies are our expertise here at The Local Electrician where we will work 24 hours a day. Our electricians will carry out any type of electrical work no matter where or what time of day it is. An example of the electrical tasks which our 24 hour electricians can carry out for locals of Sydney are:
Honest, Trusted and Experienced Sydney Electricians
The Local Electrician promises that our Sydney electrician workers are the greatest for any person to rely on. With over 25 years of experience behind us, we promise to perform every electrical task with the best tools and techniques. Our team of electricians are all fully qualified as well, allowing them to work on any job and on any system.
For reliable and expert Sydney electrician workers – contact The Local Electrician on 0439 823 190!
Lifetime Warranty on Workmanship and Labor
Our Services
Our skilled electricians are qualified to carry out any electrical repair or installation within Sydney. We strive to deliver absolute customer satisfaction by offering electrical services that are affordable, safe and long lasting.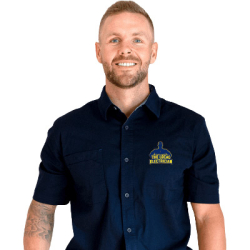 Latest posts by Hamish Baker
(see all)