Why Is There A Power Outage?
Posted on April 24, 2022
A power outage can happen due to many different reasons ranging from the electrical distributor or issues on the property. An electrician should be contacted if the problem originated on the property. If the blackout originated from a problem with the electrical distributor then they should be contacted. Here at The Local Electrician, our Emergency Electrician team are ready at all hours of the day to resolve power outages in Sydney properties. 
The main causes of a power outage are:
Damaged or fallen power lines and poles
Electrical distributor repairs, upgrades and work temporarily disconnecting the power
Electrical overloading or spikes in properties
Why Has a Power Outage Occurred - Electrical Distributor?
Ausgrid or Endeavour Energy might have had issues, scheduled maintenance or other events that have caused the power to be out. This often means that the local area, street or can be just one home has no power. The main reasons why a blackout has occurred linking back to the electrical distributors are:
Network Damage
The electrical network systems, such as power lines and poles, might become damaged which leads to damage to the power system. High winds, lightning strikes, animal interferences, car accidents, fallen trees and heavy rain are some causes of the network to be damaged. Fallen powerlines and power poles should be reported immediately to the distributor if they are belonging to them and people should stay clear of them. 
Emergency Repairs
The power might have been switched off due to the distributor needing to perform repairs on their network. The power is turned off to ensure the workers can safely perform the repairs on these systems. Notices will be given out when the scheduled repairs will be carried out and also that the power will be out during this time. 
Equipment Faults
Routine inspections are performed by the electrical distributor to ensure that their network equipment is working properly. At times though the equipment might experience faults which can lead to localised power outages. 
Electrical Upgrades 
The electricity network will be upgraded at times to ensure that they are safely working and new parts are installed. When this occurs then the power supply to the area will be temporarily disconnected but notice will be given out prior.
Why Has a Power Outage Occurred - Private Property?
If the problem is not from the electrical distributor or an issue with their network provider then the property's electrical systems might have caused the blackout. Check to see if neighbours have a power outage first, then contact an electrician if the blackout is just in your home or business. The main causes for a power outage originating from a person's property's electrical systems are:
Private Power Pole Issues
A property with a private power pole can experience power outages due to problems with them. If the power pole has fallen over, a free fall on it, animal interferences, weather damage and other issues may have caused damage to the private power pole. Since it is a private power pole the property owner will need to contact a Level 2 Electrician to resolve any issues relating to the system. 
Electrical Overload and Spikes
Electrical overloading and spikes may have caused the power outage to occur in the home. If a system is overused, the power demand is too high, a system experiences a spike or other issues occur with the electrical systems of the home then this can mean the power is interrupted. An electrician can inspect the different systems of the home to determine what caused the power to go out, such as if it is just one circuit with no power or the whole home's power is out. 
What to Do When I Have a Power Outage?
The main steps to follow if there is a power outage are:
Remain calm and ask neighbours if their power is out as well

Check the electrical distributor to see if there is a scheduled service occurring and if the power is temporarily disconnected

Look outside to see if any power poles or lines have been damaged. If the street's power poles are damaged then contact the electrical distributor but if it is your own private power pole then contact a level 2 electrician

Determine whether to contact the electrical distributor or an emergency electrician to resolve the blackout depending on if the problem is with the home or with the distributor's network
For more information on what to do during a blackout, our blog is here with all the steps before, during and after the outage.
Professional Emergency Power Outage Electricians
The Local Electrician is here to help resolve power outage issues in any Sydney area. Our fully qualified electricians are able to respond to any situation where the power has gone out. We will repair power pole concerns to issues resulting from overloads using expert techniques. 
Our electricians are available for all of Sydney to resolve blackout dilemmas, including Inner West and North Shore.
For any time and reliable power outage electricians – trust The Local Electrician!
Lifetime Warranty on Workmanship and Labor
Our Services
Our skilled electricians are qualified to carry out any electrical repair or installation within Sydney. We strive to deliver absolute customer satisfaction by offering electrical services that are affordable, safe and long lasting.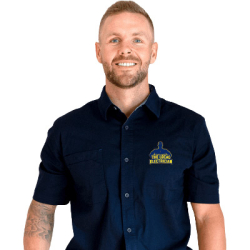 Latest posts by Hamish Baker
(see all)