Why You Need An Electrical Safety Inspection?
Posted on October 29, 2021
An electrical safety inspection is an important service that should be completed by a licensed electrician regularly. This is because the safety inspection involves numerous tests to ensure that the electrical systems of the house are working well. If there are any faults or potential dangers they can be addressed early and before costly repairs are needed. Here at The Local Electrician, our Emergency Electrician team will carry out any safety inspection for the locals of Sydney. 
To prevent electrical emergencies an electrical safety inspection will need to occur. The electrical safety check involves a professional electrician checking electrical wiring and systems around the home. Electrical hazards and electrical issues are found early and can be fixed. The electrical inspection provides peace of mind knowing the home electrical system functions correctly and safely. 
What is the Purpose of an Electrical Inspection?
The purpose of an electrical safety inspection is to ensure that the electrical systems, appliances and equipment of the home are safe to live amongst and use. The electrician will perform numerous different electrical tests on various parts of the home. These electrical tests are made for the purpose of:
Guanrteeting people are safe to work and live inside a building with electrical systems

Ensuring people are protected from appliances and systems that may cause people to receive an electric shock

Making certain systems and appliances will not overload and potentially create an electrical fire

Ensuring that broken wires and systems do not create toxic gases

Saving money long term to prevent major and expensive

electrical repairs

from happening

Making sure that the electrical systems work efficiently for longer periods of time as they are checked and maintenance occurs

Keeping all the systems within the electrical standards and making sure that they function as they should
Why are Electrical Safety Inspections Important?
The main reason why the safety tests are carried out is to protect people and electrical systems from being harmed. Inspecting the appliances, cabling networks and electrical systems, electricians will be able to see potential or existing faults. These electrical issues can be dealt with before major concerns develop. Regular inspections will ensure that people and electrical systems are safe and that the electrical components of the home are working correctly.
What is Involved in an Electrical Safety Inspection?
There are numerous tests and inspections that are performed during the electrical testing process, such as:
Smoke alarm tests

– regular smoke alarms tests are important to make sure that these devices will alter people of a fire. Testing the smoke detectors, checking the battery and looking over the general condition of the device are carried out. 

Earthing testing

– these tests involve checking the condition of the ground or earth systems of the home. These systems are crucial in protecting people from being shocked by power spikes. Testing them involves either an injection test, three-point resistance test, loop impedance test, soil resistance test or a continuity test. 

Insulation test – this involves looking over the insulation of cables within the home. This is to ensure they will not heat up and open to expose the wires underneath.

Short circuit and overload tests – these electrical dangers can pose a risk to people and appliances. This is why testing the systems for if they will experience an overload or short circuit is important in preventing this issue.
For more in-depth details on the different types of electrical testing, we highly recommend reading our blog for further details.
How Often Do I Need an Electrical Safety Inspection?
How often an electrical safety inspection will need to occur will depend on the type of building. For residential homes, it is encouraged that electrical testing occurs every 3-5 years. It is still strongly recommended that homes should organise a licensed electrician to perform the safety test every year to be extra safe. Commercial buildings should have an inspection at least once a year. For industrial sites, every 3-6 months the electrical testing work should occur as well.
For more information about how often to get an electrical safety inspection, our blog provides further details on the topic.
What is a Level 2 Electrical Inspection?
This type of electrical inspection involves a Level 2 Electrician performing certain tests which regular electricians cannot do. Some of the systems that a level 2 electrician might look over during the inspection are:
Private power pole

– the condition of the power pole will be checked, such as looking for rust on steel poles and termites in wooden poles.

Service lines

– inspecting the underground or overhead service line will be needed to make sure they safely bring power to the building.
Consumer mains – making sure the mains are all in working order and that potential or existing issues are addressed.
Reliable Electrical Safety Inspections for Sydney
The Local Electrician and our Emergency Electrician team are the most trusted to carry out electrical safety inspections. Our fully qualified emergency 24 hour electricians will look over every single electrical system of the home. This is to guarantee that people and appliances are safe from potential electrical issues at all times. Our emergency electrical services with testing will include all the needed tests on all systems.
For trusted electrical safety inspection emergency services – rely on The Local Electrician!
Lifetime Warranty on Workmanship and Labor
Our Services
Our skilled electricians are qualified to carry out any electrical repair or installation within Sydney. We strive to deliver absolute customer satisfaction by offering electrical services that are affordable, safe and long lasting.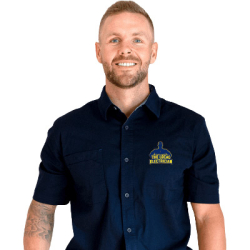 Latest posts by Hamish Baker
(see all)