Wire Colour Codes – Electrician Guide
Posted on August 15, 2021
The wire colour codes are there to ensure that electricians and individuals understand what type of wire is in cables. Professional electricians work with live wires and powered cables so the different wire colours help keep the process more efficient. The electrical wiring color codes for ac and dc wires and also single phase and three phase systems are extremely important for electrical safety as well. Here at The Local Electrician our Emergency Electrician team will carry out any electrical task and know how to properly work with cabling and wiring. 
The wire colour codes for Australia and which electricians follow are:
Blue Wire – neutral wire replacing the old black wire
Brown Wire – live wire replacing the old red wire
Green or Yellow Wire – earth wire that contains green or yellow stripes
What are the Wire Colour Codes?
| | | |
| --- | --- | --- |
| Colour | Wire | Role |
| Blue | Neutral | The blue neutral wire is what transfers electricity away from appliances. This is to help prevent electrical overloading and the wire is located towards the end of an electrical circuit. After electricity has flown through the live and earth wires it enters the neutral. There is a less likely chance to receive electrical shock through the neutral wire. The wire is hot and electricians will work with the blue wire carefully.  |
| Brown | Live | The brown live wire brings electricity to appliances and needs to be connected to earth and neutral wires. This is to ensure that the electricity can flow away and also be diverted in case of electrical issues. Electricians working on the wire ensure that there is no electrical current flowing through to prevent electric shock. |
| Green or Yellow | Earth | The earth wire consists of green and yellow stripes and this wire is installed for safety reasons. The wire connects to a metal casing to allow the cable and electrical appliances to be connected to the ground. This means that if there is an electrical surge in power it will be diverted to safety and not harm the appliance or a person.  |
To know what electrical cables and wires are made of, we highly encourage reading our blog with further information. 
What are the Wiring Colour Codes with Single and Three Phase Wiring?
Single phase wiring is where two wires connect and allows an easy balance of electrical currents and loads across networks. Three phase wiring consists of three to four wires that provide a stronger electrical current. Three phase power is mostly used in places where the electrical needs are greater and can also be installed in residential places if wanted.
Within the single phase wiring connection, it will contain a dual black or red live wire along with a blue neutral wire. Three phase wiring connections will have three live wires in brown, red or black and one blue neutral wire. Single phase has a voltage difference between 230V while the three phase connection has a 400V separation. 
Upgrading the electrical switchboard to three phase connection is recommended for adding more reliable power to the home, find out more in our blog article.
Are the Wiring Colour Codes the Same Everywhere?
Each country will have its own electrical code for the colour of the wires. Within Australia the live wire is brown, the neutral wire is blue and the earth wire is green and yellow. This may not be the same for every electrical system as the wire colour codes have altered throughout the years. This means that older systems might have different colours and people working on the wires need to know the colour codes for that particular time period. 
Below is a guide on the different wire colours for the different times:
| | | | |
| --- | --- | --- | --- |
| Wire Type | Pre 1977 | Pre 2004 | Current Times |
| Earth | Green  | Green and Yellow | Green and Yellow |
| Neutral | Black | Black | Blue |
| Live | Red | Red | Brown |
Trusted Electricians Working with Electrical Wiring
The Local Electrician provides Sydney with fully qualified Emergency Electrician workers to inform you about wire colour codes. This includes operating with electrical wiring, installing, repairing and performing inspections on these systems. Our Level 2 Electrician team is also here to carry out 3 phase switchboard upgrades and provide greater power to residential properties.
No matter the type of electrical service we guarantee to be there on time and operate as safely as possible. We work with electrical wires and all other electrical jobs across all of Sydney, including North Shore and Eastern Suburbs.
For trusted and experienced electricians – always rely on The Local Electrician to be there at any time!
Lifetime Warranty on Workmanship and Labor
Our Services
Our skilled electricians are qualified to carry out any electrical repair or installation within Sydney. We strive to deliver absolute customer satisfaction by offering electrical services that are affordable, safe and long lasting.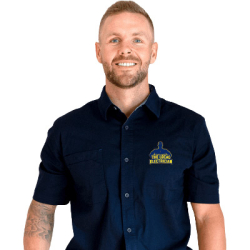 Latest posts by Hamish Baker
(see all)