Dangers Of Exposed Wiring!
Posted on September 26, 2021
Exposed wiring is a serious electrical problem that most people ignore and do not take action. When electrical wiring is exposed there are many dangerous situations and electrical hazards that occur. From the chance of an electrical fire to someone touching the wire and being shocked, it is important to take exposed electrical wiring seriously. Here at The Local Electrician, our Emergency Electrician team is here to repair any exposed wiring and cables or replace them with new ones. 
The main dangers of exposed wiring are:
People receiving an electrical shock
Electrical fires starting 
Appliances not receiving the needed power
A high draw of power can lead to a tripped circuit or power surge
What are Exposed Wires?
Wires that are exposed mean that the outside has been frayed or damaged causing the electrical wires and cables underneath to be exposed. Most people are familiar with what an exposed wire looks like often due to laptop and phone chargers and also extension cords. Electrical cords over time will become damaged leading to the outside being frayed. 
Most times where people grab the cord from is where the cable becomes frayed and exposes the wires. When this occurs people will likely ignore this and continue to use the cord even though there are many dangers with using cables that expose wires.
Dangers of Wires Being Exposed
Even though people will continue to use frayed cables due to them still working there are many electrical safety concerns with this. Open wires will most times not allow the full power to the device which it needs to correctly flow. With the power not being properly distributed the device will draw out more power. When this occurs the exposed wiring can easily begin to heat up and the chance of an electrical fire may occur. 
The higher draw of power from the wire being exposed can also mean that circuits trip, fuses blow and power surges are more common. Even though these are protective devices working it means that power to these systems and recruits will be cut off. If a person has to touch the exposed wiring then an electric shock can also occur.
Home Wires and Cables
Wires that are inside the home and within the walls have a higher risk of causing a fire if they are exposed. Electrical device's cords are easy to spot the damages but ones behind the wall are more difficult to locate. If the exposed wire creates sparks or becomes too hot then this may lead to an electrical fire to occur. This is why regular electrical safety inspections are encouraged as a part of the service is to look for these damaged wires.
Should I Use Electrical Tape Over an Exposed Wiring?
Electrical tape is often used for electrical issues, such as exposed wiring, to protect people and provide temporary relief. It is recommended to not place electrical tape over the exposed cable and simply leave the problem as it is. The tape will not resolve the issue and the dangers of exposed wiring are still present. It is safer and more reliable to replace the cords instead of using tape. 
Having the tape over the exposure means that if the damage or tear of the cable becomes worse it will not be visible. The large amount of power being drawn and the chance of the wire overheating are still present when the tape is used. It is highly encouraged that a fully licensed electrician performs electrical work and repairs to fix the situation. When the wires are behind walls and are difficult to access then the electrician will also properly replace those.
Are Tangled Wires Dangerous?
It is important that wires are not tangled as this can cause electrical safety issues as much as exposed wiring does. The more electrical plus connected to an extension cord means that the adapter needs to draw more power even greater than what the power outlet can handle. The chance of electrical overloading and other electrical hazards increases with this.
What to do With Outside Exposed Wiring?
If there are any wires outside that are exposed then the danger increases due to being exposed to the weather. Moisture, water and other factors mean that exposed wires outside can be life threatening. Contacting an electrician is the best action to take to ensure the exposed cables are not a risk to people or the home. Cutting power to the wires, safely removing them and ensuring the new wires are correctly installed are performed.
Professional 24 Hour Emergency Electrician
The Local Electrician offers our fully qualified electricians to perform any electrical emergency service, including working with exposed wiring. Working as 24 hour electricians we are able to operate in homes and businesses at any time, repairing cables with exposed wiring. We arrive on time and make sure that we safely work with the wiring and ensure everything and one is safe. The service is completed on time and we use the best methods to resolve the exposed wiring defects.
Our emergency electrical services and our wiring services are here for all of Sydney, including Northern Beaches and South Sydney. We also offer Level 2 Electrician workers for us to be involved and complete more advanced electrical jobs.
For help with exposed wiring and emergency electrical services – contact The Local Electrician!
Lifetime Warranty on Workmanship and Labor
Our Services
Our skilled electricians are qualified to carry out any electrical repair or installation within Sydney. We strive to deliver absolute customer satisfaction by offering electrical services that are affordable, safe and long lasting.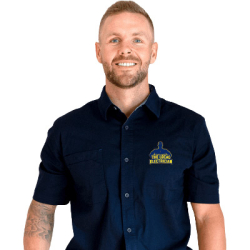 Latest posts by Hamish Baker
(see all)