Electrical Overloading – Everything You Need To Know!
Posted on November 27, 2020
Electrical overloading occurs when there is too much power being drawn from the circuit. The electrical circuit overload can lead to serious issues and needs to be resolved quickly by an electrician. The Local Electrician is here with our Emergency Electrician team to help people when an electrical overloading emergency has occurred. 
When electrical overloading happens, it is caused by too much electricity being used and the power is shut off. An overloaded circuit mostly results from multiple appliances using high amounts of electricity or that the system is too old. They can be prevented by undergoing regular electrical safety inspections, installing a proper circuit breaker and utilising dedicated circuits.
What is an Overloaded Electrical Circuit?
How Does Electrical Overloading Usually Happen?
What are the Warning Signs of an Overloaded Electrical Circuit?
How to Prevent Having an Overloaded Circuit?
Who can Repair an Overloaded Circuit?
Here at The Local Electrician, we offer 24 hour electricians to work to resolve electrical overloading circuits. Our team understands how to operate on electrical systems safely while repairing the circuit in the shortest possible time.
We will work across all of Sydney, including the North Shore and Sutherland Shire, repairing overloads and inspecting circuits. Our Level 2 Electrician team is also specialists when it comes to performing more advanced electrical work and is here for everyone.
For reliable and professional electricians to repair an electrical overloading circuit – contact The Local Electrician now on 0439 823 190!
Lifetime Warranty on Workmanship and Labor
Our Services
Our skilled electricians are qualified to carry out any electrical repair or installation within Sydney. We strive to deliver absolute customer satisfaction by offering electrical services that are affordable, safe and long lasting.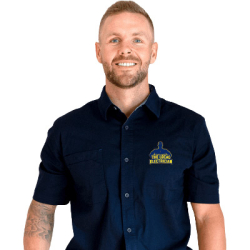 Latest posts by Hamish Baker
(see all)