How To Get a NSW Electrical Licence?
Posted on November 21, 2020
Receiving an electrical licence within NSW requires training, apprenticeships and skill. A person will need to undergo the needed experience and courses to know how to work within the electrical field. Gaining experience and knowledge while completing the training will help with obtaining a licence. Here at The Local Electrician our Emergency Electrician team are fully licensed and can help Sydney with any electrical issue. 
To gain an electrical licence in NSW a person will need to first undergo a Certificate III in Electrotechnology Electrician. A certificate of a Proficiency as an Electrician is needed and at least 12 months of practical experience through apprenticeships. Fair Trading NSW needs proof of these qualifications in order for an individual to receive their electrical licence.
How do I get an NSW Electrical Licence?
In NSW an electrical licence is received from undergoing courses learning all the skills of the trade. An apprenticeship occurs alongside it for the person to know how to place what they learnt into practice. The apprenticeship is with a licensed electrician who will help teach and guide the learning electrician. Below is a guide on the different courses and certifications needed to be a licensed electrician.
What is it

Why is it needed

Certificate III in Electrotechnology Electrician

The TAFE course allows an individual to gain knowledge in the electrical trade. This certification is acknowledged nationwide where knowing how to install, repair and work with electrical systems and wiring are learnt. 

This course will help an individual understand the basics of being an electrician. Gaining skills in problem solving, communication, focus and electrical wiring work are developed. 

Proficiency as an Electrician

This is gathered through the Vocational Training Tribunal or the Department of Education and Communities. It is a legal document stating that the individual has finished their training and course to become a tradesman. 

The certificate provides proof that the training has been completed and is needed to be qualified. 

Apprenticeship

Through the course, the individual undergoes an apprenticeship under the guidance of a trained professional in residential, commercial or industrial settings. They perform electrical tasks to gain knowledge of the trade while the licenced electrician supervises that work.   

Having at least 12 months of work experience is needed to be licenced. Learning the skills through the course is important but gaining real life experience is also needed. The physical work of installing, repairing, altering, removing, adding and inspecting electrical systems is gained. 

 
How to become Certified through NSW Fair Trading?
After completing the necessary training a person learning to become an electrician will need their electrical licence. Fair Trading NSW is where they will need to go to receive their licencing. Holding this licence in NSW needs the certifications and experience listed above. Forms and proof that all of these have been completed are sent where NSW Fair Trading will accept the request.
What is the Difference Between a Certified and Licenced Electrician?
Being a certified electrician is slightly different than being a licenced electrician. A certified electrician is when a person is recognised that they have experience in the electrical trade. It recognises also that they have learned their skills through a proper course and undergone apprenticeships.
A licenced electrician is when a person is authorised to operate as an electrician. They are allowed to work in specific places, on certain electrical systems and complete electrical jobs. A certified electrician cannot as they are not licenced by NSW Fair Trading. This means that a certified electrician needs to gain their licencing in order to perform jobs and work full time.
What is the Difference Between an Electrician and an Electrical Contractor?
An electrician is a person who is licenced to operate with electrical systems and perform tasks such as electrical installations. An electrical contractor is a licenced electrician as well but has gained the electrical contractor licence. This means that they are allowed to work themselves and contract other electricians to work for them.
How do I get a Level 2 ASP Licence?
A Level 2 Electrician is a person who has extended their electrical training to learn more about the electrical trade. They will be able to participate in more tasks than regular electricians can due to their additional training. Level 2 asp electricians are more specialised in specific areas, including:
Resolving defects listed on electrical defect notices

Operating with consumer mains

Installing and repairing private power pole 

Connecting point of attachment systems

Working with both overhead power and underground cabling 

Performing switchboard upgrades

Undergoing safety inspections
To gain a level 2 licence additional courses are needed including the general overview of a level 2 electrician. Specific courses in overhead, underground and other electrical systems are covered to know how to work with them. When these are completed gaining accreditation from the Department of Industry is needed.
If you're wanting to learn more about the expertise of a level 2 electrician, we recommend reading our article.
Licenced and Accredited Electricians
The Local Electrician is here with our electricians who are all qualified and have the level 2 asp licencing. This means we can work in all residential, commercial and industrial across Sydney and perform a wide range of tasks. From working on simple domestic electrical jobs to more advanced level 2 tasks we are always ready to help.
Available 24/7 to work on electrical jobs we can operate anywhere in Sydney, from the Northern Beaches to South Sydney. No matter the time, place or job we promise to always arrive on time and help Sydney residents with any electrical emergency.
For licenced and professional electricians to work within Sydney – contact The Local Electrician now on 0439 823 190!
Lifetime Warranty on Workmanship and Labor
Our Services
Our skilled electricians are qualified to carry out any electrical repair or installation within Sydney. We strive to deliver absolute customer satisfaction by offering electrical services that are affordable, safe and long lasting.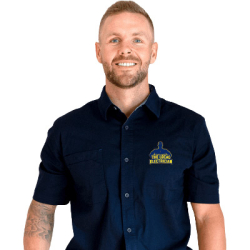 Latest posts by Hamish Baker
(see all)