Electrical Wiring Types, Colours, Sizes & Installations!
Posted on December 5, 2020
Electrical wiring types and systems all come with their own type, colour and size to be installed in specific places. Knowing what each wire is used for will help with gaining knowledge with what wires and cables belong where and how to use them. The Local Electrician and our Emergency Electrician team is here to work with electrical wiring across Sydney.
The main types of electrical wiring are the live wire coloured brown, neutral wire coloured blue and the earth wire coloured green or yellow. The size of the wire determines how much current passes through the wire. There are also many wiring systems which are used in homes, such as nonmetallic, underground feeder and low voltage wire.
What are the Three Main Types of Wires and their Colours?
In an electrical system, a cable will mostly consist of three wires each with their own purpose. These wires are coloured to keep with the wiring colour codes and allow people to know which wire is which. A licensed electrician will know what each wire does, therefore, will operate with them effectively while following the Wiring Rules. 
The brown wire is the live wire which will bring electrical currents to electrical appliances. This live wire needs to be insulated and connected to the ground system to prevent electrocution. 
The neutral wire is blue and acts as a way for currents to leave the appliance in order to prevent electrical overloading. An overloaded electrical circuit will often cause wires to melt and other dangerous issues. 
The neutral wire is located towards the end of the circuit where the electricity would have flowed within the live wire. The chance of receiving a shock with this wire is low but the wire is extremely hot, which can cause fires if not insulated correctly. 
The final main wire in a cable is the earth wire which is green or yellow in colour. The grounding wires are extremely important in protecting appliances and systems for sudden electrical spikes. These wires are safer to touch, though it is still recommended to be cautious around them and not touch them. 
Read our article for further information on why earthing is important to protect electrical equipment and people.
How are Wires Sized?
Wire gauge is what measures the size of a wire through its diameter or cross sectional area. How much gauge a wire has will lead to how much current will be able to flow within the wire. This measurement will also govern the resistance of the wire and also the weight per unit of length. A wire size of 4 is larger than a wire size of 40, where 4-40 are the general wire sizes. 
Below is a guide on the wire size, its diameter and how much capacity it has.
| | | |
| --- | --- | --- |
| Wire Size (AWG) | Diameter (mm) | Overall Capacity (Amps) |
| 4 | 5.1 | 59.626 |
| 8 | 3.3 | 18.696 |
| 10 | 2.6 | 14.834 |
| 12 | 2.0 | 9.327 |
| 14 | 1.6 | 5.870 |
| 18 | 1.0 | 2.320 |
| 20 | 0.8 | 1.463 |
| 22 | 0.6 | 0.914 |
| 24 | 0.5 | 0.577 |
| 28 | 0.3 | 0.227 |
| 32 | 0.2 | 0.091 |
| 40 | 0.08 | 0.014 |
What Electrical Wires are Installed in Homes?
A fully licensed electrician will be the person who installs wires into homes. Wires are often grouped together where cables are formed, these cables all having their own use. Each wire has a live, neutral and earth point in it while each will have additional endings or insulations built for different purposes. The main types of wires, or cables, installed into homes are:
Non-metallic

– this wire, when used in home electrical circuits, is often used for interior purposes. Drier conditions and environments are also more suited to the non-metallic wires. The shape of this wire is tubular while run through the walls and floors of the house. The appliances and devices used in house wiring systems are often made with this wiring unit. 

Underground feeder

– these nonmetallic cables run underground and are best suited to wetter environments. Outdoor fixtures, such as outdoor light fixtures, are given electricity through these wires as they are installed underground. The wires are insulated with thick, solid plastic and can also be used for major circuit wiring. 

THHN/ THWN

– these wires are mostly found in conducts where wires are bundled in plastic sheathing. These single conductors will have their own colour insulation and are protected by plastic conduits or tubular metals. They are mainly installed in areas which are unfinished or in places such as garages and basements. Another use of these wires is for short connections, such as hot water heaters or garbage disposers. 

Low voltage

– for circuits which have 50 or less voltage these wires are used. Such as sprinklers, doorbells, speakers and thermostats are the common usage of these wires. They are insulated while can be inside sheathing or twisted together. They can only be used for low voltage appliances and systems to ensure they do not break. 
Phone and data – these wires are specifically used for phone lines and wi-fi networks around the home. The telephone cables are connected with these wires and any data points use specific wiring. These wires are separate to general home circuit wiring and are used specifically for phone and data services.
Qualified Electricians Working with Wires
The Local Electrician will be able to work with all electrical wiring types of wiring systems in any property. Each electrician understands how to safely operate with the wires and understands the various types. We will be able to install a new wiring system to replace or repair the old ones. Our team is also available to perform inspections on each wiring system to ensure that they are working safely.
We will be able to provide any person with a qualified Level 2 Electrician if needed, to work on more advanced systems. All of our electricians can work in any property throughout all of Sydney on electrical wiring types, including Greater Western Sydney and Inner West.
For professional electricians to work with any electrical wiring types – contact The Local Electrician now on 0439 823 190!
Lifetime Warranty on Workmanship and Labor
Our Services
Our skilled electricians are qualified to carry out any electrical repair or installation within Sydney. We strive to deliver absolute customer satisfaction by offering electrical services that are affordable, safe and long lasting.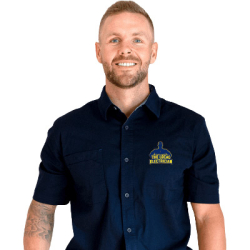 Latest posts by Hamish Baker
(see all)