What Is 3 Phase Power?
Posted on July 16, 2021
3 phase power is where the electrical switchboard connects to the main electricity network grid in 3 phases. By doing this it allows a building to have access to both 240V and 415V and come from the same electricity supply. A switchboard upgrade will be needed to be performed by a qualified Level 2 Electrician to have 3 phase power. Here at The Local Electrician, we offer level 2 electrical services to professionally upgrade single phase power systems to three phase power systems. 
A 3 phase power supply is where three active and one neutral wire supplies buildings with both 240V and 415V. This means that buildings will be able to more reliably power larger and more appliances without the chance of overloading. A switchboard upgrade, reconfiguring the electricity meter and installing new overhead or underground service lines will be needed.
What is the Difference Between Single Phase and Three Phase Power Supply?
The main difference between single and three phase power is how much power they bring to a building. Single phase power contains two wires and uses ac power methods where one is neutral and one is active. With this, single phase supplies power up to 240V and will mainly be used in residential and small commercial buildings. 
Three phase power has four overall wires, three being active and one being neutral. It is able to draw out and supply 240V and 415V to a building, triple to a single phase system. Larger commercial and industrial buildings use this power system but residential buildings might also need it. With larger appliances, multiple power points and a greater need for power, three phase systems will prevent systems overloading.
Why Would I Need 3 Phase Power?
Installing 3 phase power into a building is often needed when there is a greater need for electrical power. This is why commercial and industrial buildings will utlise this as there are more appliances and more power is needed. Homes can still install 3 phase power to ensure that their systems do not overload or not have enough power. Ducted air conditioning, cooktops using electricity, electric hot water systems and a large number of power points will be properly supported by the three phase power system. 
Most homes and apartments will safely run and handle single phase power. When renovating or installing appliances that use a lot of energy then 3 phase power should be considered.
How Do I Know What Power Phase Supply I Have?
There are two simple ways to find whether three or single phase power is connected to the home. The first is to look at the main switchboard and see how many fuses there are. If it is one pole wide then a single phase is connected and 3 pole wide means three phase power is supplied. The electricity meter will also indicate what type of phase power the home has with specific numbers.
How is a Three Phase Power System Installed?
The first step to install a three phase power system is to install the correct meter box. There are eight wires where four connect to a circuit breaker and four connect to the fuse box or switchboard. The single phase system is upgraded by two live conductors being connected to link the one phase to the three phase. Connecting wires to the private power pole, underground or overhead service lines and other forms of electrical work are all completed by the level 2 electrician.
Does it Cost More to Run a 3 Phase Power System?
It will not cost more to run a three phase power system over a single phase power system. This is because the energy costs are determined by how much power is consumed or used rather than the phase system. Installing and upgrading to a three phase system will cost more but to run it will not be influenced.
Reliable Level 2 Electrical Contractors Installing 3 Phase Power
The Local Electrician is here to install 3 phase power into properties and performed by our licensed Level 2 Electrician workers. We make sure that the process of installing three phase power is completed safely and on time. Each step of the process is correctly planned and properly performed to make certain the system is installed perfectly. We will carry out regular safety checks as well to prevent the three phase power system from causing errors.
For the best services with 3 phase power – rely on The Local Electrician at all times!
Lifetime Warranty on Workmanship and Labor
Our Services
Our skilled electricians are qualified to carry out any electrical repair or installation within Sydney. We strive to deliver absolute customer satisfaction by offering electrical services that are affordable, safe and long lasting.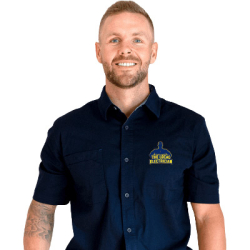 Latest posts by Hamish Baker
(see all)