What Is A Level 3 ASP Electrician?
Posted on December 25, 2021
A level 3 electrician is a type of accredited service provider who works within the electricity network. Level 3 asp electricians are qualified and trained to work in creating designs for network connections. This includes new, altering existing and relocating existing electricity networks, while also working with other jobs such as street light designs. Here at The Local Electrician, we offer Level 2 Electrician services to Sydney and can provide reliable recommendations for finding level 3 asp electricians. 
A level 3 electrician works with the electrical distribution design of properties, roads and areas. Some jobs include electrical network connection design, street light design, substation designs and designing overhead and underground electrical equipment locations. The electrician will have to go through the needed training and gain certification through NSW Government Planning, Industry & Environment to be a licensed asp level 3 electrician.
What is a Level 3 Electrician?
What Does a Level 3 Electrician Do?
How Do I Become a Level 3 Electrician?
What is the Difference Between a Level 3, 2 and 1 Electrician?
Reliable Level 2 Electricians for Sydney
The Local Electrician is here with trusted level 2 electricians to work on private property and complete advanced tasks. Our team will perform a wide range of jobs that regular electricians cannot do inside of people's properties. We are also able to recommend reliable level 3 electricians where needed.
When needing urgent, experienced and trusted level 2 electricians – always rely on The Local Electrician!
Lifetime Warranty on Workmanship and Labor
Our Services
Our skilled electricians are qualified to carry out any electrical repair or installation within Sydney. We strive to deliver absolute customer satisfaction by offering electrical services that are affordable, safe and long lasting.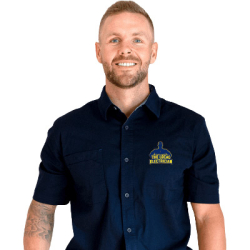 Latest posts by Hamish Baker
(see all)