Home and Workplace EV Charger Installation
Posted on September 10, 2022
It is important to know how a home and workplace EV charger should be installed and all the planning involved. Knowing what charger, who will install it and where are some considerations with electric vehicle chargers. There will be some differences between how an EV charger will be installed at home and at the workplace. Here at The Local Electrician our Emergency Electrician team are here to perform electric vehicle charger services at home and the workplace. 
Important considerations with home and workplace EV charger installations are:
Choosing the correct EV charger
Making sure that there is proper planning done on the installation process
Finding a reliable and certified electrician that offers electric vehicle installation services
Making sure there is approval to install an EV charger at home or in the workplace
Having a policy at work so people know how to use the charger, any rules and who to contact for questions
What is Involved with Home and Workplace EV Charger Installations?
Below is a guide on home and workplace EV charger installation considerations to make:
Home EV Charger Installation
Workplace EV Charger Installation
Research – it is important to first know if people want EV chargers at the workplace and how many. If people do want some chargers installed then talk to stakeholders and people in charge about whether it is allowed and all the possible options are needed. Knowing who will pay for the installation, where it will be located, if the workplace can receive the correct power to facilitate the charger and other factors are crucial. 

Choosing the EV charger – the best EV charger for the workplace needs to be chosen and based on numerous factors. It should be compatible with the cars that people drive and able to work off the power source of the building. The charger should be user-friendly and of a reputable brand that will charge the car safely and effectively. It should also follow all the needed safety requirements, be an affordable price and determine if it is level 1 or 2.

Electrician – a

certified electrician

should be the only person who installs the workplace EV charger. Ensure that the electrician is licensed, provides the correct EV charging installation services and works at a good price. It is important an electrician works on the installation to make sure the workplace has a safe and proper working car charger. 

Charging policy – making a charging policy for the workplace will help people know how to use the charger safely and properly. This can include information on how to use the charger, any charging rules and etiquette, payment structures, contact details and a question section.
Trusted EV Charger Installation Services
The Local Electrician is here with the best home and workplace EV charger installation services for the locals of Sydney. We offer fully qualified electricians who have knowledge and experience working with electric vehicle chargers. Our team are here to help plan the process and perform the installation in all workplaces and homes. No matter what charger we work with or where we operate our electricians make sure to utilise the best techniques and have the charger installed safely. 
For the best home and workplace EV charger services – trust The Local Electrician!
Lifetime Warranty on Workmanship and Labor
Our Services
Our skilled electricians are qualified to carry out any electrical repair or installation within Sydney. We strive to deliver absolute customer satisfaction by offering electrical services that are affordable, safe and long lasting.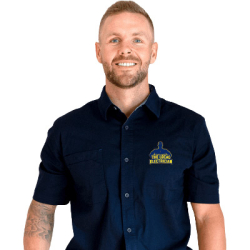 Latest posts by Hamish Baker
(see all)